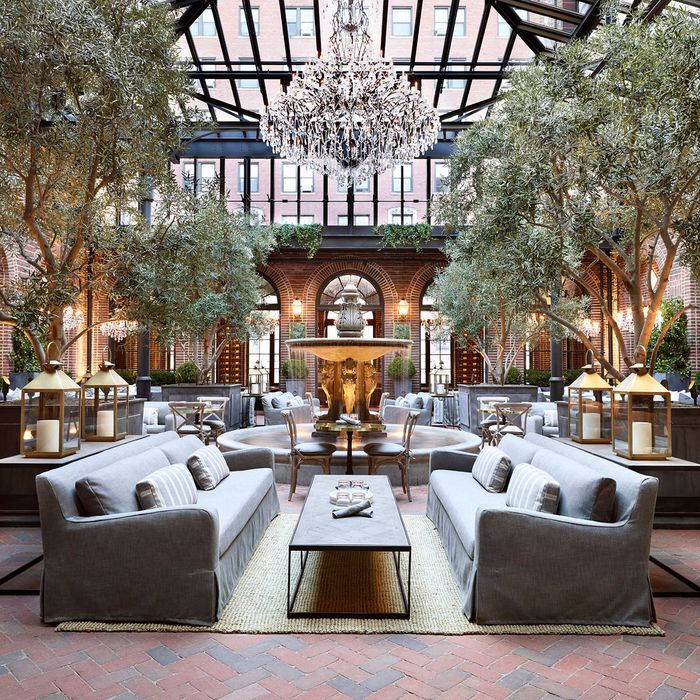 Look out, Urban Outfitters.
Photo: Three Arts Club Cafe
Urban Outfitters made waves in November when it announced the purchase of Philadelphia's Vetri Family restaurant group, and now Restoration Hardware is gearing up to create a food empire of its own. The furniture-maker opened its first restaurant, the 3 Arts Club Cafe, in October in partnership with Brenden Sodikoff's Hogsalt Hospitality, the group behind concepts like Au Cheval, High Five Ramen, the California Clipper, and more.
It's located on the first floor of the company's Gold Coast, Chicago, flagship and "design gallery," with a café, restaurant, and wine bar all in one, and apparently it's doing very well. CEO Gary Friedman is super hyped and telling investors, "We have a $5 million restaurant." Despite not advertising the location as a restaurant, he says, people are flocking to the space, and there are lines out the door. He calls the place, in the aforementioned presentation, "our field of dreams," and he's also really into the truffled grilled cheese.
Accordingly, Friedman is not wasting any more time before enacting his master plan to create an empire of combination restaurant–furniture showrooms. He says that his team is already looking into opportunities to add restaurants to existing or forthcoming galleries across the country, and that the company has been plotting to get into the restaurant game for a few years now. A Back Bay, Boston, restaurant was announced in 2012 but never opened, and when the retailer took over the Meatpacking District building formerly home to Pastis in 2014, there were rumors of putting the kitchen to good use. That turned out to be sort of true, as the company announced this summer that it will open a hotel (yes, also a showroom) and restaurant around the corner from that new location.