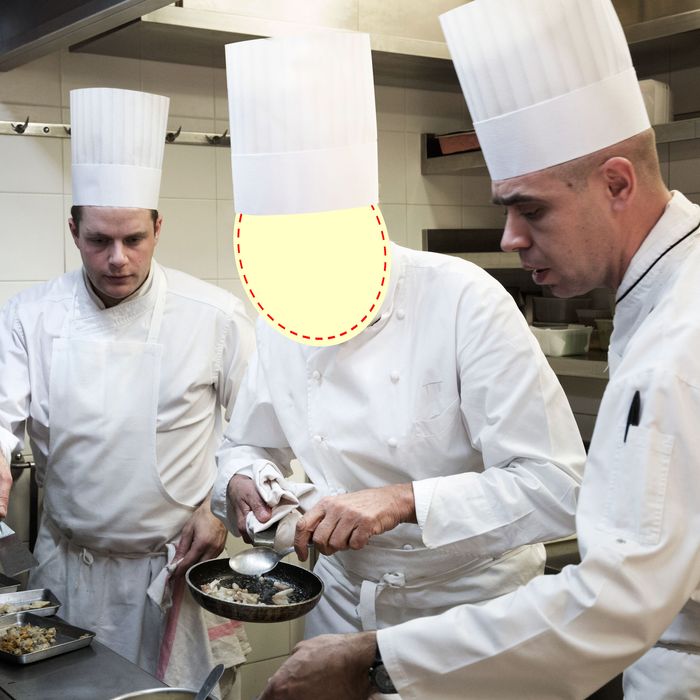 "We don't advertise it to get people to work here, but it's a bonus."
Photo: Maurice Rougemont/Corbis
Even if 2015 doesn't go down in the books as the year of the guest-chef pop-up dinner, it was a year in which the concept proliferated. Spots such as Contra, Huertas, and Mile End all host regular guest-chef events. Momofuku Ssäm Bar holds occasional late-night cameo dinners that bring in chefs from restaurants like Sean Brock's Husk or Underbelly from Houston. Even the relatively new Babu Ji turned into a one-night-only Indian steakhouse earlier this fall. For diners, of course, it's a great way to try something new without flying to another city. But for chefs and owners, regular guest dinners are quickly becoming a go-to method for keeping their staffs engaged.
The difficulty that chefs and owners have recruiting, and keeping, kitchen talent is well documented. Young cooks want to learn when they work, so they'll hop from restaurant to restaurant, or even city to city. Restaurants always need help, so they'll happily take them on. But restaurants also want to incentivize their own workplaces to hang on to, and develop, their own talent pool. Many owners, like Danny Meyer, are rethinking their entire businesses in an effort to boost pay and — hopefully — retain cooks. But still, the economics of owning a restaurant, especially in New York City, are what they are, which is to say profit margins are always going to be thin, and boosting pay across the board doesn't necessarily work, so chefs do whatever they can to make their kitchens seem like the most appealing places to work. And for many, welcoming a regular rotation of acclaimed guest chefs is one way to ensure people stick around. Huertas co-owner Nate Adler explains it's a calling-card for young cooks who might be afraid of doing the same thing every night: "It's emblematic of the type of place we are, that we want to challenge ourselves and not cook the same menu indefinitely."
"As a restaurant, paying people is not good enough anymore," says Noah Bernamoff. At Mile End, he and chef Tony Nassif hold regular guest-chef sessions with big names such as Andy Ricker of Pok Pok, and Hugue Dufour of M. Wells.  "Guest-chef pop-ups is one of many things we do to retain staff. They gain exposure to other chefs without having to leave."
The reason that's important: Turnover puts a major stress on restaurants both creatively and financially, according to All'Onda's Chris Jaeckle, who also coordinates semi-regular guest-chef sessions. "It hurts," he says. "Training staff is costly and staff changes can alter your guests' experience. And that is immeasurable. If you don't retain people it's harder to move forward. Keeping staff happy is the hardest thing about this business."
Justin Bazdarich, who owns Brooklyn pizza joint Speedy Romeo, does nearly monthly collaborations with local chefs including Dale Talde. He, too, gives the program credit for keeping staff pleased and in place. "We started doing it for that exact reason," he said. "It's to keep things fresh for me and my staff. When the chefs come, it's a feeling of excitement."
When one Speedy Romeo cook wanted to upgrade to manager at a time when no positions were open, Bazdarich used the guest-chef program as an alternative. "He was basically saying, 'I want to go off and learn other stuff,'" said Bazdarich. "So I offered that he would be in charge of all the chef collaborations. And he stayed."
Contra's Jeremiah Stone says his cooks get a charge out of the restaurant's regular collaboration program, which is perhaps the most consistent in the city. But he says it's also a calling card to new recruits. "It's a given that there's fun things happening here," he tells Grub, and it often comes up in the interview process.  "We drop it. We don't advertise it to get people to work here, but it's a bonus," he explains.
That's not to say these guest stints are solely the result of cold, calculating business savvy — especially since most people agreed these one-off dinners are rarely as profitable as a standard night of business — and the chefs admit they get plenty out of the meals, too, such as seeing a talented chef use their kitchen space in ways they might not have thought possible. "They'll utilize certain places in certain ways or use a piece of equipment in a way you've never seen," says the Musket Room's Matt Lambert, who will host Helsinki's Hans Välimäki next month, and who has previously welcomed guests like chef Atsushi Tanaka from Paris and Thorsten Schmidt of Denmark (whom Lambert calls "fucking Yoda").
And then there's one more reason the chefs put these on: They're an enjoyable break from the usual grind. As Lambert says,"It's something to look forward to."