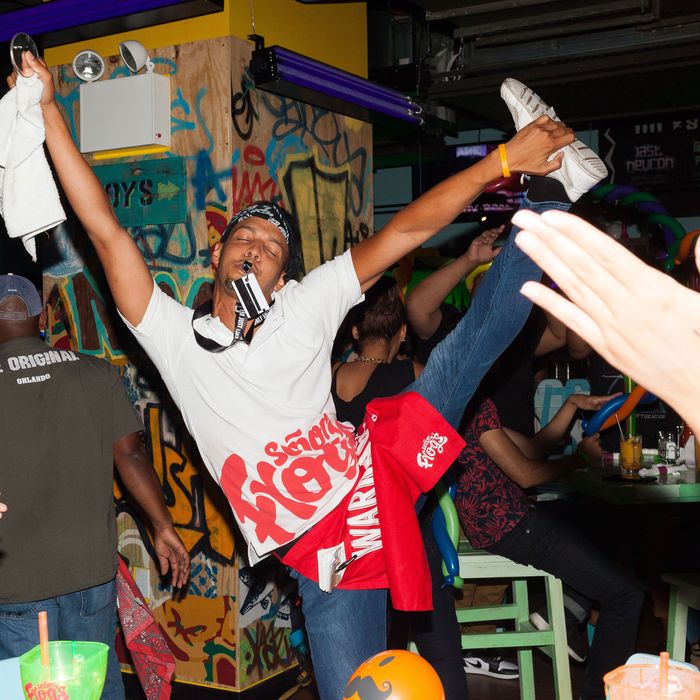 "I had more fun at Señor Frog's than at almost any other restaurant that has opened in the last few years."
Photo: Camilo Fuentealba
In this week's New York Times review, critic Pete Wells details his visits to Señor Frog's, the chain of margarita-fueled party-straunts that came conga-ing into town in September. Wells's assessment, though, may surprise you — especially if you expected the critic to reprise his takedown of Guy's American Kitchen & Bar. Wells is … definitely into the place. Yes, he writes, Señor Frog's is not a particularly good restaurant for getting the food you order, but Wells, for one, thinks its a rip-roaring time. The restaurant only gets a "fair" rating in the end, but who needs stars when you already have Frogasms? Here, some of the choice lines from the review:
On his station as a critic:
Many thoughts went through my head at that moment. I wondered, briefly, why anyone trusted me with an expense account. But the dominant idea was: Señor Frog's, where have you been all my life?
On making up for lost time:
"My most memorable spring break was whiled away in my room reading The Sorrows of Young Werther in German … This did not get me invited to many orgasm contests, but I was inclined to think the time with Goethe had been well spent until Senor Frog's opened on 42nd Street last summer. For the first time, I wished I had some memories of the chain. So when I ate there, I brought people who had gone to Senor Frog' in their wilder years."
It's the kind of place where forgotten dishes can be a blessing in disguise:
Getting just half of what you order at Señor Frog's can be a blessing if it's the right half.
When it comes to food, there's unexpectedly good surprises and some really bad stuff:
The Reuben is good, for some reason … I thought [the chicken enchiladas] tasted like tuna, but a more acute observer said the flavor was like pork sprinkled with fish food.
Wells couldn't help but unleash his inner Lady Gaga:
But … here, hold my Frogasm, I need to stand on the speakers and dance.
On theatrics in modern restaurants and what Señor Frog's and Eleven Madison Park both get right:
A few chefs and restaurateurs still understand that people go out to have a good time; Daniel Humm would serve a chili dog on a skateboard if he had thought of it first.
Is Señor Frog's the greatest restaurant of the year?
Because I had more fun at Señor Frog's than at almost any other restaurant that has opened in the last few years.

[NYT]