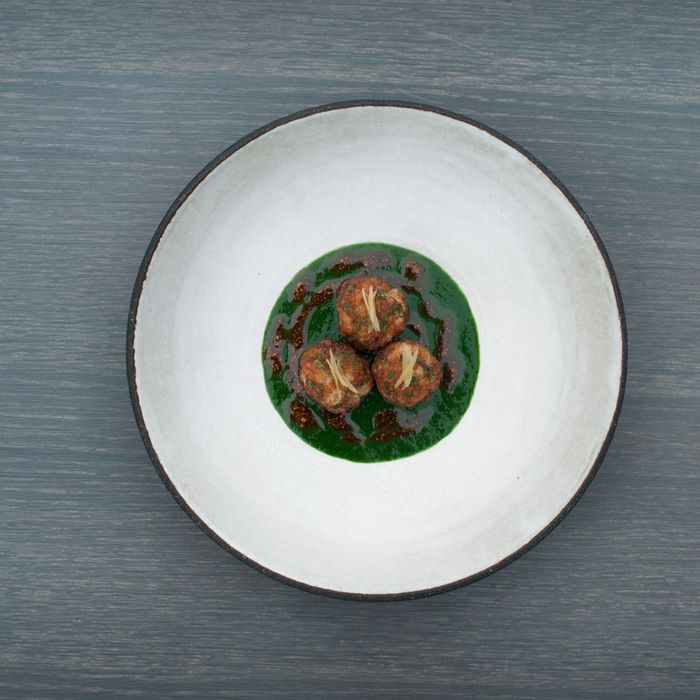 Pollock fishcakes with parsley-mussel sauce, toasted seaweed, and salted plums.
Photo: noma.dk
For the decade-plus that Denmark's Noma has been one of the world's most acclaimed and influential restaurants, people have wondered when exactly René Redzepi would expand with a full-fledged second restaurant. Where's the Noma bistro? Or Noma's Nordic sandwich shop? Redzepi's team has embarked on plenty of extracurricular activities — the Nordic Food Lab, the MAD symposium, a Noma pop-up in Japan and one coming up in Australia — and even announced that the Noma mother ship will close and relocate at the end of next year. At the time of that announcement, Redzepi also said he'd partner with chef Kristian Baumann on a more casual restaurant, but additional details were scarce.
Now, however, the group has announced that its new place in Copenhagen will be called 108, a reference to its address (give these guys credit for playing it real straight with their businesses' names). Writing on Noma's official site, Baumann says the new restaurant will open in late spring:
We've spent the last six months preparing for this project: we've created dishes, started collaborations with various farmers, and salted, pickled, and preserved all the delicious berries, plants, and flowers that nature has to offer.

Our kitchen finds its inspiration in the exciting developments that have happened to Denmark's restaurant scene over the last decade. I'm going to continue to build on these foundations through the ideas and influences I've gained from my upbringing, my career, and my travels. I want to keep exploring; creating the essence of an urban restaurant; one with a proximity to nature, to farms, and to the vibes of the city.

Our restaurant will be a place for families to come together for a quick dinner on a Monday night, or for friends to sit down on a Friday evening for a longer meal, and really explore what we have to offer. We want to add value to the existing traditions of an already brilliant dining scene — and hope to influence the Copenhagen kitchen.
And, before that happens, starting on January 20 the group behind 108 will run a 13-week pop-up inside Noma (during which time the Noma team will be in Sydney — try to keep up), offering an à la carte menu — dishes will include romaine stems in oyster marinade, pollock cakes with parsley-mussel sauce, and grilled cabbage with sauteed pigtails — and "an early taste" of what is sure to be one of the biggest restaurant openings of 2016. Interested parties can make a reservation here.