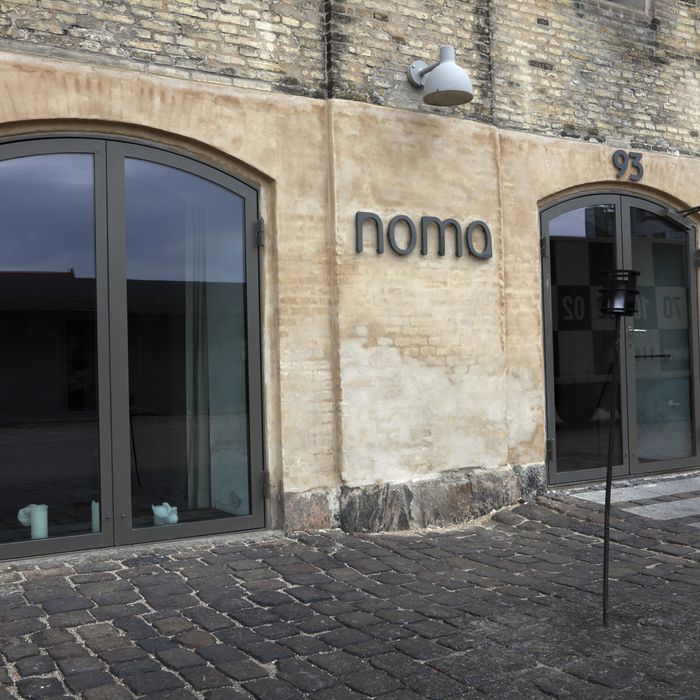 Ing has worked at the restaurant for less than two years.
Photo: Niels Quist Petersen / Demotix
When Daniel Giusti vacates his post as Noma's chef de cuisine at the end of this month, sous-chef Ben Ing will take the reins of the Copenhagen spot that is often called the most influential restaurant in the world. Yet there's a good chance that you don't recognize Ing's name. You will soon — after all, it's not just anybody who gets awarded such a coveted, important role.
A native of Ottawa, the 30-year-old Ing started cooking while playing for the Ottawa Junior Senators hockey team. When he was 18, he took his first restaurant job at a place called the Lapointe Fish Restaurant. A bussing job led to a garde manger position, and Ing, not seeing a future in hockey, dropped pucks for molds and enrolled in the culinary school at Algonquin College in Ottawa.
After working at a few restaurants, his first job out of college was at the Fraser Café, described by Canadian newspaper The Globe and Mail as "a culinary mainstay in Ottawa's New Edinburgh neighbourhood." Not exactly "the best restaurant in the world," but Ing credits the chef-owners there, brothers Ross and Simon Fraser, as early mentors who, he told the paper, continue to influence his cooking style. The brothers, in turn, describe Ing as a cook who motivates those around him while also helping to create an inquisitive environment where "questions, discussions, and ideas" are encouraged. In other words, he sounds like the kind of guy you want running a high-wire, boundary-pushing kitchen.
In between his time in Ottawa and his arrival in Denmark, Ing did some culinary globe-trotting, spending six months in Australia, including four at the Royal Mail Hotel in Melbourne. The kitchen there was run from roughly 2007 to December 2013 by Dan Hunter, who was once head chef at Mugaritz, another one of the world's top-ranked restaurants. Ing also spent time at two of New York's more celebrated spots, Café Boulud and Eleven Madison Park. In fact, it was Ing's tenure at the latter that would set in motion his takeover of Noma's kitchen.
After setting his sights on Europe, Ing told the Ottawa Citizen last summer, he emailed EMP chef Daniel Humm asking for advice or contacts. Humm offered to connect Ing with his top five choices, which led to the offer from Noma. By January 2014, the young chef was already in Copenhagen. That offer was initially just for a trial, but Redzepi and his cohorts were apparently impressed enough to offer to a permanent position. Six months after starting, Ing had earned the position of chef de partie.
In fact, Ing's rise to the top of one of the world's most prestigious kitchens has been improbably swift. In the Globe and Mail article, Redzepi reveals that Ing's fellow sous-chefs all nominated him for the position despite the fact that he had worked at the restaurant for less than two years. "I asked all the sous-chefs who they would think would be the next head chef, and even though they kind of were next in line they all pointed to Ben. It was a 100 percent unanimous decision," Redzepi said.
Ing's appointment comes at an interesting time in Noma's history. The restaurant is, of course, approaching a time of great transition: It will close its doors at the end of the year, and Noma as the world knows it will cease to exist — and later reopen, hopefully in 2017, as part of a urban farm with a greenhouse and a totally rethought menu. Ing, in other words, will be the chef who shepherds the restaurant through some of its final days before it is reborn, like a phoenix foraged from the ashes, as Noma 2.0.
Ing did tell the Citizen last summer that he wants to do "something in Ottawa" and help make it "a destination" spot. But first he has a pop-up to run next month in Australia, and a new job to take on.