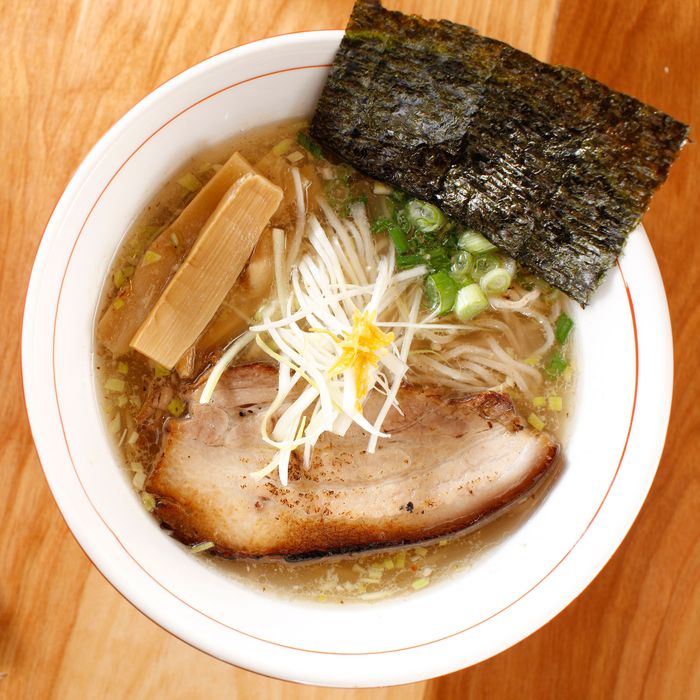 The signature yuzu shoyu ramen with seaweed, bamboo shoots, sliced pork belly (or chicken), and scallion.
Photo: Melissa Hom
Just in time for the cold, rainy December weather, a Tokyo-based ramen expert has quietly opened his first New York restaurant: Along with partner Takayuki Watanabe, chef Takatoshi Nagara debuted Mr. Taka Ramen on Allen Street last month. Of course, the city is flush with excellent ramen these days, but Nagara has a pedigree that makes him an immediate contender: He comes to New York from Tokyo's Bigiya, which last year earned a spot in the inaugural washoku (traditional Japanese cuisine) section of Michelin's Bib Gourmand list for the city, and his restaurant has some compelling soups on the menu that bring something different to the city's scene.
The focus here is on shoyu (soy) ramen, with four different varieties available: There's a straightforward option, and one seasoned with white shoyu, a thinner soy sauce made with more wheat than the regular kind; another variety is flavored with ginger, a style Nakara developed for this restaurant; and a fourth gets seasoned with white soy sauce and yuzu, a Bigiya signature, which perfumes the light broth with a refreshingly citrusy fragrance. There's also the requisite tonkotsu, a spicy miso broth, and a vegetarian variety given body and depth by soy milk. The noodles, meanwhile, are of course custom-made by Sun Noodle.
There are a handful of appetizers to snack on before you get your noodles, including spicy pickled cucumbers, sweet-potato tempura, and Japanese-style chicken wings. Those not in a slurping mood can opt for one of a few rice bowls, variously topped with broiled pork, chicken, spicy cod roe, and grilled eel. The small space is all blond wood and muted colors, with an open kitchen surrounded by a bar, a few low-hanging tables, and counter seating by the wide windows. Booze is limited to four reasonably priced glasses of sake, along with one beer (Okinawa's Orion), a highball called chu-hi, and a plum wine.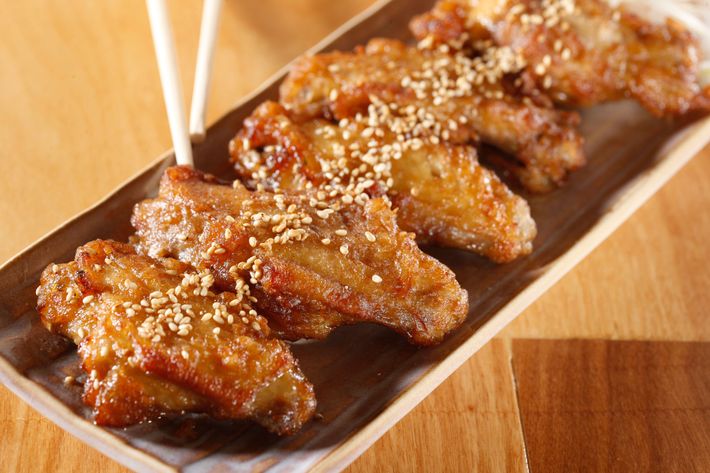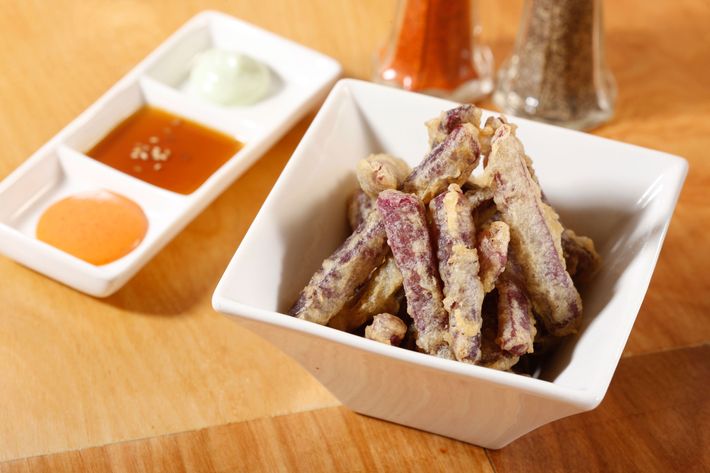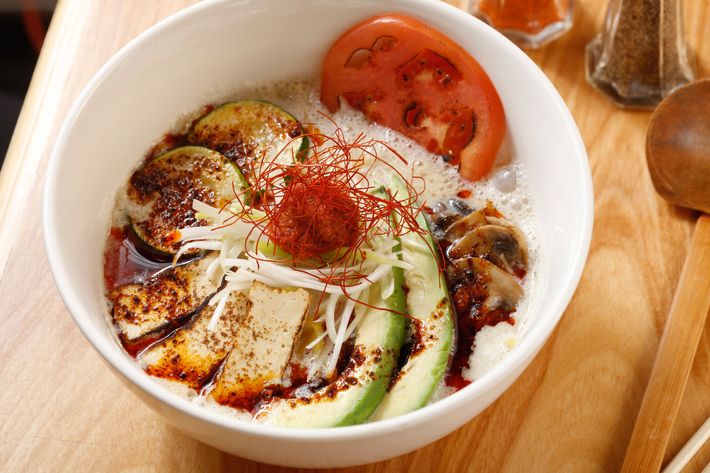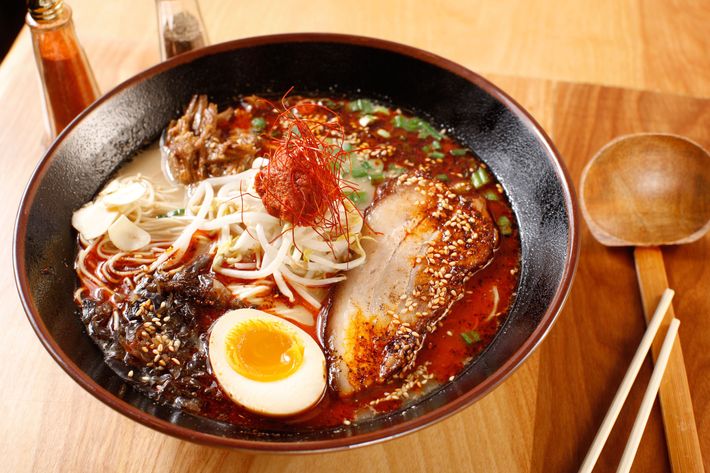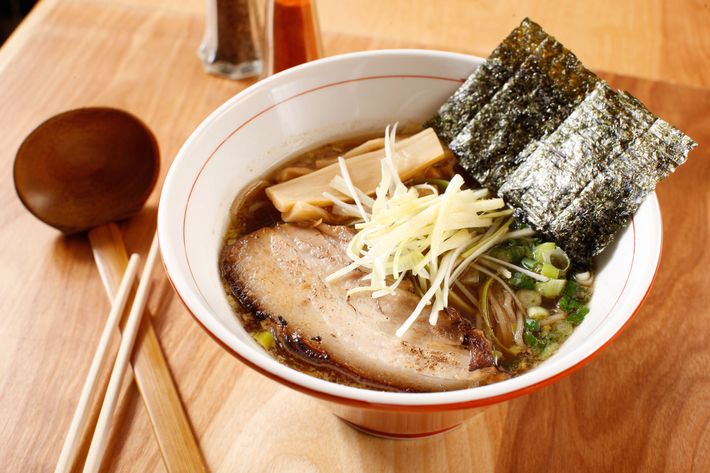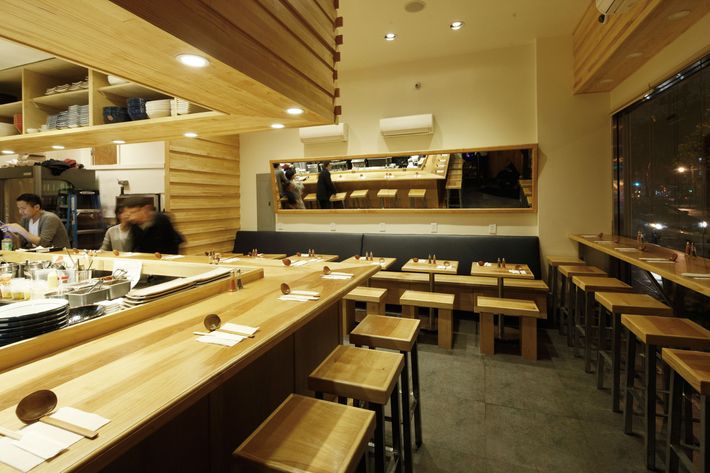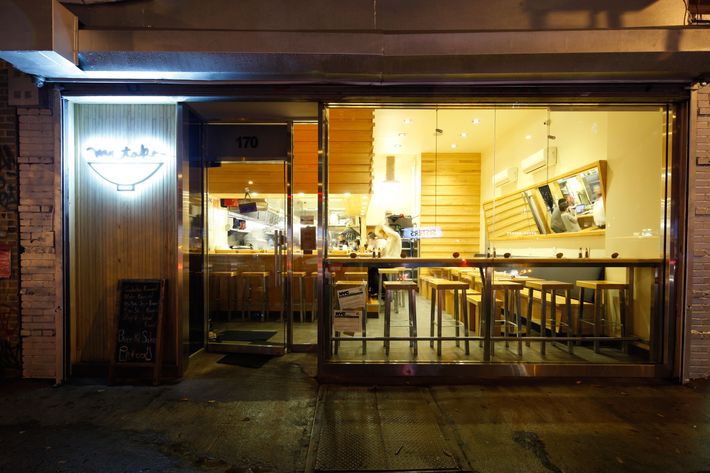 Mr. Taka Ramen, 170 Allen St., 212-254-1508
Menu [PDF]