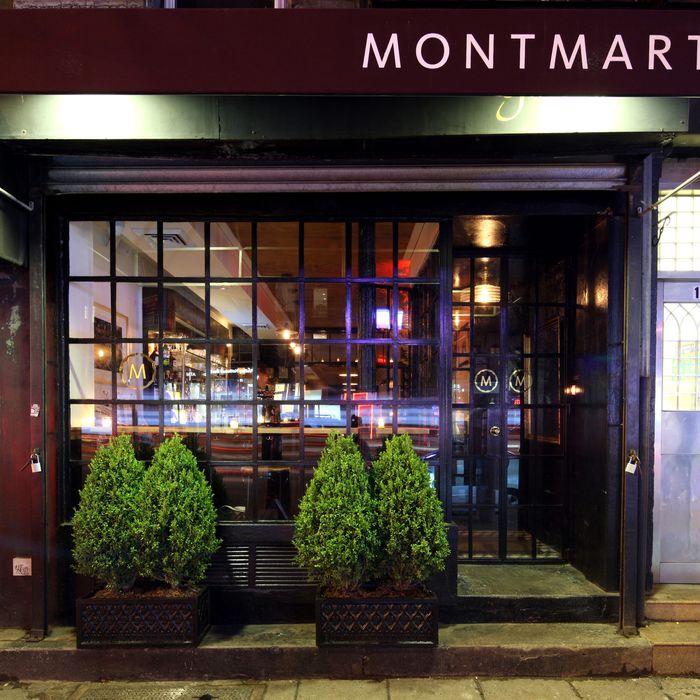 The restaurant is set to close in March.
Photo: Melissa Hom
It's still 2015, but 2016 already has its first high-profile restaurant casualty: Montmartre, Gabriel Stulman's diminutive French spot in Chelsea, will reportedly close in March. Stulman is no stranger to adjusting businesses that aren't performing to expectations — he revamped Perla earlier this year and he turned Chez Sardine into Bar Sardine in 2014 — but this will mark a major closing for his Happy Cooking Hospitality group, which also runs Joseph Leonard, Jeffrey's Grocery, and Fedora.
Montmartre, of course, has had a tough go of it since opening in 2013. The place opened big, and the early response was warm enough, but the team soon overhauled their menu approach before the restaurant lost head chef Tien Ho, and — eventually — his replacement Michael Toscano. In the end, Stulman tells Eater that he's closing because the restaurant just wasn't doing enough business. He also says that he's discussing the closure so far out because he wants his vendors to know, and he's committed to finding other jobs for every one of his employees, either at another one of his spots, or at another restaurant in the city.
[Eater NY]