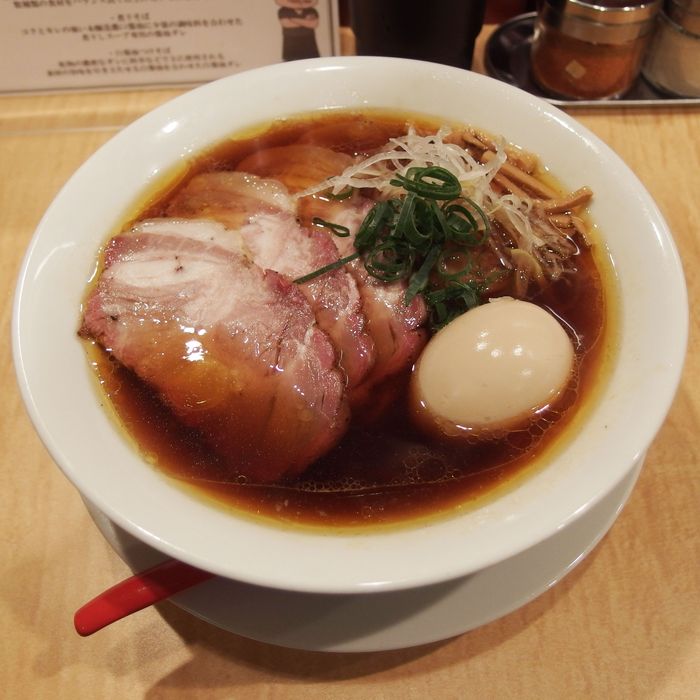 This is what Michelin-starred ramen looks like.
Photo: Guilhem Vellut/Flickr
Michelin has unveiled its 2016 guide to Tokyo restaurants, and a ramen spot has joined the tire company's coveted ranks of the city's high-end sushi haunts and kaiseki temples. Sugamo's popular Japanese Soba Noodles Tsuta, considered one of the best shops in the city, was awarded a single star this year for its abbreviated menu of ramen or tsukemen in shio soup or shoyu soup, both made with a chicken and seafood stock featuring kelp, clams, and pike. (On Tuesdays, the restaurants transforms into Miso No Jin and serves miso ramen.)
Though this is the first time a ramen specialist has been given a star in any of Michelin's guides, the inclusion of a cheap, no-frills noodle restaurant isn't unprecedented: Tsuta's star parallels that of Hong Kong hole-in-the-wall Tim Ho Wan, the dim sum house that was billed as the world's cheapest Michelin-starred restaurant when it was first inducted. Additionally, earlier this year, Michelin included street vendors in its Hong Kong guide for the first time.
[via Reuters]