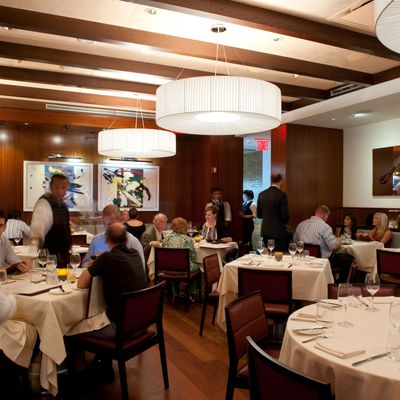 The owners say they're looking for a new location.
Photo: Liz Clayman
Another goner: Following this week's news that Gabriel Stulman will shutter Montmartre in March and that the one-time hot-ish spot the Lion will also call it quits, word now comes that Altamarea Group — led by open-letter-writing CEO Ahmass Fakahany and chef Michael White — will close their Soho steakhouse Costata after service on New Year's Eve.
Interestingly, the group says they're currently looking for alternate locations, possibly in midtown, and that Costata's "delicious steaks and sides will continue to be available in the comfort of your home via delivery portal Caviar." The steakhouse opened to decent buzz in 2013, but never caught on in any real way among the city's carnivores. Pete Wells awarded the place two stars, despite some inconsistent cooking and a soundtrack heavy on Foreigner, but New York's Adam Platt, didn't have any stars for what he called White's "formulaic" steakhouse concept, which, when it opened, looked "unsettlingly like the dining room of a lobbyists' restaurant in Washington, D.C." Perhaps Costata really will relocate and flourish, but in the meantime, it will probably best be remembered as the place where Prince himself once dined-and-dashed before finally settling his bill.