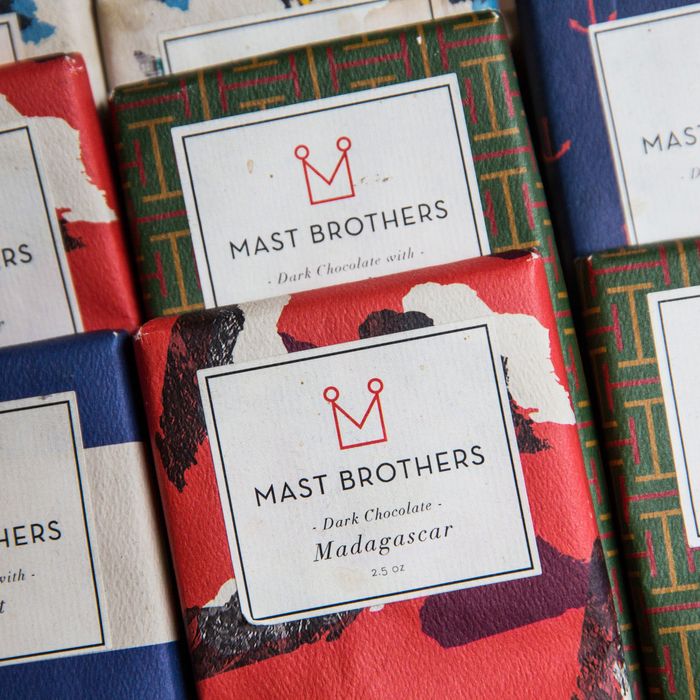 These are fine, though.
Photo: Andrew Burton/Getty Images
Over the last few weeks, the Dallas-based writer Scott Craig has levied some serious accusations against Brooklyn's Mast Brothers chocolate company in a brutal series of blog posts. The main accusation: In the company's earliest days, the brothers bought and remelted industrial chocolate to use in their own products, despite claims that they made their chocolate exclusively by starting with the actual cocoa beans.
When Grub Street first reached out to the Mast Brothers to address the claims, they wrote, in part, "Needless to say, we were then and are now a bean to bar chocolate maker." But as Craig has continued with his series and gained more attention, scrutiny and follow-up coverage have also increased (including a Quartz post that has, so far, gained the most attention). And now, in a new Times report, the brothers appear to confirm that Craig's accusations do, in fact, have merit:
In an interview on Sunday, Rick Mast, who with his brother began making chocolate in a Brooklyn apartment in 2006, said the allegations were untrue — for the most part. But on the claim that the Masts were "remelters" at the start, Mr. Mast confirmed the brothers did use industrial chocolate, what is known as couverture, in some of their early creations, before settling on the bean-to-bar process for which they are now known.

"It was such a fun experimental year," Mr. Mast said, adding that the brothers were transparent "to anyone that asked."
The "experimental year" comment echoes their original statement, but the admission itself seems to fly in the face of the Masts' brand, which is built on a foundation of from-scratch craftmanship (and priced accordingly). Indeed, when people speak of Brooklyn's bearded artisans, the beards they're likely referring to belong to the Mast Brothers. Craig, in a separate interview with the Times, says of the chocolate brand, "This was all a facade."
Everyone seems to agree that the brothers do now practice true "bean to bar" chocolate-making techniques, but many members of the chocolate community, which has a history of disdain for the Masts, say that doesn't matter. Craig reportedly compared the brothers to the disgraced cyclist Lance Armstrong (ouch), and one prominent chocolate reviewer tells the Times, "They have a great story … I'm not convinced that what they built there is on chocolate they made."
Update: Rick Mast has responded with an open letter.
[NYT]