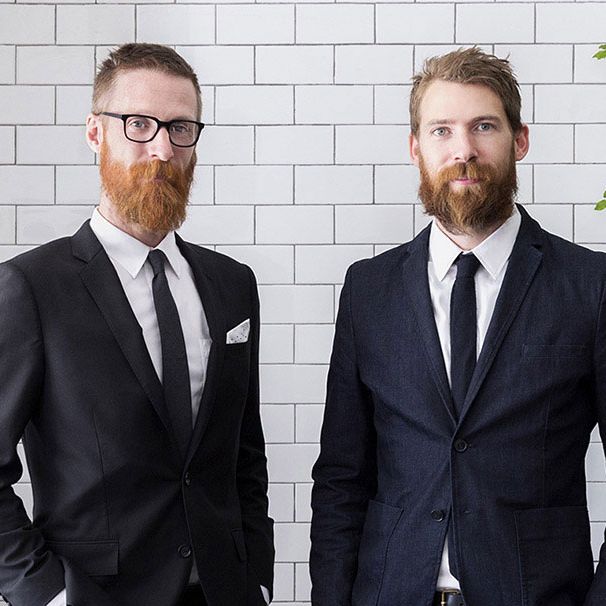 Rick Mast is the one with the beard.
Photo: mastbrothers.com
You knew it was coming: The Mast Brothers have posted a long response to the still-growing controversy that surrounds the company. In an open letter, Rick Mast lays it all out: Yes, the company used industrial chocolate in its earliest days. No, the company no longer uses industrial chocolate, and they now make all of their products from scratch (hence the ever-popular label "bean to bar"). Here are the most interesting bits:
Every chocolate bar made by our company that you have lovingly purchased since we opened our first factory, including those purchased for the coming holidays, was made "bean to bar". Any claim or insinuation otherwise is simply false

[…]

From the beginning (2007), my brother and I have produced a bean to bar line of chocolate with an obsessive attention to detail, meticulous craftsmanship, groundbreaking innovation and inspirational simplicity. Despite the best efforts of various competitors and "critics" to disparage us or pull us down, we are proud of our work and proud of the journey we took to get where we are today.
This passage is probably the most telling:
To set the record straight, before we opened our first chocolate factory, my brother and I experimented and honed our craft constantly for nearly a year, which is typical for any entrepreneur, craftsman, and innovator. At that time, in addition to making chocolate from bean to bar, we also tested with couverture Valrhona. And despite wild speculations about our production levels or sales, we made no more than 200 or so bars a week, did not make a profit and generated a rather modest revenue, which we obtained primarily from setting up a folding table at a weekend market, the occasional wedding or special event. Additionally, we did not sell our chocolate bars for $10 but $5-$7 at the time. We have always been open and transparent about our chocolate, and have eagerly and honestly discussed our methods with inquiring customers, chefs, fellow chocolate makers and journalists. And while we never claimed to make all our chocolate exclusively from bean to bar in those early days, we did describe ourselves as a bean-to-bar chocolate maker. Since we were in fact making chocolate from bean to bar, we honestly thought we could say as much. We sincerely apologize if you or any of our other loyal customers feel they were misled about the chocolate we made when our company was just getting off the ground.

[…]

That all said, having to write this letter saddens me more than anything. We have spent precious time away from our family on the week of Christmas to manage a senseless, mean-spirited "takedown" by determined individuals with an agenda to harm our reputation solely for the purpose of their commercial or professional gain. … Our wonderful team and our beloved partners have to go home for the holidays and try to explain to their families and friends that yes, indeed, Mast Brothers is actually making their own chocolate. This is not the chocolate industry that we wish to be a part of. To that end, we will continue, as we have always done, to not participate in chocolate industry conferences, conventions or competitions until the culture changes.
You can read the complete letter — and its accompanying FAQ — at their site, but it's worth noting that this largely lines up with the accusations that have been leveled against the Brothers' company by Dallas-based Scott Craig, and that they have more to do with the foundations on which the brand is built, as opposed to the quality of the products that are made now. In the meantime, remember that there are plenty of (other) excellent chocolate producers out there, too.