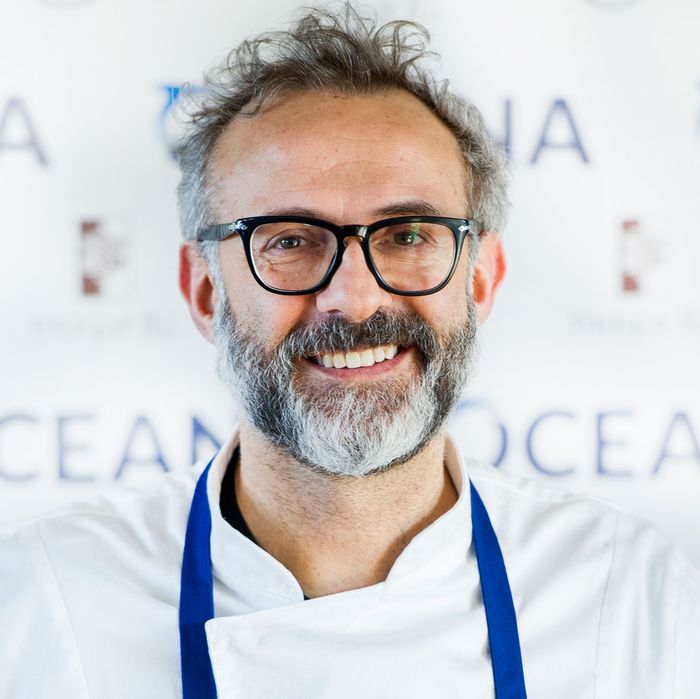 Stepping up.
Photo: Juan Manuel Serrano Arce/Getty Images
This year has been a great one for food waste: Dan Barber made it taste great at his wastED pop-up, United Airlines turned it into fuel, a former Trader Joe's president opened an expired-food supermarket, France made it illegal for grocers to throw out their food, the United Nations pledged to cut food waste in half by 2030, and Governor Cuomo announced plans to open a revolutionary recycling plant in Long Island. Now Italian chef Massimo Bottura — of Osteria Francescana in Modena, Italy (No. 2 on the "World's 50 Best Restaurants" list) — has jumped aboard, penning an article for The Wall Street Journal. In it, he writes:
Chefs have greater social responsibility than ever before. Celebrity status has allowed some of us to become ambassadors of culture and advocates for artisans, ethics and change. But have we spent enough time and energy considering the waste that results from our work? Imagine a school where young chefs are taught to be as resourceful with ingredients as they are with ideas. Imagine chefs embracing imperfect, discarded food and treating it with the same reverence they would a rack of lamb or ripe tomato. Imagine changing the perceptions about what is beautiful, nutritious and worthy of being shared.
Let's hope some of his musings can become realities in 2016.
[WSJ]