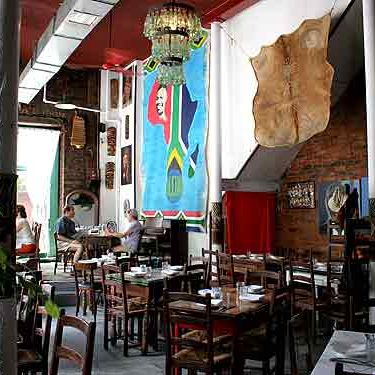 The restaurant has been open since 1999.
Photo: Yun Cee Ng
Brooklyn South African restaurant Madiba has been a Fort Greene fixture since it opened in 1999, but now it's launched a crowdfunding campaign in an effort to keep its doors open. Owner Mark Henegan says a mix of mounting high-interest debts and financial pressure, including loans from loan sharks — on which he estimates he's paying a whopping 30 percent interest — as well as setbacks like the loss of three other Madiba locations in Harlem, Miami, and Asheville, have put him in a difficult position, and he sees no other way out. He tells Forbes, "I'm getting to the point where I know that I'm going to lose the restaurant … The idea that Madiba can actually go out of business — it kind of just hit me."
He admits that his strategy of never taking on investors in favor of relying on credit to fund his project has contributed to the situation. So, for his recently launched Indiegogo campaign, called Save Madiba Brooklyn, Henegan is asking friends, family, and fans to help raise $200,000 so he can have some relief and pay off the costly debt. Henegan says that he can't really look for an investor owing to the fact that the restaurant hasn't had a lease for seven years, but that he's also willing to give up half his stake if it means securing Madiba's future in Fort Greene.
[Forbes]