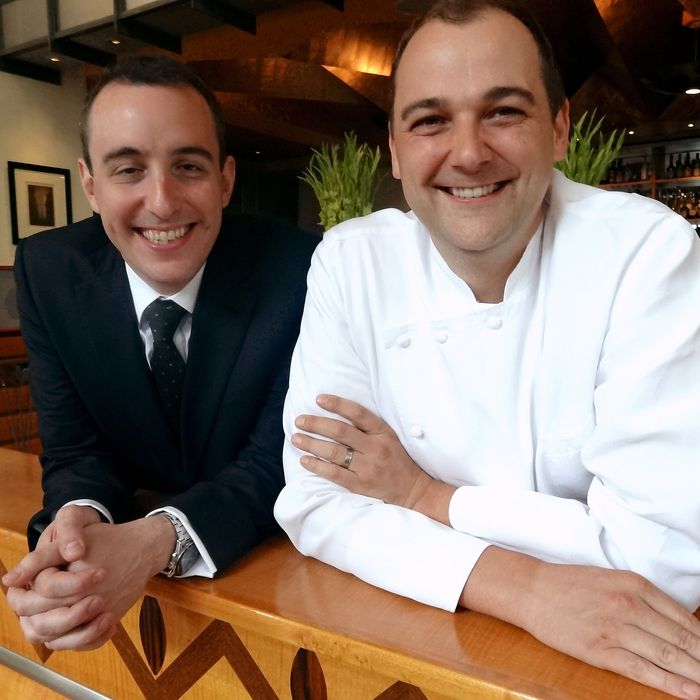 These guys have big plans for 2016.
Photo: Richard Vines/Bloomberg/Getty Images
The original Shake Shack famously got its start inside the kitchen of Eleven Madison Park, and now the (newly tip-free) fine-dining icon — currently co-owned by chef Daniel Humm and Will Guidara — will birth another fast-casual concept: Humm and Guidara, who also own the NoMad and the NoMad Bar, have announced plans to open Made Nice next year on West 28th Street. The duo's restaurants are known for their dedication to hospitality and a theatrical service style, but Made Nice, also the name of their restaurant group, will be a counter-service spot where a meal will cost between $10 and $15.
The menu won't be burgers and burritos, though. Instead, expect composed plates of grains, starches, proteins, and seasonal vegetables that are more in line with the current vegetable-heavy vogue. Though it's affordable, this won't be downmarket: EMP sous-chef Danny DiStefano will transition to the kitchen; food will be served on stoneware made by artist Jono Pandolfi, who provides tableware for EMP and the Nomad; and the room will be designed by architecture and interior-design firm Stonehill & Taylor, who also did the Nomad.
This is, of course, just another part of the restaurant group's obvious world-domination plans. They're currently at work opening a new NoMad in Los Angeles, as well as a Manhattan project they've only described, ominously, as "a Four Seasons on steroids."
[WSJ]