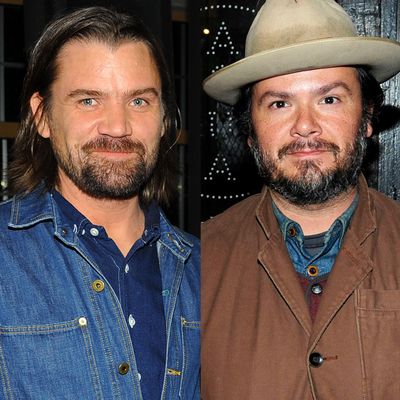 Somer and Quirarte.
Photo: Patrick McMullan
Taavo Somer of Freemans and Carlos Quirarte of the Smile are old friends with a new restaurant — Le Turtle, which opened quietly last week on the Lower East Side. Somer has transformed the space that was formerly Antonioni's, exposing the brick walls and installing reclaimed-marble-topped tables, Danish Helge Sibast chairs, Horween-leather-padded pine banquettes, and unusual seating clusters like a U-shaped bench and a 12-seat booth recessed into the wall that you reach by climbing a few concrete-block stairs.
The kitchen is helmed by Greg Proechel, who has cooked at Blanca and the Long Island City tasting-menu pop-up Mr. Nilsson. His modern French menu features vegetables prominently, along with heartier options like grilled wagyu and braised oxtail, and the house bread comes from Roberta's.
The restaurant is still awaiting its wine and beer license; until then, you can order a bracing mint lemonade or virgin Moscow mule to accompany your fresh cheese with kabocha and burnt onion petal, or your parsley root and cockles. The wine list will be all French, with a natural focus, and overseen by former Semilla sommelier Jessie Keifer.
Here's a look at the dinner menu, which is currently served from 5:30 p.m. to 10:30 p.m., Tuesday to Sunday.*
Le Turtle Dinner [PDF]
177 Chrystie St., at Rivington St.; 646-918-7189.
*This post has been updated to reflect the restaurant's modified hours.