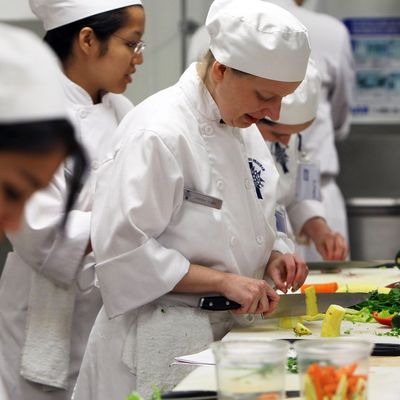 End of an era.
Photo: Justin Sullivan/Getty Images
Le Cordon Bleu, the culinary school whose alums include Julia Child and Mario Batali, has announced that it's pulling the plug on all 16 U.S. locations. Operations will shutter for good in September 2017. This news is big, since Le Cordon Bleu is the world's biggest cooking and hospitality school, and arguably its most famous, best known for the flagship campus in Paris, where a young Julia Child decided to take classes.
All U.S. campuses are run through a partnership with Career Education Corp., which operates the school as a for-profit chain that's lately expanded into online management degrees. Enrollment grew considerably during the recession, but this glut of neophyte chefs has been controversial, and the Obama administration's crackdown on for-profit schools is making Career Education Corp.'s future look bleak — federal financial aid can be withheld from career schools where students borrow lots of money, then earn relatively little after graduating (culinary schools, which can cost $100,000 and prepare new chefs for $15-an-hour jobs, are among the worst).
When Career Education Corp., which has had some shady business dealings elsewhere in higher ed, said back in May that it was washing its hands of career colleges, and the assumption was that Le Cordon Bleu would go to the highest bidder. The company briefly shopped the school around, but ultimately decided the "quicker and ultimately cheaper" route was just to close. Students currently enrolled will of course get their degrees, but the group starting in January will be the last.
[BuzzFeed]