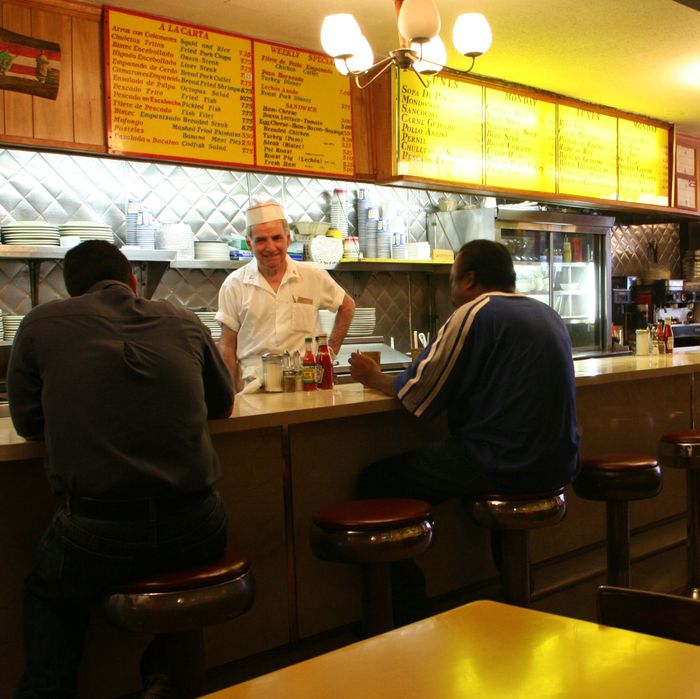 It's gone for good.
Photo: Robert K. Chin
Sad news out of Chelsea: La Taza de Oro, the classic lunch counter and arguably New York's most iconic Puerto Rican restaurant, has shuttered for good. The restaurant had been closed for the last nine months because of a full vacate order from the Department of Buildings, and though owner Eric Montalvo originally planned to reopen in 2016, he decided to close shop due to fresh financial burdens, per Vanishing New York. According to the DOB, the order was placed because of falling bricks and a Fire Department request for a structural instability request, but Montalvo, who owns the building, says the bricks fell from a neighboring building's façade.
Open since 1947 and a holdover from the neighborhood's Puerto Rican past, La Taza was once one of many Puerto Rican restaurants in Chelsea and throughout downtown, of which only a handful now remain. Last year, Robert Sietsema, a longtime downtown denizen, put it on his list of irreplaceable dining institutions that deserve to be protected.
There isn't much hope of it reopening in a new location, either. Montalvo says his kids have their own careers, and that he plans to go to back to Caribbean. However, he does hope to rent the space out to another Latin restaurant.