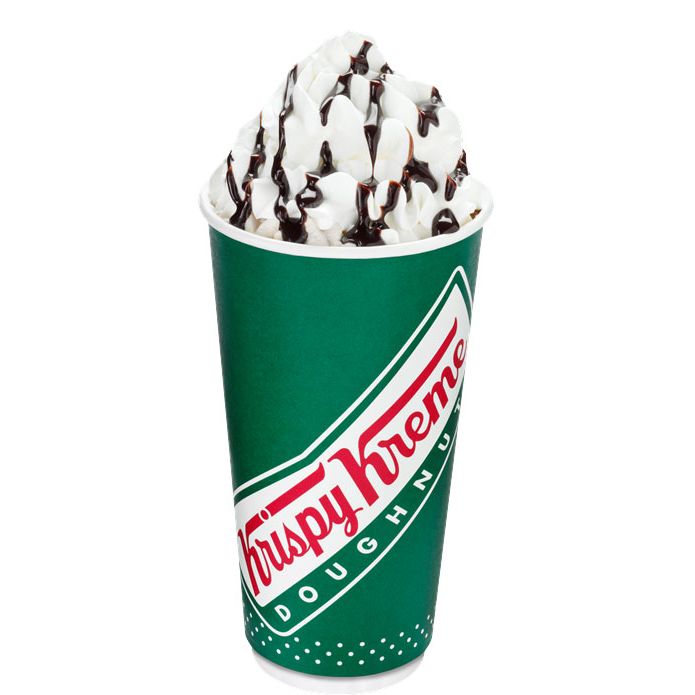 Health-conscious times call for desperate measures in the doughnut biz, and Krispy Kreme's new trick involves a loose interpretation of the word barista. To lure customers, it is testing out a Starbucks approach in a store near its headquarters in North Carolina — employees rechristened as "baristas" grind beans fresh and manually tamp the grounds for lattes, and they will even ask you for your name when you order.
If done right, the chain thinks it can double the amount of coffee it sells, reaching 10 percent of sales instead of just 5 percent. This would be great news for Krispy, because the markup on coffee is astronomical. Inching further toward Starbucks, Krispy Kreme's coffee menu literally has an Iced Skinny Vanilla Latte now, among other copycats. CEO Tony Thompson concedes to Bloomberg that the company "kind of lost ground on coffee over time," so this is its way of getting with the program.
The test store's aim is pretty conspicuous: It features a giant coffee mural and very third-wave-y chalkboard that reads, "Know Your Coffee." There's also free Wi-Fi and comfy chairs, so that customers might lounge for a while, as they might at, say, a certain competitor's store. "They're coming in for doughnuts, but all of a sudden they see: Wow, they're pretty serious about coffee," Thompson says of the strategy.
Unambiguous as it may be, it's unclear if the plan is working. The day the revamped location opened in October, a gaggle of Krispy Kreme super-fans had been camping out for the better part of a week. A great sign, it would seem … only when local media talked to these people, they said they just wanted to see the "Hot Now" light flicker on.