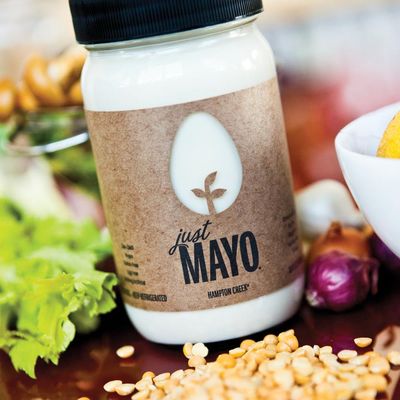 That egg is getting downsized.
Photo: Hampton Creek
It's been a dramatic year for vegan-mayonnaise-maker Just Mayo, which has battled Hellmann's, the FDA's label police, and the USDA-backed American Egg Board. But things are settling in Just Mayo's favor: For a time, it looked like regulators might force the egg-free company to change its name to something more literal ("Mostly Just Oil-and-Yellow-Pea Sandwich Spread"?). But parent company Hampton Creek says it has struck an agreement with the FDA, after months of talks, that lets Just Mayo stay Just Mayo, so long as it makes a few changes to the label.
According to the AP, the "no eggs" part will be made abundantly clear: The term egg-free will get bigger, a description saying "Spread & Dressing" will be added, and the fairly conspicuous egg image will get smaller. The FDA initially raised eyebrows at Just Mayo's ingredients, several of which (modified food starch, pea protein) aren't technically allowed to be in something called "mayonnaise" — nor was it a fan of marketing claims implicitly made by the product (like that it can reduce the risk of heart disease).
Just Mayo apparently won on this front, too: It says the recipe isn't changing, and other labeling issues have also been resolved. Hampton Creek CEO Josh Tetrick tells the AP the reason for Just Mayo's (basically unqualified) victory is that he found "common ground with the FDA" after stressing they'd done all this stuff to make a healthier, less wasteful food.
Meanwhile, the USDA investigation into the American Egg Board fiasco, which already forced the CEO into premature retirement, is ongoing. Those plans to thwart vegan mayo really backfired.
[AP]