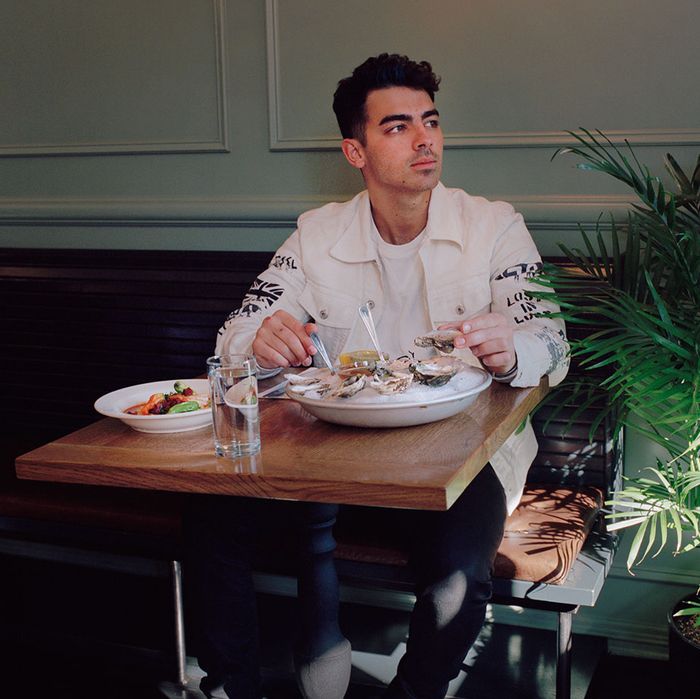 Jonas at the Heyward in Williamsburg.
Photo: Lili Peper
Joe Jonas made a name for himself singing pop songs with his brothers, but now he's part of a completely different band, called DNCE, which just released its EP this fall. This week, Jonas was on tour, performing at Jingle Ball shows across the country, but he still found time to eat at Dirty French, Joe's Pizza, and Brigadeiro Bakery while briefly in New York. Food is actually a priority for Jonas — which is why he recently partnered with Select Hospitality to serve as the music curator for restaurants like the Heyward and Hudson Clearwater. Read all about Jonas's jet-setting week — which even includes eating veal Milanese in St. Barts — in this week's Grub Street Diet.
Thursday, December 10
My morning starts at the airport in L.A. to fly to New York. The security line at the airport moves quicker than expected, so I have 20 minutes to find breakfast. I manage to grab a green cold-pressed juice and protein bar on my way to the gate.
I guess that I like to call myself a foodie. I definitely try to find great stuff in each city, or really experience what the city is known for. I try to balance everything out, though: I've been on diets here and there, because being on the road, you don't have time to get your workouts in. So I try to eat healthy, but I think it's important to have balance. I'll have healthy meals twice a day, and then usually for dinner I'll make an adjustment to have what's incredible in that particular city.
When I get to NYC, I meet one of my bandmates and my manager at Dirty French on the Lower East Side, where we all order the meunière, which is a beautiful dish with brook trout, sesame, and dried apricots, before we run off to the recording studio for a last-minute session.
Friday, December 11
I'm up early with my band for a radio interview on Z100. Thankfully, there's a spread of assorted prepackaged baked goods in the station, so I go to town on a bagel. After the interview, we stop at Cafeteria in Chelsea for an orange juice on our way to Madison Square Garden for sound check.
Tonight is Jingle Ball, so we spend most of our day backstage doing press and catching up with the other artists performing. During a moment of downtime backstage, I order a turkey burger with avocado from Black Iron Burger, sans cheese, mayo, and bun. Hectic days are typical as DNCE is promoting our EP, SWAAY, so in most cases we only have time for a fast meal. Turkey burgers are my choice for fast food. That's where my healthy-ish mentality comes into play.
As we get ready for the show, I have Jim Beam and Coca-Cola and help the band rummage through a bag of tortilla chips. After we perform, we return to our dressing room hungry, but all the food has been taken away from catering, so we order chicken fingers from the concession stand. Turns out, they're perfect. Hats off to you, MSG.
Saturday, December 12
Our night ended late at SPiN, the Ping-Pong bar, for a friend's birthday party, so today doesn't technically start until the afternoon. I walk around with DNCE's guitar player, JinJoo, and we get a slice from Joe's Pizza in Greenwich Village. It's by far my favorite pizza in the whole world. I get it every time I'm in New York, no matter what.
Recently, I've been spending a lot of time in New York. I love Cafe Gitane, Balthazar, Cafe Select, La Esquina, ABC Kitchen … I had a place on and off for years. I'm getting the itch to get another apartment.
Between stopping in a few vintage stores, I grab a chocolate brigadeiro from Brigadeiro Bakery in Soho. I try to find the hole-in-the-wall, family-owned spots. There's a restaurant in L.A. called Osteria Mamma that I feel like we kept a secret for a while. My brothers and I go religiously. It feels nice to have really good Italian food in L.A. — which sometimes is hard to find. Obviously there amazing places, like Osteria Mozza, and chefs like Ludo [Lefebvre], but there's something so nice about the place down the street that's small and intimate. Mamma just passed away this past month, so it's even more sentimental to us now. Since it's family-owned, she's passing on her legacy.
At night, I meet up with the rest of my bandmates at Bounce Sporting Club in Flatiron to watch a UFC fight. In keeping with the grand tradition of bar food, I order chicken fingers and fries with Knob Creek and ginger ale. After the fight, we end up splitting a pastrami sandwich from Katz's Deli. If I needed any help falling asleep, that took care of it.
Sunday, December 13
I kick-start my day with two of the best nonalcoholic beverages in Manhattan: cold brew with almond milk from Caffe Vita and "Shake Strawberry" with banana and blueberries from Juice Press. Breakfast in a bottle. That's enough to get any red-blooded American through the day (along with the pastrami still hanging out from last night).
I grew up with a mix of Southern food and Italian food. My dad is from North Carolina, and my mom's from an Italian home. We'd have biscuits and gravy, or shrimp and grits, and then the next night incredible pastas.
We're performing this afternoon at Brooklyn Bowl for a charity event, so I find myself, again, stuck backstage at the mercy of whatever foods have made their way back there. Today it's an assortment of chicken wings and doughnuts. I eat one chicken wing before we perform. Immediately following the show, I run to JFK to catch a flight to St. Barts, where my brother Nick is performing. I don't know how, but somehow I've ended up finding more French fries, and they are finding their way into my stomach without me even trying. I don't stop them. Time to board the plane. Follow me, fries.
Monday, December 14
St. Barts is a gorgeous French island in the Caribbean. Upon landing, the first thing I eat is a slice of passionfruit cake by the ocean. Sorry, I had to do it. Besides this being the most beautiful place on planet Earth, they have some amazing food. We have a chef at the house who's incredible. For lunch, I have veal Milanese and a rocket salad. For dinner, pappardelle with rabbit. The night got fuzzy after that, but I know I was dancing …
Tuesday, December 15
This day could not be in more contrast with my fried-food diet over the past few days. For breakfast, more passionfruit, this time in smoothie form, and eggs with Gruyère. At lunch, I have quinoa salad, roasted eggplant, and broiled white fish caught that day on the island. Fresh mango sorbet for dessert.
After spending the afternoon on the beach, I have dinner with my brother and some friends. Appetizer is prosciutto with melon, followed by eggplant ravioli and black cod with soja sauce. Fantastic end to a quick trip to the Caribbean. Tomorrow I fly to Chicago for another show and more fried food. I'm definitely going to get some deep-dish pizza.