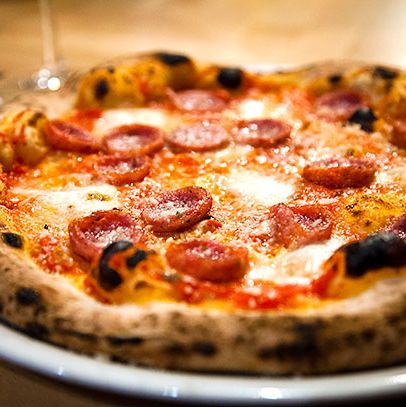 This pizza is still delicious, however you end up paying for it.
Photo: Dominic Perri
On Tuesday, Francine Stephens and Andrew Feinberg announced that at Franny's, their beloved Park Slope pizzeria, they were adding a 3 percent surcharge to all checks to "contribute to the cost of the Affordable Care Act for all Franny's employees." At a time when so many restaurants are simplifying checks and eliminating tips, the unprecedented move came as something of a surprise, with Stephens explaining at the time that she wanted to be transparent about her rising costs.
But when Grub reached out to Stephens for comment, she said she and Feinberg have already decided to abolish the Obamacare surcharge and instead "reconfigure" menu pricing. She sent along the following letter:
It is appearing that many of our guests are viewing the proposed ACA surcharge as anti-Obamacare, which is so unfortunate, because it is in fact, quite the opposite! Through this surcharge, franny's is embracing Obamacare. Clearly our intent was misunderstood and our guests have made it clear that they would prefer to see higher prices as opposed to a surcharge. We've always worked in the service of our staff and guests and will amend our prices accordingly while removing the surcharge entirely.

Initially, we thought, before we start putting $22 pizza on the menu, let's be transparent about what that money is actually going towards. However, it seems given the stated preference of our guests as well as the potential for misinterpretations into the future, we will retract the surcharge and reconfigure our menu pricing instead.

We hold it essential to who we are as a company to take care of our staff — and our guests. We are listening to you all.