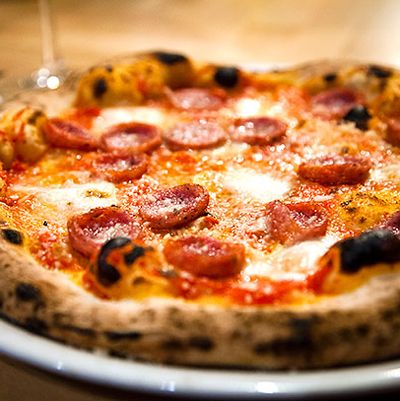 The added cost of giving employees health coverage under the Obama administration's Affordable Care Act has been a point of concern for many small-business owners, restaurateurs included. As of today, the popular Brooklyn restaurant Franny's will add a 3 percent surcharge to all of its checks in order to, according to the menu, "cover the affordable care act for all [F]ranny's employees."
The Affordable Care Act requires all companies with 50 or more full-time employees to provide their staff with fairly priced health insurance, and Franny's qualifies because its owners also run Rose's and Bklyn Larder.
The new surcharge also won't be the only thing that affects guests' bills: The restaurant will also hike prices to boost wages for back-of-house staffers in an attempt to attract and maintain staffers in an era when minimum wage is being raised across the board for fast-food workers. For customers, that will mean $19 pastas and $20 pizzas. In an interview with Eater, Franny's co-owner Francine Stephens admits the higher prices will likely affect how often some guests are able to come in for dinner.
Other restaurateurs, of course, are dealing with the high costs of doing business in New York City in their own ways, most notably Danny Meyer, who is taking an all-inclusive approach to pricing. Stephens, however, says she wants to be transparent about why prices are rising, though she says she's also paying close attention to Meyer's move.
[Eater NY]