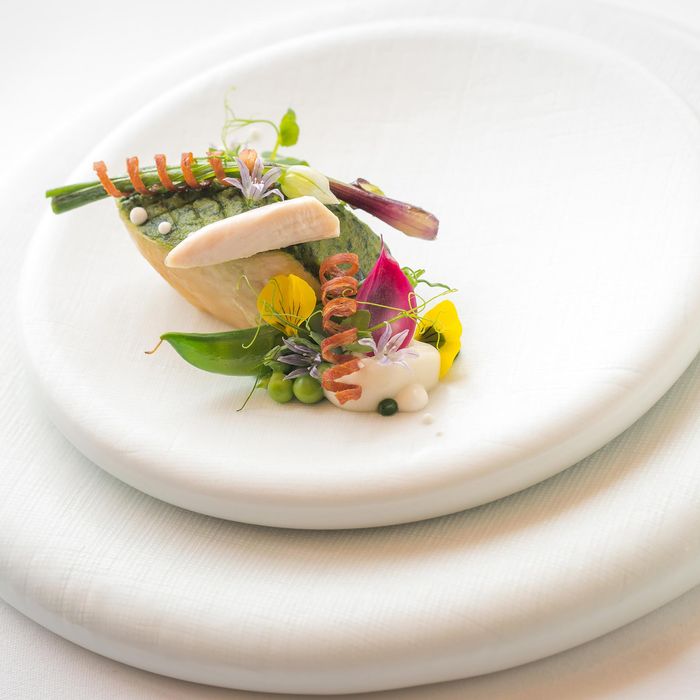 A chicken dish from Per Se, the top-ranking restaurant in America.
Photo: Noah Fecks
There seems to be no shortage of people who dream of one day assembling a truly authoritative list of the best restaurants in the world. There is Michelin, whose annual lists are always accompanied by criticism. There is the World's 50 Best list, which has been subject to many complaints as its global profile has grown. And now the French Foreign Ministry has announced La Liste — not a list; the list — which the group claims is the end-all, be-all of restaurant rankings.
The list of 1,000 restaurants was assembled via a computer algorithm that, according to the Times, "drew on data from sources that included 200 food guides in 92 countries," including Michelin and the World's 50 Best list, as well as places like Zagat, TripAdvisor, and OpenTable. La Liste, they say, comprises the very best restaurants in the world and accounts for food quality, ambience, wine lists, and service. (Also worth noting: The $300,000 cost of assembling La Liste was shouldered by corporate sponsors, including Nestlé, which of course owns San Pellegrino, which of course is the main corporate sponsor of the World's 50 Best list.)
The people behind La Liste are also not afraid to throw some shade at the competition. From the official site:
LA LISTE was created to identify the world's top restaurants. It leverages restaurant scores and other metadata from 200-plus leading gastronomic guidebooks and websites, making it the first and the only restaurant ranking based on transparent, objective and verifiable criteria.
Who, you are probably wondering, has managed to top this debut List? That honor goes to Restaurant de l'Hôtel de Ville in Switzerland, followed by none other than Thomas Keller's Per Se. Kyo Aji in Tokyo comes in at No. trois. Alas, even though La Liste ostensibly exists as a response to global lists that downplay France's influence in the world of fine-dining, that country's top-ranking restaurant is Guy Savoy in the fourth spot. Spain's El Celler de Can Roca, which currently sits atop the World's 50 Best list, comes in at 6.
The full list will be announced later this week. Meanwhile, here are the top-10 places:
1. Restaurant de l'Hôtel de Ville, Crissier, Switzerland
2. Per Se, New York
3. Kyo Aji, Tokyo
4. Guy Savoy, Paris
5. Schauenstein, Fürstenau, Switzerland
6. El Celler de Can Roca, Girona, Spain
7. Kyubey, Tokyo
8. Maison Troisgros, Roanne, France
9. Auberge du Vieux Puits, Fontjoncouse, France
10. Joël Robuchon, Yebisu Garden Place, Japan