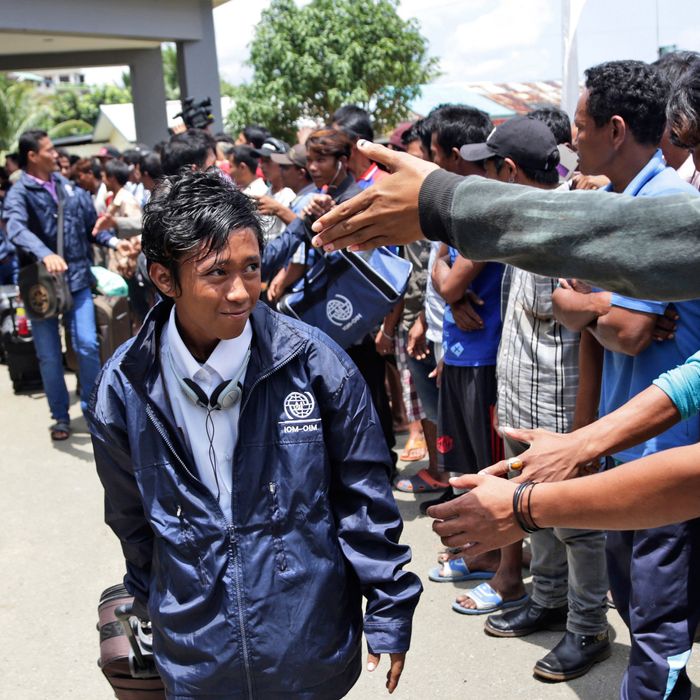 A Burmese fisherman on his way out of captivity.
Photo: Achmad Ibrahim/AP/Corbis
Since March, the Associated Press has been hammering Thailand's corrupt fishing industry with a multipart exposé on atrocities endured by its workers. There's been quiet acceptance for some time over there that slave labor is "just part of doing business," as the AP puts it, but these reports — the fourth of which the news agency published this morning — are finally putting serious pressure on both local producers and the global corporations that buy their fish. Almost two miserable years of reporting have revealed a problem "fueled by corruption and complicity among police and authorities," and shown that prosecutions are rare, and raids often jail the workers because they're migrants and lack proper paperwork. But today's story shows the persistence is paying off:
More than 2,000 trapped fishermen have been freed this year as a result of [this series] … The reports also have led to a dozen arrests, millions of dollars' worth of seizures and proposals for new federal laws.
This third report tells the story of the Gig Peeling Factory outside Bangkok, where life sounds like hell: Workers often peel 175 pounds of shrimp during a 16-hour day for about $4, which is the amount before "cleaning fees" and other miscellaneous expenses. One worker, whose arms were a "patchwork of scars," said: "We had to get up at 3 in the morning and then start working continuously. We stopped working around 7 in the evening." Reporters tracked the de-shelled shrimp to all 50 states — from trucks headed to Whole Foods and Red Lobster to cans of Chicken of the Sea tuna.
The workers' labor was off the books, so even businesses trying to source humanely called the AP's findings "a surprise." Luckily, this reporting has now shut down Gig's factory, too. Don't be surprised when these reporters walk away with a Pulitzer for the work they've put in here.
[AP]