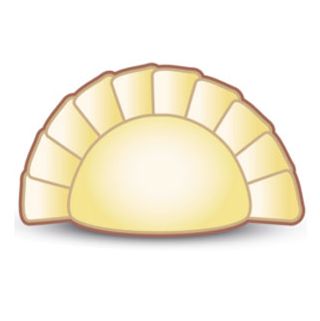 Pretty cute design by artist Yiying Lu.
There can never be enough food-related emoji (eggplants and peaches don't exactly count), and, like with the taco emoji, a group of self-described "chefs and food lovers" are petitioning for a specific new one. Jennifer 8. Lee, former Times reporter behind The Search for General Tso, is part of a campaign to get a dumpling emoji. The argument is solid:
Dumplings are one of the most universal cross-cultural foods in the world. Poland has peirogi. Tibet and Nepal have momos. Russia has pelmeni. Japan has gyoza. Italy has ravioli. Georgia has khinkali and China has potstickers. Yet, there is no dumpling emoji.

There is a pizza emoji, a taco emoji (thanks, in part, to Taco Bell's lobbying), a hamburger emoji and even a tempura emoji, there is no usable dumpling emoji in the standard set.

There's a time to change that and that time is now.
In preparation, the group appears to have done its homework — it can take 18 months to get full approval from Unicode (who knew Unicode voting members pay up to $18,000 a year for that power?) — and it's going to launch a Kickstarter next week with swag. Eddie Huang is onboard, as is Kenny Lao, author of Hey There, Dumpling!, who says, "The dumpling is universal, the dumpling emoji should be as well."