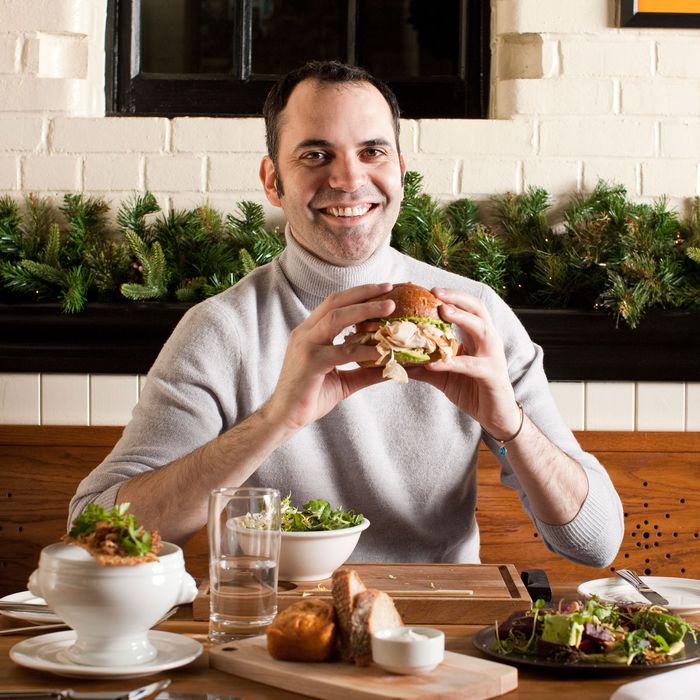 Ansel at the Dutch, his go-to lunch spot.
Photo: Melissa Hom
It's not clear when, if ever, Dominique Ansel — the chef-owner of his namesake Soho bakery and West Village restaurant — stops working: He still wakes up at 5 a.m. to greet customers in the Cronut line, climbs on his restaurant's roof to fix a heater, Skypes with his team in Tokyo, caters dinner parties hosted by Questlove, and, of course, eats a whole lot of sugar in the name of research. But this week, Ansel also stopped to enjoy pasta at I Sodi, Korean food at Kunjip, and the omakase at Sushi Seki, as well as cook Taiwanese three-cup chicken and "damn good" soft-scrambled eggs at home. Read it all in this week's Grub Street Diet.
Thursday, December 3
You've caught me in a weird week. It's just before midnight — technically still Wednesday — and I'm in a car going to Miami International Airport from Art Basel. There's a turntable built into the passenger seat and techno blasting. Yet, despite the club that is my ride, I manage to doze off. Half asleep, I go through bag check, TSA, and board the plane.
Dude next to me on the flight nudges me awake as the flight attendant pushes through with the drink cart. $4 for a can of Pringles and an apple juice — officially my first Thursday-morning meal. I fall back asleep.
Three hours later, it's time to be back at work. There's a croissant on my desk and a DKA (my version of a "kouign amann," a buttery flaky kind of caramelized croissant). The DKA is my breakfast. The croissant is my test subject.
There are a lot of ways to break a croissant down, and I judge it without mercy. First feel the weight in your hand — it should feel incredibly light for its size. The outside should be evenly egg-washed and glossy with tall layers, not flat ones. A serrated knife cuts straight down the center and you'll see that honeycomb crumb that bakers talk about. Stick your nose in and take a deep breath for that slightly acidic smell of fermentation from the levain. Two big bites — one in the center and one on the ends to test for both flakiness and chewiness. And then I like to unravel it like an apple peel to fully dissect every layer. Not bad, lamination team.
It's 7:50 a.m., sunny, and time to open the door at the bakery in Soho to welcome in the guests in the Cronut line. You'd be surprised how often someone in line brings me something to eat. Cookies they've made at home, instant ramen, or their favorite brand of beef jerky. I have a stash that the team is slowly working through in the basement office.
Our sous-chef tells me she made barbecue char siu for family meal today and packs up a big slab of it over rice for me as I'm on my way to our West Village shop.
Ten more hours of work later and it's dinner at I Sodi, just a few blocks away. For me, it's always, always the mâche salad, cacio e pepe, and roasted guinea hen. The meat is incredibly juicy and almost as tender as a scallop. There's a conference call with our team in Japan via Skype in a half an hour (it's morning their time), and by then, I'm eating bags of peanut M&M;'s to stay awake.
Midnight, and I pop in some chewable (due to my extreme hate for pills) multivitamins, water, and time for bed.
Friday, December 4
Here's the thing about coffee. I used to have eight shots of espresso a day back when I was working at Daniel, but these days, I allow myself just one double macchiato, which I save for the moment when I need it most.
Another croissant dissection followed by a Brown Sugar DKA breakfast at the Kitchen. We're taste-testing the Turbo Cheer Bar today, which is a chocolate candy bar we've designed to get people through the stress of the holidays: eggnog nougat, salted caramel, pine-milk chocolate ganache, and a feuilletine base. It's decorated like a pissed-off reindeer.
The heater seems to be broken. I climb to the roof to reboot. Back to testing: This time Christmas bûche cakes in three flavors — whiskey-chestnut, chocolate, and a cherry-nougat gingerbread. There's a loose handle on the door and I get out my power tools. When you own your own business, you've got to learn how to be your own handyman, too. Just when I'm done with the handle, I'm told the pastry case is running high. Oh, and the hot-water boiler is shaky. Deep breath. And one macchiato, please.
Late lunch at Mary's Fish Camp, where I always get half a dozen East Coast oysters and a side of Old Bay fries. Get back to my office to find a perfect chocolate macaron on my desk. Our corporate pastry chef has been battling the depositor for days, and that's his way of saying: "How do you like me now?"
A late dinner tonight after service at U.P., our after-hours dessert-only tasting table. And it's the usual suspect at K-town: a big pot of budae jjigae (or Korean military stew with kimchi ramen, hot dogs, and spam) at Kunjip.
Multivitamins, water, and setting the alarm for 5 a.m.
Saturday, December 5
Another thing about me you need to know: I eat a lot of Asian food. Regular haunts include: Aburiya Kinnosuke, Main Street Imperial Taiwanese Restaurant (in Flushing), and Sushi Azabu, to name a few. And on top of that, I really like to cook it, too.
My girlfriend spent the good part of three years teaching me all her favorite dishes from her childhood one by one, including a supermarket tutorial on the right brands of soy sauce and vinegar to buy. And after grueling critique, I'm pretty confident I can make something that's "not bad."
Tonight, I'm making Taiwanese three-cup chicken, chilled garlic cucumber salad, and double-boiled chicken soup. After opening the shop with the team at the Soho Bakery, I make a quick stop at Hong Kong Supermarket in Chinatown in the early morning, before the crowds descend. On the way back to work, I pop in Excellent Pork Chop House on Doyers Street for some pork-chop rice. The waitress hands me a photo album in lieu of the menu, as I am the only non-Chinese person in there. Then it's a bottle of fresh soy milk from a small Elizabeth Street stand with the shop owner screaming at me. Someday, I will win her over.
Photo shoot after lunch for an article coming out that may or may not be a review. After dinner, ice cream at Il Laboratorio del Gelato, where I get a salted-caramel gelato affogato (my way to sneak in that extra coffee).
Sunday, December 6
By the time that most people wake up on Sundays, I've been awake for hours and have probably watched two movies. It's my day off, but I suffer from permanent baker's jet lag. Netflix recommends me some sort of old Nicolas Cage action movie.
I make a damn good soft-scrambled egg. The secret is in the slow flame and really caramelizing a generous handful of shallots. And butter, lots of good French butter.
Second breakfast with the regular folks who wake up at a decent hour at Maison Premiere. I wish I had a more badass cocktail preference — like a Negroni — but I'm more of a Bloody Mary kinda guy. Especially with a cold lamb sandwich.
Dinner is a late night omakase at Sushi Seki.
Monday, December 7
Today is "Try Out Exotic and Random Ingredients Day." But before that, a bite of DKA and another croissant dissection.
First up, a butterfly pea flower tea, which comes out a deep indigo blue. My friend Kathy YL Chan, who is a tea expert, tells us that it turns into a magenta pink with a squirt of lemon. We conduct the experiment, and then ooh and aah when it works. Text photos and videos to Kathy. The actual taste is a bit grassy, with a slight nuttiness but none of the bitterness or floral notes in most teas.
We move on to coffee flour, which is made from the coffee-bean shells. Our executive pastry chef made a muffin with it. It tastes a bit like prunes, strangely. Perhaps perfect for a sticky toffee pudding?
Lastly, there's been a little experiment with using verjus — the pressed juiced from unripened grapes — to see if it could be a substitute for lemon or acid in some recipes. There's a woodsy, somewhat minty scent to it, and we traditionally use it to deglaze the sauce for foie gras. Perhaps a granite for a palate-cleanser at some point in time.
Heading downtown for Questlove's Food Salon tonight: He hosts a series of late-night dinner parties with different chefs down at his apartment for all his friends, and I made dessert at his very first one last year. This time, it's a four-course menu: Andrew Carmellini and his chef at the Dutch, Jason Hua, are cooking the first course: kimchi grits with ruby shrimp and a quail egg on top. Matty Matheson is here from Toronto and makes the next course, a roasted piglet belly with snowcrab, uni, and sweet potato. And Alon Shaya is in town from New Orleans for course three: wagyu short ribs with couscous, honey, and duqqa. We all jump on the line to help each other plate up our dishes.
I managed to try each course — my dinner for the night. And for dessert, I'm torching up a late-night version of our Frozen S'mores, with a black-truffle-caramel-ice-cream center wrapped in chocolate feuilletine and honey marshmallow. At one point, Ahmir [Questlove] is helping to torch, too. He's become a good friend of mine since I first went on Jimmy Fallon a few years back with the Cronut. He actually reached out to me on Twitter, and that's how we first met. He comes to the shop quite a bit.
Tuesday, December 8
Today is "Tasting Day" at the Kitchen, which is deceptive because it should really be called "Gluttonous Eating Day." We have over eight courses to go through for our tasting table U.P.'s new menu, which we'll be launching in a few months. I'd give you a breakdown of all the desserts I ate, but it's all confidential at the moment.
Moving on, we eat get a bite of our Cinnamon Spun Roll for quality control. Next, a few bites of our new maple-syrup-filled petite Liège waffles. We've developed a maple-syrup filling that comes out slightly liquid and is encased in each waffle. Then we toss the waffles into a bag of salted-hazelnut sugar and shake it up.
Lunch at our next-door neighbor in Soho, the Dutch. My go-to is always the turkey sandwich. One year, their team dressed up as Teenage Mutant Ninja Turtles for Halloween and delivered us homemade pepperoni pizza. I love those guys.
Back to eating and testing more desserts: This time, Valentine's Day treats. There was an idea tossed about doing a jelly-filled doughnut and labeling it "You're So Jelly" as a gift. That one didn't make the cut, but a few others did.
Dinner at Café China, a generic-named sleeper of a restaurant that's one of my favorites in the city. Order pickled fish soup, salivating chicken, and spiced steam beef.
A multivitamin and a fresh green juice from Juice Generation to make me feel like I've eaten better. The clock says 11 p.m., so there are just six more hours before I wake.