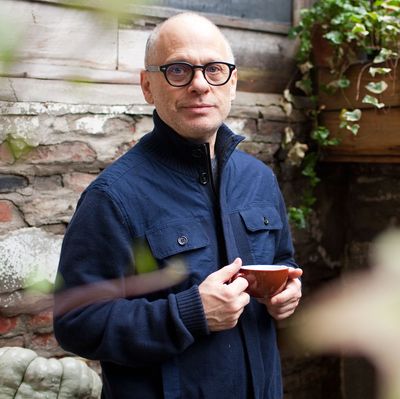 Lang, during breakfast outside the Smile.
Photo: Melissa Hom
"This is definitely the biggest thing I've done," says David Lang of composing the music for the new film Youth, which stars Michael Caine as — you guessed it — a composer. It's also upended his schedule: "Because it's part of the Michael Caine story that he's a composer, I get swept in with all of the excitement, which is really awesome," Lang says. "I've traveled all over to be on press conferences where nobody really wants to talk to me, but it's great to see me there. I don't even have to say anything, I just show up." This week, however, he was back in New York, celebrating Thanksgiving with his family and readjusting to having two of his kids back home from college — which meant lots of leftovers for Lang. Read it all in this week's Grub Street Diet.
Thursday, November 26
Coffee. Lots of it. How I start every day. I buy Starbucks French roast in giant three-pound bags.
I'm nervous about keeping this log. In my imagination I eat pretty well, but I wonder if logging it will make me realize how deluded I am. Maybe it's like going to the gym, which in my mind I do once a week, but in reality is closer to twice a year.
I live in New York with my wife, Suzanne Bocanegra, and three kids: Ike, Thea, and Judah. Ike and Thea are away at college but have come back for the holiday, and the house is very chaotic and full. Since everyone is here I start the day making French toast for everyone with some leftover challah. The difference between now and when the kids were young is that now no one eats breakfast together, so I made a giant mound of French toast and put it on "warm" in the oven, and people just ate it when they woke up, all day long.
Midafternoon we went to Thanksgiving at my relatives' on Long Island. These are my only remaining relatives from my mom's side of the family, and I have been having Thanksgiving with them since I moved to New York over 30 years ago. My cousins make the traditional things, all very delicious — lots of turkey, stuffing, yams, beans, the usual. There is always an intense discussion about the relative merits of fancy homemade cranberry relish versus the jellied tube cranberry sauce right out of the can. I always eat copious amounts of both.
Because we are Jews there are always some ethnic things that creep onto every menu. Brisket, noodle kugel. We used to have matzo-ball soup also, but after a while that proved to be too much.
Our family's job is to bring desserts, so I brought three pies from the Little Pie Company. Yum.
Friday, November 27
Coffee. Toasted baguette and butter.
Suzanne made a big pot of beans and rice. A really big pot. I have a feeling this meal is going to show up in this log a lot this week. She made it for dinner, actually, so that it would be ready to eat when we were, but I started eating it for lunch. When they were growing up, our kids were picky eaters, so Suzanne and I are very good at making simple things. I make excellent fried eggs and grilled cheese sandwiches. The secret to a great grilled cheese is to use mustard. But if we do any real cooking that we expect adults to eat, Suzanne cooks it.
Dinner, too, was rice and beans with everyone. And I bought a pint of ginger ice cream, which I ate for dessert. I am hoping it will not be too popular with everyone else so I can have it for myself.
Saturday, November 28
Coffee. My son Ike lectures me about how the best time to drink coffee is an hour after you wake up. Something about cortisol levels. He shows me a video about it, and I drink more coffee while I watch. Meanwhile, Suzanne bakes some pear-ginger Bundt cakes out of a bushel of pears that were too squishy to eat plain. I'm a sucker for anything resembling coffee cakes. We ate some for breakfast, and I froze the rest.

More rice and beans for lunch.

Our kids had a bunch of friends over, so we called out for Mexican food from Lupe's East L.A. Kitchen.

We didn't really eat dinner. Suzanne and I went to the Met to see the opera Lulu, and the kids went to Sleep No More. When we got back we ate leftover Mexican food. The kids stopped on their way home for Chinese food, and they returned with seven or eight half-eaten containers of food. No one really eats leftovers in my house but me, so I have a feeling I know where all of this Chinese and Mexican food is headed.
Sunday, November 29
Coffee. I woke up early, got Ike a taxi to the airport, took Thea to her bus out of town, and walked home by Birdbath Bakery, which is close to where I live. I got a corn blueberry muffin

Lunch was leftover takeout Chinese food. Spicy eggplant.

Suzanne made turkey-and-rutabaga pie for dinner. Very delicious and very rich. It's a hearty meal. It is filling and homey and comforting to eat, but it can't be very good for you. You eat a bite and feel your arteries harden. I ate two bowls of it, which was a bit too much. Although, after I recovered I noticed there was still some ginger ice cream left.
Monday, November 30
Coffee. Cereal and banana.

Lunch was the last of the leftover takeout Chinese food. Curried chicken this time.

With only one kid left at home I could concentrate on making a somewhat-decent meal for Judah. I made spinach tortelloni with a pesto sauce, carrots on the side, and I sliced up a bunch of apples. For dessert I polished off the last of that ginger ice cream.