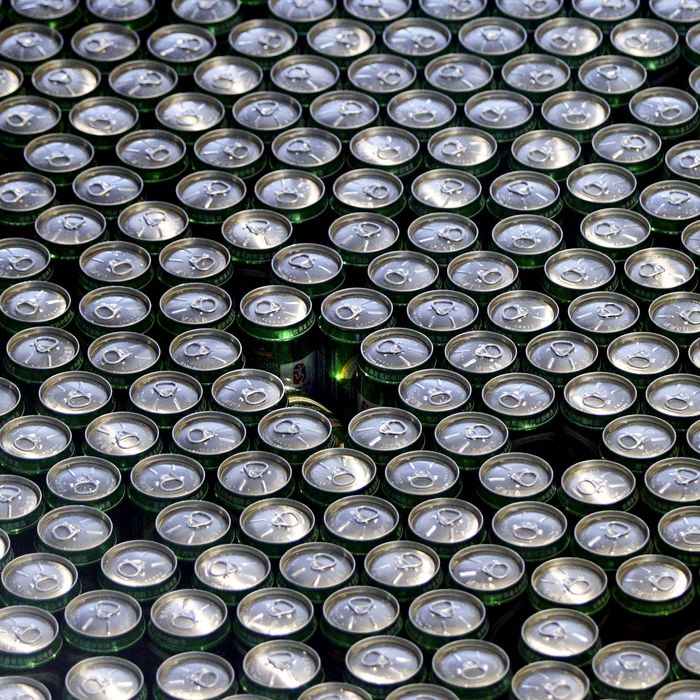 Those were the days.
Photo: Getty Images
Microbreweries have rehabilitated the once-lowly beer can's image: Cans are everywhere now, able to skunk-proof even the lightest lager (UV exposure is what causes that foul taste), and look good, to boot. But like all good things, there's also a finite supply, and the Times explains that the industry's littlest guys are dealing with a shortage because of high demand. Bigger 16-ounce cans are particularly hard to snag now that even Heineken is getting crafty with the 12-ounce size. Bart Watson, chief economist for the Brewers Association trade group, says it's posing a "real challenge" for small brewers that hope to "distinguish themselves from behemoths like Budweiser and Coors" by building an image around cool-looking cans.
In the past, microbreweries without a lot of volume could rely on one manufacturer, Crown, for orders of a few thousand cans. The present surge in demand, however, has caused Crown to up its minimum to a truckload, which is 155,000 to 200,000 cans, depending on their size. Brewers tell the Times that they started noticing a shortage this summer — orders that used to take a couple of weeks to fill suddenly stretched out three months or longer. And it's difficult to just switch manufacturers because cans require costly printing plates, plus changes need federal as well as local approval.
Plus, two of the other biggest can-makers, Ball and Rexam, are in the middle of a $7 billion Bud-Miller style merger that microbrewers call "a cloud hanging over this whole thing." As maybe a sign of a coming trend, Newburgh, a tiny New York brewery that won CNBC's Most Loved Label award earlier this year, has basically just gone DIY: "We're just buying blank cans, wherever we can find them, and then we're actually applying the labels ourselves."
[NYT]