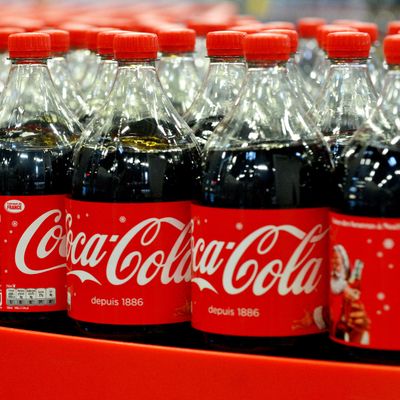 The end of this line.
Photo: Eric Piermont/AFP/Getty Images
Nothing too surprising here, but the so-called Global Energy Balance Network, that anti-obesity nonprofit now in its third month of controversy after taking $1.5 million from Coke, is calling it quits. The AP reports the group quietly shared the bad news Monday night, via a notice on the homepage that reads, in its entirety, as follows:
Effective immediately, GEBN is discontinuing operations due to resource limitations. We appreciate the commitment to energy balance that the membership has demonstrated since our inception, and encourage members to continue pursuing the mission "to connect and engage multi-disciplinary scientists and other experts around the globe dedicated to applying and advancing the science of energy balance to achieve healthier living".
At this point, it's really just a mercy killing anyway. People have already lost jobs because of this, and a nice chunk of the group's private emails with Coke executives are now in the public domain. It's unclear how board members plan to use their free time, although they might consider giving PepsiCo a call. The jury's still out about whether Pepsi One causes cancer.
[AP]