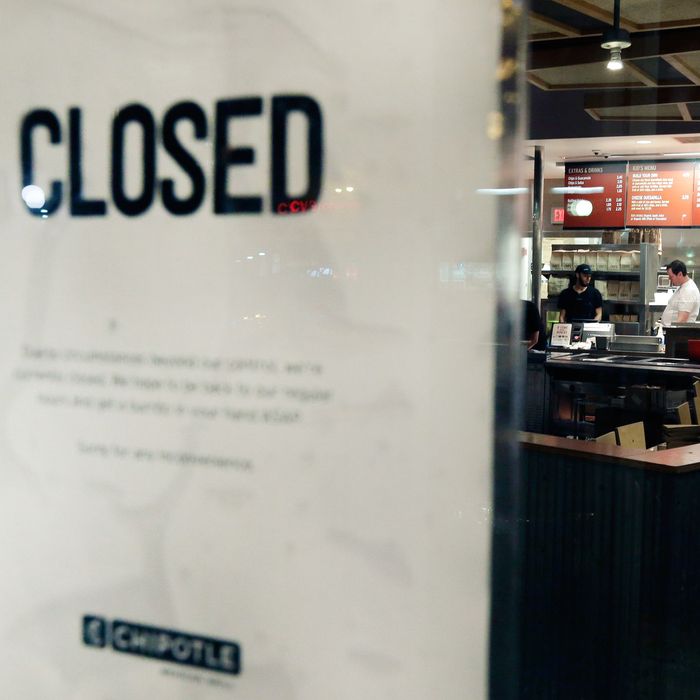 Chipotle is definitely ready to move on.
Photo: Steven Senne/AP/Corbis
To say that Chipotle had a rough go of it this past year is an understatement. Not so long ago, the enormously successful burrito chain enjoyed a sterling reputation and bright prospects that pegged it as the future ruler of the fast-food world. Everyone wanted to be "the Chipotle of … " something else. The Chipotle of pizza. The Chipotle of salad. The Chipotle of meatloaf, probably. But that future isn't so clear now, since 2015 saw the popular chain faced with one disaster after another. Now its stock is falling, and everyone is piling on — and while the chain has promised to fix its issues, it's unclear how quickly that will happen. Here now, a look back at a year Steve Ells almost certainly would like to forget:
January 14: Chipotle ditches a supposedly less-than-humane pork supplier because they just aren't on the same page anymore. The move subsequently means the chain must remove carnitas from a third of its restaurants' menus.
February 20: Surprise! A big data crunch reveals Chipotle's food is just as caloric as other fast food. Nobody really seems to cut back or even care too much, though — a strangely unexpected bit of hopeful news for the chain.
April 13: In the grand tradition of politicians going to Chipotle to show they are hip but not too hip, presidential hopeful Hillary Clinton drops by an Ohio location. The staff, however, didn't recognize her.
April 22: Chipotle says people can stop freaking out and that carnitas will be back in all stores before the end of the year, so just lay off, okay? Oh, and beef prices had to go up. Sorry not sorry.
April 30: Chipotle proudly announces it will ban GMO ingredients from its supply chain. Maybe that's good? Nobody's really sure, so critics attack the move as "anti-science."
July 6: Uh-oh: Dipping sales cause stocks to drop from $727 per share earlier this year to $610 right before the July 4 weekend.
July 16: Chipotle finally finds some pigs to put in its burritos, but the chain is slammed by American pig farmers for choosing a British pork supplier, Karro, that they say is really no different from the one it replaced.
August 27: One hundred customers and 17 employees report becoming ill after eating at a California Chipotle because of a nasty strain of norovirus. No bueno.
September 11 to 17: More sick customers, this time in Minnesota, where an outbreak is connected to 17 different locations. Reported illnesses climb to 64 people by September 17; Minnesota health authorities blame the outbreak on salmonella-tainted tomatoes.
November 2 to 3: Now it's E. coli's turn to sicken some people. Chipotle closes 43 stores in Oregon and Washington in response to a new outbreak. The lawsuits quickly follow.
November 4 to 5: Perhaps realizing they can't keep making customers sick, Chipotle hires its own food-safety consultants. The country's premiere anti-Chipotle group seizes the day and bravely launches a televised attack against the company.
November 23: It's not even funny anymore: Weeks after reopening shops in the Pacific Northwest, Chipotle's E. coli outbreak spreads to California, Minnesota, New York, and Ohio.
December 7 to 8: Even our athletes aren't safe: Half of Boston College's men's basketball team are among dozens who report "gastrointestinal symptoms" after eating at a Chipotle, causing another location to get shut down and threatening the historically strong relationship between burritos and undergrads.
December 9: The company proclaims that it has implemented a killer new plan to conquer the world of food safety and that the chain will be "10 to 20 years" ahead of "food industry norms."
December 10: To emphasize that point, co-CEO Steve Ells issues a public apology on live television to victims of its several outbreaks and promises that Chipotle will become a food-safety paradise.
December 11: Before that can happen, though, the number of reported illnesses in Boston climbs to 141. For those keeping track, that means that in one year Chipotle was responsible for two of the worst norovirus outbreaks on record.
Ells, and burrito bowl–lovers everywhere, are no doubt hoping for a stronger, safer showing from the company in 2016.