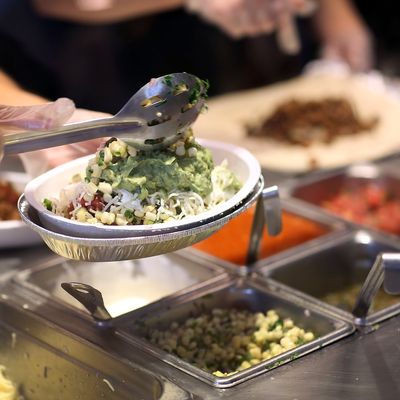 Officials still aren't sure about the identity of the offending ingredient.
Photo: Joe Raedle/Getty Images
The CDC has released updated data on the E. coli outbreak linked to Chipotle now that various local and state officials have run tests and done tallies. It has spread for a third time: 52 people in nine states, instead of 45 in six states. Those states (roughly in order of oldest to newest) now include Oregon, Washington, California, Minnesota, New York, Ohio, Illinois, Maryland, and Pennsylvania.
According to the CDC, the most recent case began on November 13. The lag is because test results take time and also because symptoms can take anywhere between an hour and ten days to surface, and not everybody comes forward right away.
Still, it ups the outbreak's scale and means another round of bad press. To temper that, Chipotle hurried out a press release earlier today warning people there was a possibility this "may" happen. It also managed to work in additional info on Chipotle's tighter "farm-to-fork" food-safety standards, the gist of which leaked a little early. It's unclear how many of the local farmers Chipotle champions can follow these stricter protocols.
[Reuters]