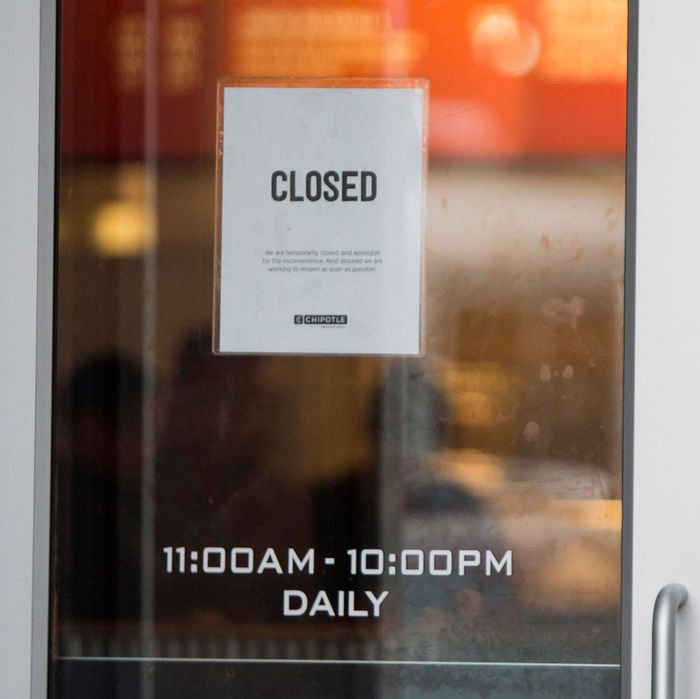 What a mess.
Photo: Scott Eisen/Getty Images
It took a bit longer than it did with the nine-state E. coli outbreak, but someone's finally hauling Chipotle to court over norovirus in Boston. The mom of a 16-year-old sued the chain yesterday for damages relating to her son's illness, one of around 150 cases reported so far. Their attorney, Bill Marler, is behind several other Chipotle customer lawsuits, and he tells the Globe he's "been in touch" with a few of the Boston College students who got sick (he had 140 to choose from), and expects another round of lawsuits once they're back from winter break.
The Boston-area restaurant is still closed. Health officials paid a visit after illnesses started, and ultimately cited the location for three big violations, including a sick employee being on the job, and failure to cook chicken and beef to the proper temperature.
Co-CEO Steve Ells, meanwhile, continues trying to do his best to keep burrito lovers calm (he wrote a seven-paragraph apology letter that appeared in 60 newspapers this week), but this is proving to be a tough job: On Jim Cramer's CNBC show Mad Money, Ells gave a very unconvincing answer when Cramer asked directly if all these new food-safety precautions are going to make the food taste worse:
Well, Jim, we're committed to food with integrity as much as we ever have been. You know, we're going to layer on this culture of food safety and make sure that we're the safest place to eat. That's priority number one.
And in one last piece of bad news for the chain, there's an updated official count for the Simi Valley, California, norovirus outbreak that preceded Boston's, which was last estimated to be around 100 — and it's way worse than anyone guessed. Ventura County's Environmental Health Division says a total of 234 people got sick. Although, for some perspective, the agency points out that "at least 1500+ entrees were sold each day," so in a way, maybe Chipotle got a little lucky.
[Globe]