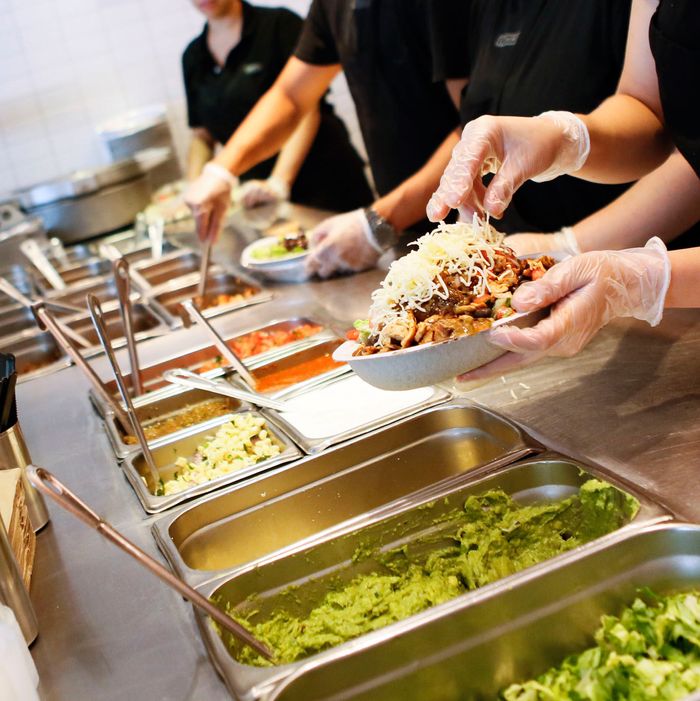 Safe food > local food.
Photo: Patrick T. Fallon/Bloomberg via Getty Images
Chipotle executives have tightened food-safety standards in response to November's big E. coli outbreak, and a pair of unrelated norovirus and salmonella scares before that. The chain's updated protocols require more vigilance from suppliers on the health-hazards front, which is understandable. The side effect is these higher standards could also jeopardize the chain's well-established commitment to buying local ingredients. In an email to Bloomberg, spokesman Chris Arnold explains the predicament: "We have elevated requirements for all of our produce suppliers (chiefly in the area of testing of ingredients) and we are not sure that all of the current local suppliers will be able to meet those elevated protocols."
Additionally, the chain's "Food with Integrity" page formerly explained its commitment to buying locally. That portion's now gone, replaced by a bit stressing the importance of reliable, long-term relationships with suppliers. Arnold explained to Bloomberg that they switched it up for two reasons: "because we are not entirely sure what it will look like next year given some changes we have made," and also "because the program is largely out of season." In fact, Chipotle's program for buying locally runs from June to October — aka the time of year when things actually grow — in most parts of the country, Arnold explains, so who knows? Maybe it will reappear in some form next summer.