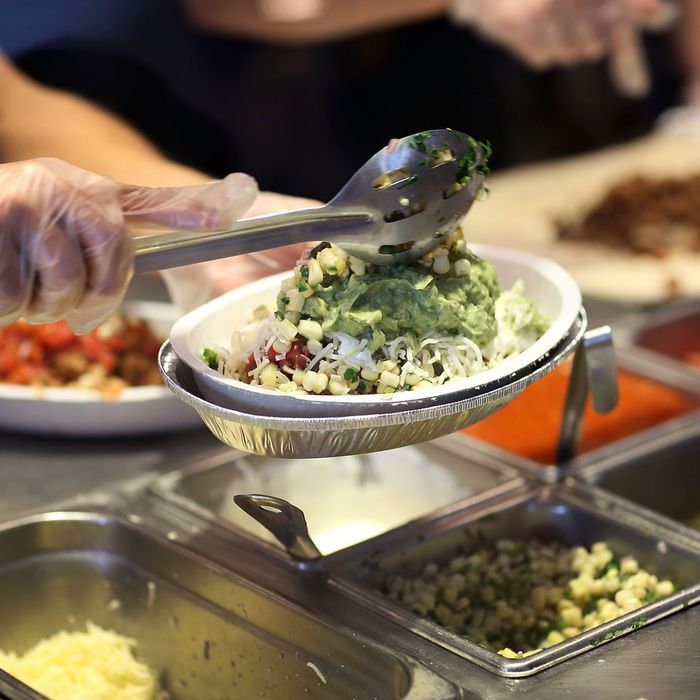 The guac will still be extra, but it will also theoretically not make you sick.
Photo: Joe Raedle/Getty Images
Nobody's quite sure what, exactly, has been making so many Chipotle customers sick, but the burrito chain obviously needs to do something, quickly, if it hopes to stem the tide of E. coli outbreaks. So now, according to the AP, the company has announced its plan to try and ensure it can return to the days when its gut-busting food simply made people unpleasantly full, instead of outright ill.
To start: They're cookin' the onions now, sort of. They'll be blanched in boiling water to kill potential pathogens, then macerated in citrus. The company will also start testing a small sample of steak to make sure it's good to go. Many ingredients, like tomatoes and herbs, will be processed by centralized prep kitchens instead of in stores, cheese will arrive at shops pre-shredded, and they'll add cilantro to "freshly cooked rice," so that the residual heat kills off lingering microbes. Yum.
All of the changes will be implemented "in coming weeks," but a rep says that the new prep methods won't change the overall taste of the food. As Chipotle founder Steve Ells recently said, "If I'm eating a burrito that had tomatoes that were chopped in a central kitchen in the salsa or one that was chopped in house, I probably couldn't tell the difference."
[AP]