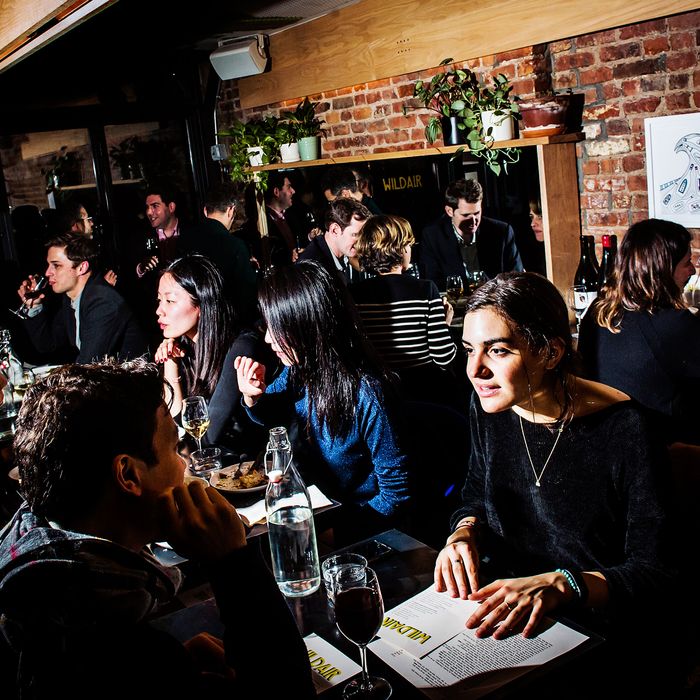 Wildair.
Photo: Dina Litovsky
In our 2016 edition of "Where to Eat," Adam Platt outlines your game plan for dining (and drinking) exceptionally well in the new year. Here, he looks back on the most promising restaurants to open in 2015.
Babu Ji
Jessi Singh and his jovial crew breathe new life into the familiar curry-house template at this boisterous Alphabet City restaurant, but the specialties of the house are the old bedrock classics like butter chicken and the kulfi dessert.
Gabriel Kreuther
Yes, the mannered main dining room has its charms. But, as is often the case, the real fun is at the bar, which is a fine restaurant in its own right and also the most elegant new boozehound destination in midtown.
Mission Chinese Food
Your grumpy critic disapproved of the first, tool-shed-size operation on Orchard Street. Let the record show that Danny Bowien's reboot of his endlessly hyped franchise is bigger, more inventive, and much more fun than the original.
Momofuku Ko
The old terroir may be gone forever, but this polished, slightly impersonal, hypercompetent tasting room carries the force of David Chang's ever-expanding global empire behind it.
Noreetuh
At this new East Village restaurant, the Per Se veteran Chung Chow finally gives
Hawaiian cuisine in general (and Spam in particular) the gourmet makeover it deserves.
Oiji
In dish after dish, Brian Kim and Tae Kyung Ku take the old umami-bomb caricature of Korean home cooking and stand it gently on its head.
Okonomi/Yuji Ramen
In the mornings, this elegant, sandbox-size establishment serves a nourishing Japanese breakfast, and on the weekends at night, it morphs into the most innovative (and economical) omakase joint in town.
Santina
At this new Meatpacking joint, those red-sauce wizards Torrisi and Carbone try their hand at seaside Southern Italian cooking, with refreshingly light, even playful results.
Semilla
This small tasting room in Williamsburg isn't technically new (it opened late in 2014), but like a good wine, it gets better with age. The best dishes combine the cutting-edge qualities of a food lab with the intimacy of a private chef's feast.
Untitled
Thanks to Michael Anthony and his chef de cuisine, Suzanne Cupps, Danny Meyer manages, once again, to turn the fusty realm of museum dining into a destination event.
Wildair
Most places have one dish that you want to come back for again and again, but Jeremiah Stone and Fabian von Hauske's pint-size Lower East Side wine bar has three or four. Pound for pound (and dollar for dollar), this might be the most satisfying new restaurant in town.
*This article appears in the December 28, 2015 issue of New York Magazine.