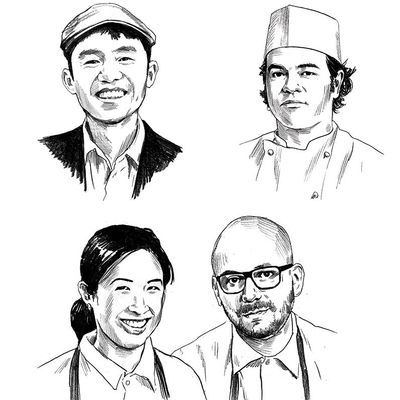 Clockwise from top left: Angela Dimayuga, Yuji Haraguchi, Brooks Headley, José Ramírez-Ruiz, Pamela Yung Semilla, and Sean Gray.
Photo: Joe Mckendry
In our 2016 edition of "Where to Eat," Adam Platt outlines your game plan for dining (and drinking) exceptionally well in the New Year. Here, he looks back on the most promising chefs to emerge in 2015.
Angela Dimayuga
Mission Chinese Food
It's no easy task to imbue heavy, neo-Sichuanese grub with a sense of lightness while retaining its fire and heft, but in her short, eye-opening stint as Danny Bowien's executive chef, Dimayuga has done just that.
Yuji Haraguchi
Okonomi/Yuji Ramen
With the opening of this elegant little Williamsburg breakfast-and-noodle bar, this itinerant pop-up ramen wizard finally has a place to call his own.
Brooks Headley
Superiority Burger
The award-winning former pastry cook at Del Posto isn't technically a new chef, but his much-discussed (and now much-imitated) Superiority burger is possibly the most influential dish of this vegetable-saturated year.
Sean Gray
Momofuku Ko
After laboring diligently for years in David Chang's formidable shadow, this talented Momofuku lieutenant has earned a long-overdue star turn.
José Ramírez-Ruiz and Pamela Yung
Semilla
At this tiny Williamsburg tasting atelier, the former Per Se cook and his pastry-chef partner fill that tired term "vegetable-forward" with all sorts of promise, and you can't beat the prices.
*This article appears in the December 28, 2015 issue of New York Magazine.