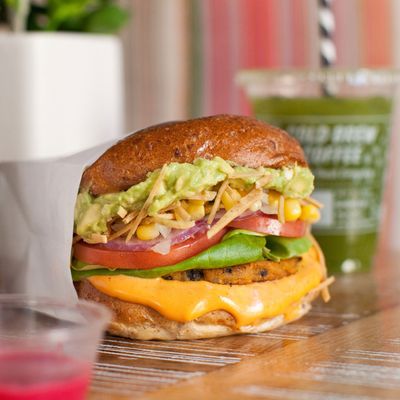 The hearty Guac Burger, with "air-baked" sweet-potato fries. Everything on the menu is vegan.
Photo: Melissa Hom
During the two years that Chloe Coscarelli spent cooking in her apartment, reworking her vegan recipes, she says, "literally hundreds of times," and preparing to launch her fast-casual concept, By Chloe, she kept saying to her friends, "What if nobody comes?" On the restaurant's first day, July 28, there was a line extending down Macdougal Street before she even opened the doors. Since then, By Chloe has been relentlessly busy: Coscarelli and her partner, Esquared Hospitality's Samantha Wasser, field close to 1,000 tickets per day, and have already announced plans for a second location. There's certainly a huge market for cheap, convenient meals right now, but it's nevertheless remarkable that a first-time owner could find success so quickly.
To be fair, 28-year-old Coscarelli did have a head start: In 2010, she won the Food Network's Cupcake Wars — the only vegan chef to ever take the prize — and she had already published two cookbooks when she came up with the idea for By Chloe: "I thought that if I opened a restaurant that was a bit more on the casual side — good price point, fast service, and people could actually eat here every day — I could make a change," she says. So Coscarelli did what any 20-something would do: She Googled "best hospitality group in New York City," and came across Esquared (home to, oddly enough, the BLT empire). "I pitched it and was like, 'This is the food of the future, just trust me,' and they said, 'Yeah, let's do it.' It all happened very quickly."
Coscarelli knew that her vegan dishes had to taste at least as good as, if not better than, their meaty alternatives, so she created a menu filled with items that highlight recognizable, and popular, flavors. It includes a quinoa-taco salad ($11), mac 'n' cheese with sweet-potato-cashew sauce and shiitake bacon ($5), and, the most popular item, a Guac Burger, with a black-bean-quinoa-sweet-potato patty, corn salsa, onion, guacamole, tortilla strips, chipotle aioli, and a whole-grain bun ($10). In keeping with the times, everything but the burger buns are made in-house, and the appeal is easy to see: The food is comforting, satisfying, and — crucial these days — easy Instagram bait.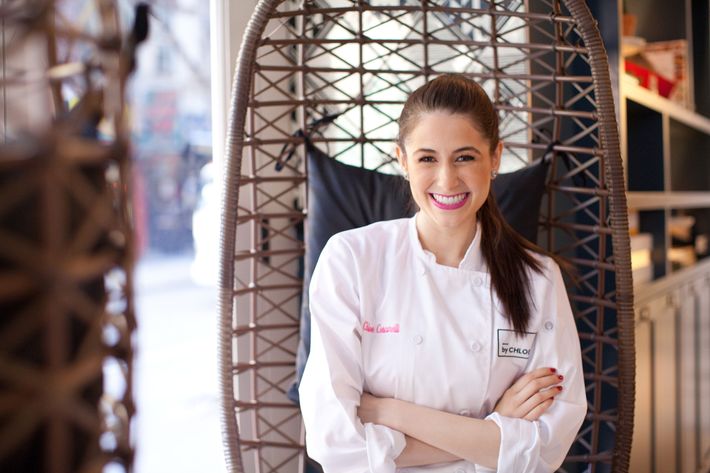 Unlike veggie-friendly spots such as Superiority Burger or Sweetgreen, though, By Chloe's ingredients largely aren't local or seasonal. (The exception being one rotating market side — right now, roasted Brussels sprouts with pomegranate seeds.) Coscarelli's philosophy, instead, sounds like the complete opposite of Dan Barber's: "It's all about the flavor and the texture at the end of the day, that's why we eat," she says. "It's not really about the ingredients." She's even swinging the vegan-food pendulum back to fake meats, prominently featuring tofu and seitan and tempeh. While this might be blasphemous for locavore-minded diners, it appears that part of what makes By Chloe so widely appealing is that it isn't precious or preachy about its values.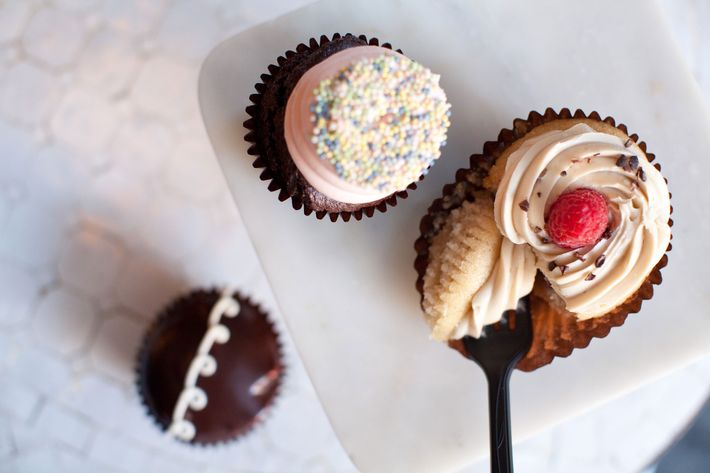 To that end, Coscarelli also decided not to post nutritional information for her food. There's a health-halo effect, undoubtedly, since everything is meat-free, but the food is certainly not low-calorie or "healthy" in any specific ways. Instead, the dishes — even the salads — are hearty and filling, and there's a pastry case filled with Coscarelli's famed cupcakes, as well as on-trend matcha muffins. (Coscarelli says that she starts each day by taste-testing all of the desserts, which "sounds fun, but it's actually pretty hard work.")
"I think the new wave is vegan food for everyone, which is very different from vegan food that's just designed for vegan people," Coscarelli explains. "It should be an inclusive cuisine. I like to think of it like any other food group. If you're going to eat Indian food on a Tuesday night and Italian on Wednesday, why not try vegan food on Thursday?"
Of course, the setting helps, too: By Chloe hired Paperwhite Studio to do branding, and Dekar for the design of the space. (Interestingly, both companies are run by women.) The restaurant's logo is stamped on coconuts, there are hats for sale embroidered with the letter "C," and, as Times critic Ligaya Mishan noted, everything is "designed to be adorable." Plus: Coscarelli herself — attractive, youthful, and wholesome — is an ideal ambassador.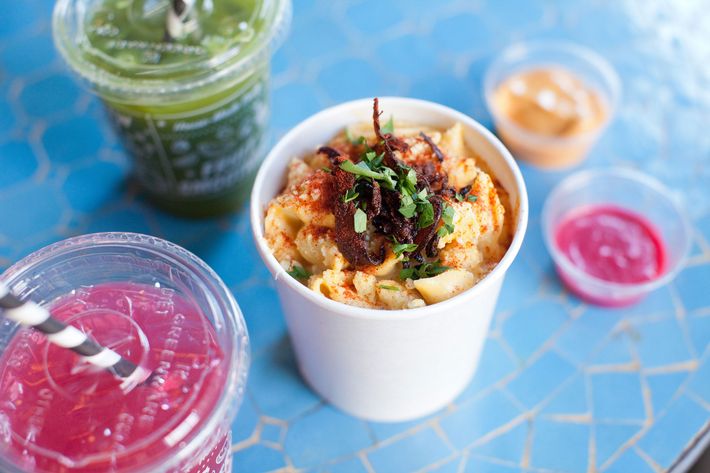 Wisely, Coscarelli and Wasser are capitalizing on all the hype and scaling fast: Their second location in the Flatiron (selected because it's where Coscarelli first lived in New York, while attending the Natural Gourmet Institute) is scheduled to open in February, and Coscarelli says it'd be "amazing" to expand nationally, or even internationally. "It's all happening quickly," she repeats. "People are asking for us in Japan. It would be so great if we could serve everyone that wants us, but we'll have to take it one day at a time." She also notes, "Most of the time I ask customers how they hear about us, they say Instagram" — her highly curated, color-coordinated account has 16,000 followers and counting.
Time will tell if By Chloe can go the way of Chipotle or Shake Shack, but Coscarelli has certainly struck a chord with her own generation. "I feel like millennials, especially, are demanding more options where they can eat higher quality food more frequently," she says. "People just want good food that makes them feel good, and they don't want to pay a lot, and they don't have a lot of time," she says. She's right on the first two counts, but as for time, New Yorkers certainly seem eager to wait in line for a tempeh-lentil-chia-walnut burger, with virtuous beet ketchup on the side.