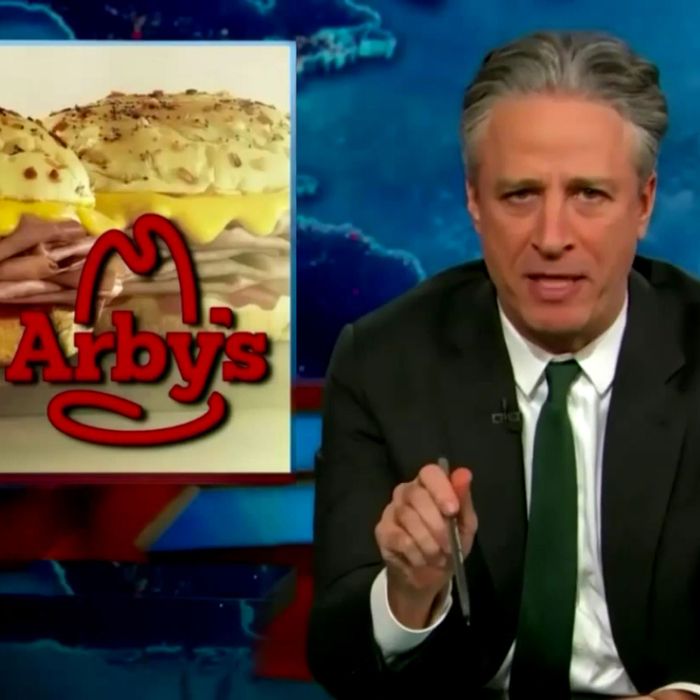 "Arby's: Isn't there anywhere else we can eat?"
During his Daily Show days, Jon Stewart loathed Arby's so much that Arby's people wondered if it was all maybe secretly a reverse-psychology native ad. That theory may give the chain too much credit, because based on what an executive tells the AP (in an interview that was supposed to be about the chain's new Times Square store), chief marketing officer Rob Lynch says Arby's would always send The Daily Show crew free lunch if Arby's got lambasted the night before, starting with that very first insult:
We had to make a tough decision. Do we send him a letter saying, "We can't believe you're doing this — we use the highest quality ingredients." Or do we play along?

So we sent him and his crew lunch, and they sent us back a letter saying, "Usually when we make fun of people, they send us nasty letters. You sent us lunch. That's awesome."

We were like, "Yes! They loved the food, they like us. That was the perfect decision."

And then it happened again. And it happened again. And again.

Every time, we sent them lunch. Sometimes it was easier, and sometimes it was harder.
Lynch says the one time Stewart used the faux tagline "Arby's: It's like your stomach got kicked in the balls," it was hard to give out free food. But the company did it anyway, which, just for the record, means they also catered lunch after these other taglines came out of Stewart's mouth:
• "Arby's: It's like shock and awe for your bowels."
• "Arby's: Proof Jon Stewart cannot destroy a brand by telling people what's in it."
• "Arby's: You think pain and grief are hard to digest."
• "Arby's: Because your hunger is stronger than your memory."
• "Arby's: Isn't there anywhere else we can eat?"
[AP]