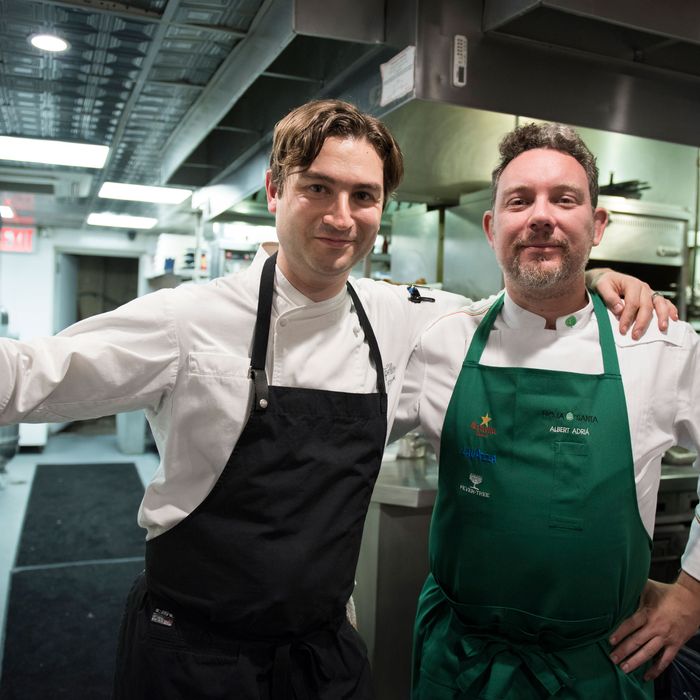 "I got to cook with my hero," Stupak says.
Photo: Liz Clayman
Through his Push Project, Alex Stupak has welcomed many great chefs into Empellón Cocina's kitchen: Enrique Olvera, Jordan Kahn, Chris Cosentino, Grant Achatz, and Rick Bayless. But on Saturday, Stupak outdid himself, collaborating with the chef he has gone on record as admiring the most — Albert Adrià, who, post-El Bulli, has built an empire of restaurants in Spain that includes Barcelona's Tickets and Hoja Santa.
Adrià, and executive chef of Hoja Santa, Paco Mendez, helped create a highly technical and ambitious menu of 20 dishes, which included a riff on El Bulli's famed spherical liquid olives, avocado gazpacho served inside its skin, and an imaginative version of tres-leches cake. After the dinner, Grub sat down with Adrià and Stupak to discuss what inspired their collaboration, how each decides to open new restaurants (Stupak has a fourth Empellón planned, and Adrià says he'd "love" to eventually infiltrate New York), and why it's actually great to work with your heroes.
When did you two first meet?
Alex Stupak: The first time we met was at El Taller [the test kitchen where the El Bulli team would develop the next season's menu]. Heston Blumenthal was there. I was there with Ken Oringer. It was 2003? I was still the pastry chef at Clio in Boston, and actually, Ken Oringer was the person who gave me Albert's first cookbook, and it was the catalyst for why I wanted to become a pastry chef. It was kind of surreal for me, like, at 23, to meet two of the greatest chefs in the world, working on all these new techniques.
I read in an old Food & Wine story that you said Albert's the chef you most admire.
Albert Adrià: Nice, nice detail.
When, and how, did you reach out to Albert to ask him to come to New York?
AS: We've been doing these dinners. They've been more and more difficult to do, though, because every time you want the next one to be better. For me, after Grant [Achatz], there was only one I could think of to do. I think I asked Albert like a year out.
Albert, you're quite busy, overseeing several restaurants. Why did you say yes?
AA: I had no motive to say no. There were a lot of factors, but I think it would be a great marriage, to work together. When Alex said that there would be four different hands, I was a little hesitant in the beginning, but I knew it would all be seamless.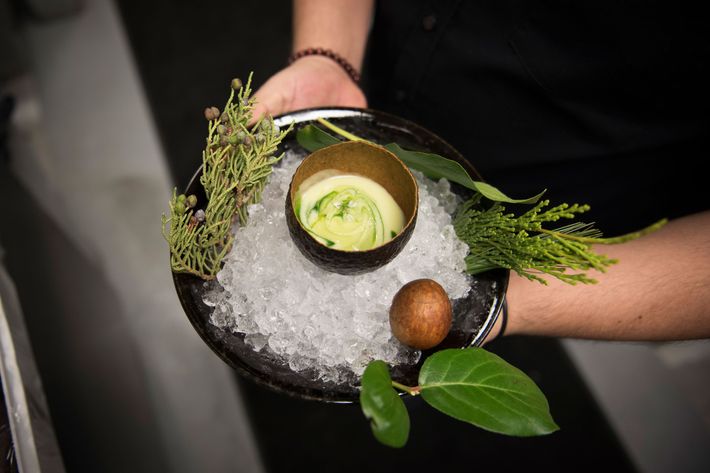 With four hands, and two different outlooks, how did you begin to shape the menu?
AA: Paco and I starting working on the menu together, and we reached out to Alex and asked him how many courses he usually does. He said he could do 10 to 12.
AS: It ended up being 20.
AA: It's not every day that you come to New York, so when you do, you have to do something memorable.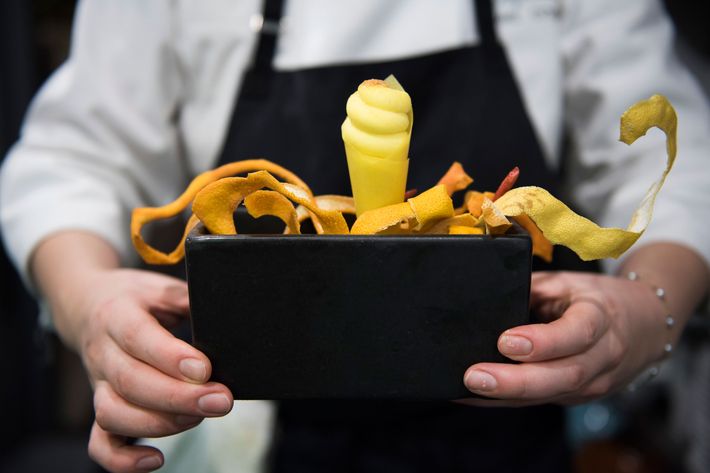 Did you bring ingredients with you?
AS: They brought many of their products with them. There's always a fear — I don't think you really read about this in interviews ever — but chefs ship food all the time to do dinners, because it's always better to prepare it in your own kitchen, if you can. But there's always this fear that it's all going to get confiscated. It happens all the time where people bring thousands and thousands of dollars of food to a country, and then customs just throws it away. That didn't happen, which was great. But we also did a lot of sourcing. You have to understand that their mentality as a restaurant … They're more organized than most restaurants you've ever seen. Every dish comes with a picture and a description of how it's supposed to be served on the table. So, I spent lots of time trying to find plateware for them, and trying to make it as representative of what they do, which is not normally how these things work. Normally, it's like, "Hey, I'll show up." I respect and admire these guys so much that I was not willing to tell them "no" for anything.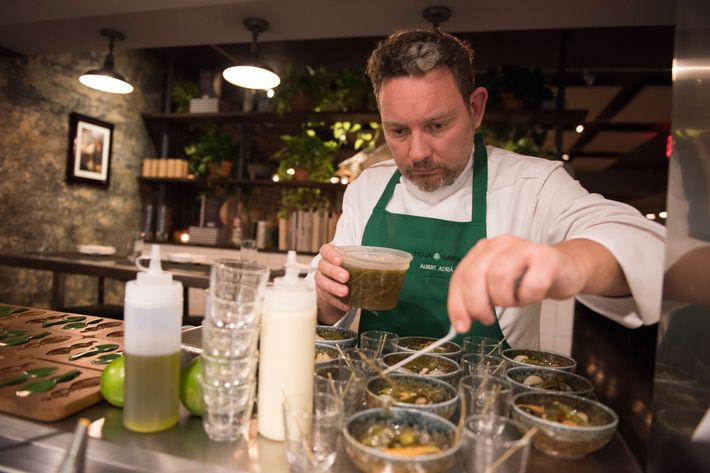 Alex, after Albert came to you with his ideas, when did you put your spin on them?
AS: We waited for them and their ideas, and then we looked to fill in the blanks. Actually, Empellón did the least on this dinner, because if you saw the stature of their menu, it would have been something like 30 courses. It would have been more than our restaurant could handle. So we only did five dishes or six dishes. Paco made pork ribs and then an adobo — his grandmother's recipe. So, I looked at that dish, and it's pork with red chiles, and we wanted to transition into the sweet world. So, we did a dish of mancha manteles, which is a mole from Oaxaca that has pork and is boiled with fruit. It usually has pineapple and sweet potato and apples. But because he left off with the pork dish, I removed the pork from my mancha manteles and converted the idea into a dessert, and began to transition. But the exciting thing for us is that now we have the idea and love it, so it will become a part of the restaurant.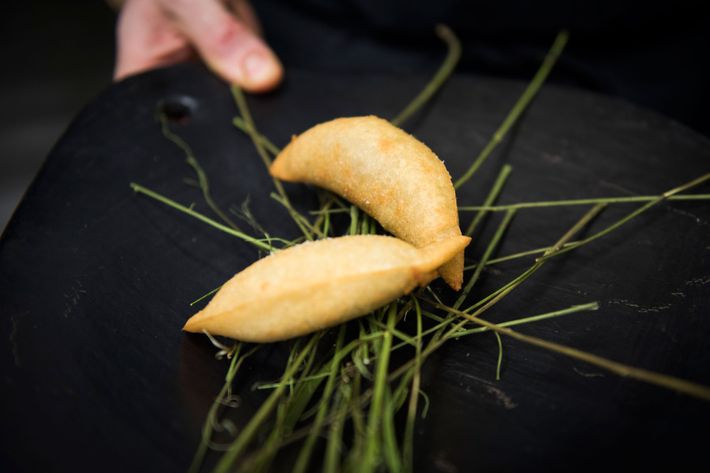 What was the trickiest one to execute?
AA: There's no easy or hard dish. It's all about finding the highest quality of the produce and the products that you have.
AS: They made quesadillas that actually inflate like balloons. They probably made like 140 quesadillas, because if they didn't inflate, they're going in the garbage. That one for me, technically, was the most impressive, even though it was one of the simplest ones. One dessert that they did was honestly on the simple side in the kitchen, but the customers were blown away by it — they make corn ice cream, a smoked-corn ice cream. And they actually molded it into the shape of a corn on the cob.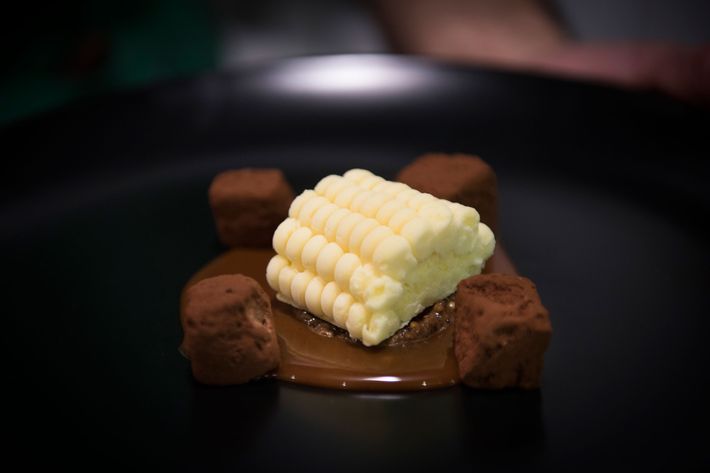 The day arrives, and you're in the kitchen together. How do your leadership styles differ? Is one of you more assertive?
AA: Our styles are a little different, but the intent is the same. It makes for a good kitchen.
AS: This one, I actually did not cook. I expedited the service. This was the most complicated one we had ever done. I was a little bit embarrassed because I ended up yelling, which I didn't want to do in front of them. I got upset because I got frustrated.
Did you feel that your staff could handle it?
AS: The hardest thing with these dinners is you have one chance to get it right. People are paying a lot of money. You're bringing out chefs that you admire, so you want them to be impressed. You have never done any of it before, and again, it's still a restaurant, so the servers show up at 4 p.m., and go, "What are we doing?" Actually saying this out loud, we might not do these dinners anymore.
AA: They're professionals. For me, it was like switching basketball teams.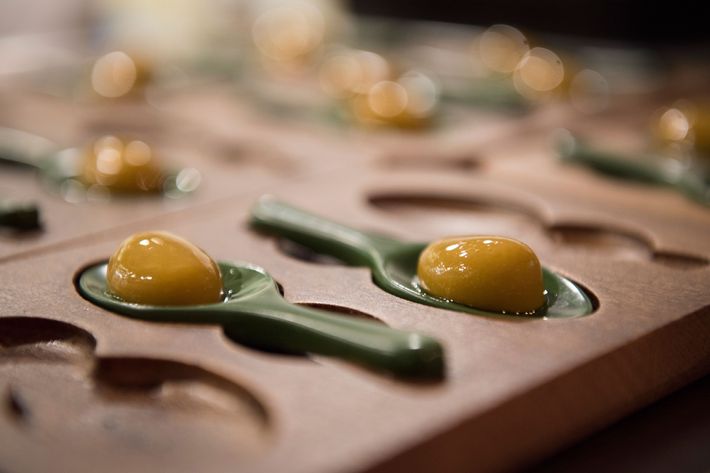 How'd you celebrate once service ended?
AA: Everyone went to Katz's after and celebrated with a pastrami sandwich.
AS: Yeah, we were at Katz at, like, three in the morning. You can't get pastrami in Spain. And they don't make sandwiches like we do. There, it's like bread with a little bit of meat, and here …
It feels like, at this moment in New York, cooking is getting less experimental and ambitious. Do you feel that shift?
AS: Yes. You see it and you feel it. And it's worrisome for me, because we know the direction that we're going in, and we know what we want it to become. And we see that as straying further and further and further from the current culinary mainstream. Everyone in New York is cooking like they're in Copenhagen: It's very vegetable-driven, very minimalist, and that's all well and good, but that's why I was so excited to bring these guys out, because their style of cooking doesn't exist here. I'm not gonna say it doesn't exist completely, but we don't have our wd~50 anymore … New York's only had a couple of restaurants like that ever … I guess worried isn't the right word. I'm not worried, but it's interesting. Chefs here aren't opening new restaurants; they're making fried-chicken sandwiches. Or pizza. I always find New York to be interesting in that the pendulum swings back and forth a little. It'll come back.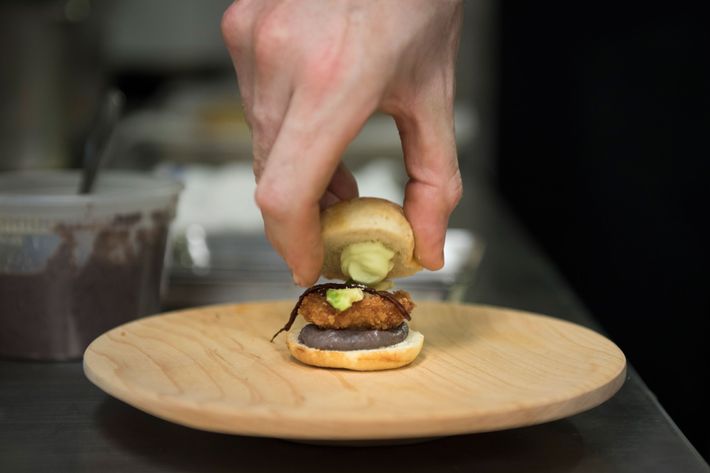 You've mentioned that me that you're working on opening a fourth restaurant. Do you want to continue with the more casual Empellón Al Pastor model, or push in the other direction?
AS: We want to push more the other way. Empellón, it's complicated for me, because when you have a restaurant, it's like clothes in your closet. If you're a person who has your favorites, you want to keep them there forever. But you also want to continue to do new things. Intertwined with that is the complexity of having a brand — because if you open a box of Crest toothpaste, there's Crest toothpaste inside. So, Empellón has gotten to the point where, if you go to one of the restaurants, you're expecting to get guacamole with seven salsas, and one of them is the cashew one … The artistic inclination is to throw it away and start over. The business inclination is to keep it and replicate it and do it over and over and over again. We're going to open one more Empellón in New York City, and then I hope that the Empellón collection is complete.
I'd love to see you open a dessert-only concept.
AS I would too. I would too. And I already have the name in my head … It's on the list of things to do.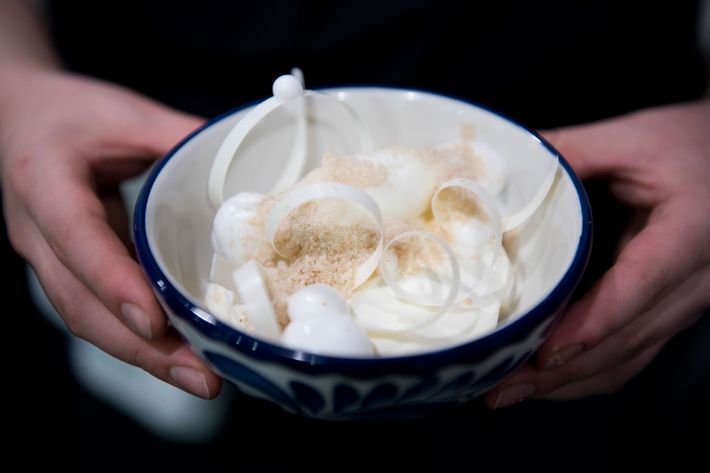 Albert, you've certainly built an empire back home in Spain. Do you have a desire to expand to other cities?
AA: One thing is what you would like, and the other thing is the reality. We're going to do a London pop-up in February and March. Only two months. In the future, we would like to open in New York, but it is not easy. I have now five restaurants … To open in New York, I need money for the others. You have to have a team. And right now, my team is for my own restaurants, not for traveling. But I would love to open in New York. I'd adapt my work for that particular environment, and create a special concept for here.
You both now have several restaurants under your belt. What goes into deciding scaling — how fast or slowly to expand, and how to structure the business model?
AS: For me, I opened my second restaurant too quickly. I regret it. It was done out of ego and blind ambition. So, since then, I've decided that I need to slow down. The best way I can describe it is when you have a baby, you don't really know its personality until it's one year old. I think restaurants are the same way. When Cocina opened, Taqueria was only 11 months old. So, its personality was really starting to come out, and its problems were really starting to come out. Then you have this new restaurant that New York City is coming after. You're busy right from the get-go, so you have to be here, and you can't be there. That's why the third thing that we opened was really simple. How do I describe this? Sometimes I feel the pressure to open in New York City, because look at my contemporaries and look at how quickly they're opening places. Look at Major Food Group. To be completely honest, there's a fear of becoming irrelevant or forgotten. It sounds childish, but sometimes the trigger to opening a restaurant is to say, "Hey, look at me, I'm over here." But I think maturity is not doing that. Not succumbing to that emotion and doing things when the time is right.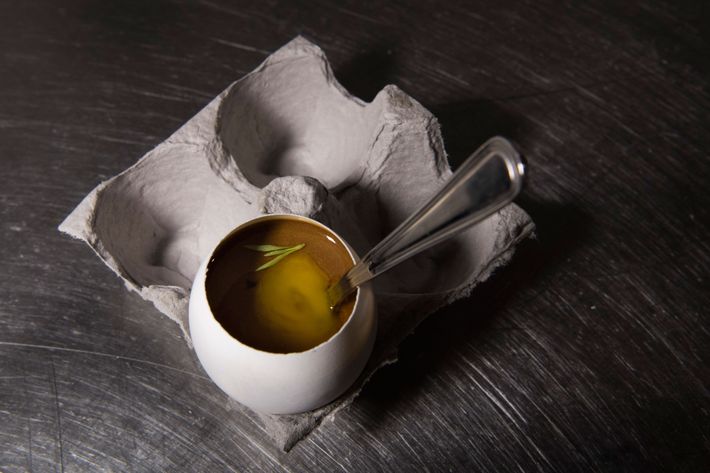 It's a city where everyone wants the newest thing. I'm aware of how Grub plays into that, of course.
AS: But this dinner that we did is a good example. It's proof that all that matters is a team, because what's a restaurant? It's a ceiling, floor, and four walls. So, with a different team, you can completely change it in one night. It's the human element. So, four years later for us, it's kind of like, slow down and fortify. And make sure your team is in place before you go off and do another thing. Said a different way: You're adding water to your broth. Every time you do a new thing, you are diluting yourself, and you're dividing your time amongst more things. I don't have a clear answer about when, but all I can say is that, over time, just think about it for a while before you jump into something.
AA: People call me a businessman, but I'm not a businessman. If I would think of business when I'd open a restaurant, then I wouldn't do what I'm doing now.
Alex, what are the techniques that you'll implement into your cooking?
AS: There were many. And they're not necessarily new, but these techniques in someone else's hands makes you think. One dish was shaped like a hoja santa leaf. I had to get a sugar lamp for that, and now that sugar lamp is in my life forever … I refuse to copy, but now, from this dinner for all the weeks to come, I'm going to think about what should we do. Maybe it's selfish. Maybe it's all for me.
People always say, "Don't meet your heroes."
AS: Eh, I think with chefs it's different. Because we all like to drink, and we all like to eat, so when they say, "Don't meet your heroes," it's because you're going to find out that they're an asshole or a douche bag, or something. But I got to cook with my hero. I got to cook with the person who I think is the Antoine Carême of our time.