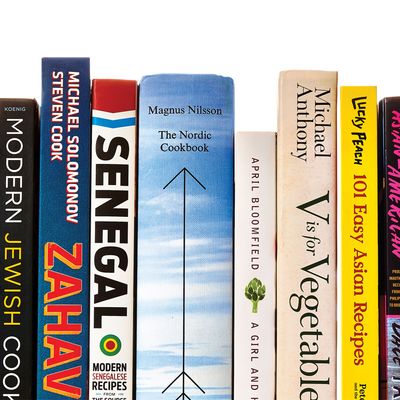 Photo: Bobby Doherty/New York Magazine
For the Would-Be Firemasters
In Feeding the Fire (Artisan Books; $30), New Jersey native Joe Carroll proves that you don't need to come from a long line of Texas pitmasters to make great barbecue. Nor do you need expensive equipment. What you need, says the self-taught Carroll (who runs barbecue joint Fette Sau and the Williamsburg steakhouse St. Anselm), is simply an understanding of fundamentals, which he lays out in 20 'cue commandments. That, plus the right wood and good meat.
Make this: Pork belly smoked like a beef brisket (p. 54).
The 52 recipes Upland chef Justin Smillie provides in Slow Fires: Mastering New Ways to Braise, Roast, and Grill (Clarkson Potter; $40) are not the type you knock off on a casual Tuesday night. They are long-weekend projects requiring advance planning and a cleanup crew. Yet Smillie's learn-the-rules-then-break-them approach — not to mention the promise of his incredibly delicious food — will inspire even slacker cooks to dive in.
Make this: Real porchetta (p. 181).
For Noshers and Fressers
Home cook Leah Koenig wrote Modern Jewish Cooking (Chronicle; $25) with a local, seasonal, multiculti, and veggie-friendly bent that excavates and enlivens a cuisine buried under centuries of tradition (and schmaltz). But what's a little global influence and creative tinkering to a style of cooking that's defined by exile and adaptation?
Make this: Mango-ginger tzimmes (p. 132).
Like most great chefs, Michael Solomonov found success by forsaking "authenticity" and forging his own style: inspired by the flavors of his Israeli birthplace, informed by stints in French and Italian kitchens, and fueled by local American ingredients (and his own palate). In Zahav (Houghton Mifflin; $35), written with business partner Steven Cook, he chronicles his journey from disaffected youth to hummus king of Philadelphia
Make this: Tehina shortbread cookies (p. 66)
For the Dining-Room-Chair Traveler
With chefs like Sean Brock trumpeting West Africa's influence on the American South, Pierre Thiam's Senegal (Lake Isle Press; $35) couldn't be better timed. It contextualizes a cuisine that, once marginalized by colonial policies that supplanted native agriculture with export-earmarked cash crops, shows signs of grass-roots revitalization. Thiam's book is part travelogue, part teaser for his line of small-batch imports.
Make this: Boiled peanuts (p. 118).
New Nordic Cuisine has hogged the spotlight, but what of old Nordic? Fäviken chef Magnus Nilsson takes a 700-recipe dive into the home cooking of not only his native Sweden but also Denmark, Norway, Finland, Iceland, Greenland, and the Faroe Islands in The Nordic Cookbook (Phaidon; $50). The photos are stunning, as are insights into whale blubber, rotten shark, and Swedish pizza (always served with cabbage salad).
Make this: Danish-rye-bread-and-beer soup (p. 475).
For Confirmed Vegivores
It has long rankled April Bloomfield that diners associate her mostly with blue-cheese burgers and Spotted Pigs. And so A Girl and Her Greens (Ecco; $35) shows the chef's plant-loving side, one honed in kitchens like London's River Café and Chez Panisse and tempered with generous lashings of butter, cream, and bacon.
Make this: Whole pot-roasted cauliflower with tomatoes and anchovies (p. 66).
V Is for Vegetables (Little Brown; $40) tells you everything you need to know about Gramercy Tavern chef Michael Anthony's formative influences, alphabetically: his Ohio upbringing (E for Gramma Anthony's pickled eggplant), cooking school in France (L for leek quiche), and training in Japan (D for daikon and dashi). Line drawings by Anthony's wife animate its pages, and the chef's reverence for farmers gives it soul.
Make this: Rutabaga gratin (p. 269).
For Inauthentic-Asian-Food Junkies
In Asian-American (Grand Central Life & Style; $32), Dale Talde defends MSG, pens a panegyric on the New York bodega, celebrates his Filipino mother's home cooking and the McNugget, and also endorses laziness in the kitchen.
Make this: Miso-marinated salmon, Reuben style (p. 143).
"100 percent Inauthentic!" promises the back cover of Peter Meehan's 101 Easy Asian Recipes (Clarkson Potter; $35). Playing against type, Dave Chang's alter ego and the editor of the relentlessly elaborate Lucky Peach acknowledges that most of us just want to get tasty food on the table quickly and with minimal effort. Think the Momofuku cookbook crossed with your grandma's recipe Rolodex.
Make this: Rotisserie-chicken ramen (p. 98).
For Masa Mavens
"What does Mexico taste like?" Pujol's Enrique Olvera is asked in the foreword to his Mexico From the Inside Out (Phaidon; $60). His answer: "Like fermentation, like ripe fruit, like compost" — but also, presumably, like his mole madre and corn-husk meringue, found here along with an Amphibians-to-Worms glossary that leaves no stone unturned or Mesoamerican foodstuff undefined.
Make this: Burrata in green salsa with quelites (p. 212).
Things Alex Stupak doesn't like: the ghettoization of ethnic cuisines, the authenticity police, and his urge to prettify the humblest of foods. Things he does: tortillas, salsas, and tacos, each of which gets a chapter in Tacos (Clarkson Potter; $32.50). Mine the index for inside jokes: "Kennedy, Diana, with apologies to," directs you not to a page that cites the legendary cook but to Stupak's defense of masa harina
Make this: Salsa macha (p. 89).
For Those Who Can Boil Water
If living, cooking, and eating in Italy has made food writer Nancy Harmon Jenkins and her chef-restaurateur daughter, Sara Jenkins, especially qualified to write The Four Seasons of Pasta (Avery; $35), it's also transformed them into macaroni sticklers. This compelling rebuke to low-carb diets raises the profile of dried pasta, derides overcooking and oversaucing, and portrays this most nonperishable of staples as the ideal canvas for seasonal meals
Make this: Fedelini al vino rosso piccante (skinny pasta cooked in red wine with lemon and chile pepper; p. 273).
For Amateur Mixologists and Chef Groupies
Not to suggest that Will Guidara and Daniel Humm have a God complex, but their NoMad Cookbook (Ten Speed Press; $100) does call to mind an oversize Bible, with a mini paperback version (The NoMad Cocktail Book) tucked into a hidden back compartment. The dauntingly elaborate recipes, peppered with subrecipes but devoid of headnotes, wouldn't faze the most devout Humm disciples, but Leo Robitschek's bonus bar book has a more common appeal, not to mention great tips on ingredients, equipment, and techniques.
Make this: Sippy Cup (The NoMad Cocktail Book, p. 57).
For Fat Skimmers and Pot Simmerers
We already knew the soothing stuff Marco Canora peddles out of an East Village takeout window at a rate of 40 to 50 gallons a day was delicious, but in Brodo (Pam Krauss Books; $20), the Hearth chef makes a persuasive case for bone broth's superfood status. He also tells you everything you need to know to make your own, including where to get good bones, and what to do with the leftover meat (make polpettone). He gives recipes for non-bone broths, soups, and risottos and, with an assist from Harold McGee, answers the question on everyone's mind: What's the difference between broth, brodo, and stock?
Make this: Hearth brodo bowl, Canora's take on straciatella with Tuscan kale, farro, and roasted garlic purée (p. 128).
For the Farm-to-Table Enthusiast
In The Beetlebung Farm Cookbook (Little, Brown & Co.; $35), Chris Fischer records in recipes and stories a year of cooking and farming on his native Martha's Vineyard interspersed with musings on hunting, fishing, and rural life. After stints at Babbo and London's River Café, Fischer returned to Chilmark to run his family's five-acre farm by day and cook professionally by night. When he starts using what he grows and gathers from friends, he discovers his own style: "The food was so remarkable that each vegetable and every piece of fish seemed to declare what should be done with it, mostly arguing in favor of not very much," he writes. The greatest flavor enhancer of all, asserts this cookbook, is having a close connection to the land and sea whence the food you put on the table comes.
Make this: Scallop crudo with fennel fronds and toasted almonds (p. 117).
For Cooks Who Don't Swallow the Conventional Wisdom
Some people want to know not only what tastes great, but how and why. For them, there is The Food Lab (W.W. Norton & Co.; $50), a culinary doorstop in the tradition of Harold McGee's On Food and Cooking and Nathan Myhrvold's Modernist Cuisine, only a lot punnier. Author J. Kenji López-Alt is an MIT-trained food blogger, former chef, and all-around kitchen tinkerer, prone to asking questions like "Is New York pizza really all about the water?" And, "What's a chicken?" Although most famous for his attempts to replicate such fast-food icons as a Shake Shack burger and Chick-fil-A sandwich, López-Alt harbors a secret, salad-loving side, and if he has a point to prove, it's that all gastronomy is molecular.
Make this: The best egg salad (p. 821).
For the Kings County Completist
No one knows how many painstaking producers of food and drink there are in Brooklyn these days. Well, maybe Marty Markowitz does. The point is that it's nearly impossible to keep track of all the small-batch, hand-crafted activity. Which is why Made in Brooklyn: An Essential Guide to the Borough's Artisanal Food & Drink Makers (powerHouse Books; $35), by Susanne König and Melissa Schreiber Vaughan, is such a handy resource. All the great picklers, beer brewers, bread bakers, granola-makers, ice cream churners, kale dehydrators, bitters bottlers, taffy pullers, fish smokers, coffee roasters, whiskey distillers, and more are here.
Make this: Original Brooklyn egg cream (p. 68).
*A version of this article appears in the December 14, 2015 issue of New York Magazine.