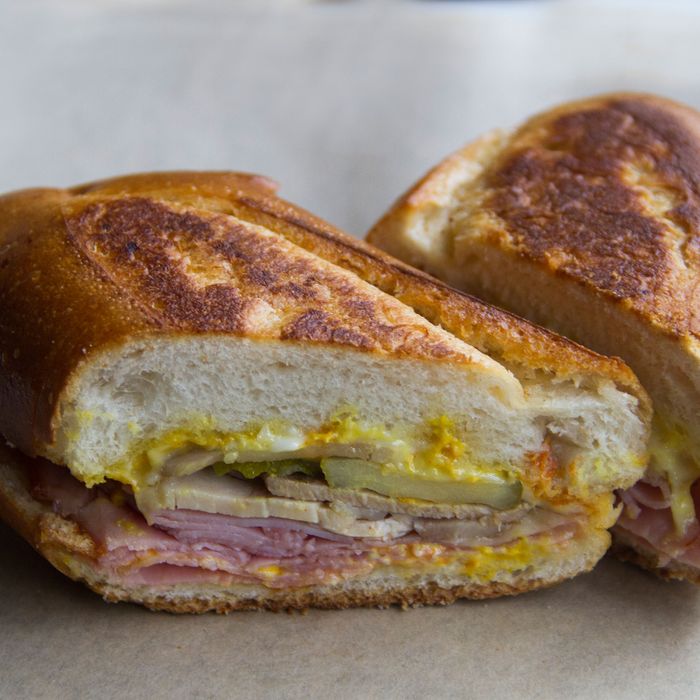 The pork-belly Cubano at Bunk.
Photo: Tirzah Brott
1. Porchetta's Porchetta Cubano
The thing you realize when you go to Sara Jenkins's East Village takeout shop is that there is no classic sandwich that isn't improved upon by a factor of 20 when you substitute porchetta for whatever pork preparation is traditionally called for. Case in point: Jenkins's brand-new porchetta Cubano, which follows in the footsteps of the porchetta bánh mì she rolled out last year. It's smoked ham from the Ukrainian butcher around the corner, plus Jarlsberg, Middle Eastern-­style pickles, Dijon mustard, Kewpie mayo, and house porchetta — basically a United Nations of tasty foodstuffs expertly smooshed on a Sullivan Street Bakery ciabatta roll.
2. C&B Cafe's Chorizo-and-Egg
Another former fine-dining cook who followed his bliss, Ali Sahin did time at Rouge Tomate and Daniel. Now he makes the best new breakfast sandwich in the East Village: a remarkably juicy housemade chorizo patty and fluffy scrambled eggs nestled between two pillowy halves of a brioche bun. His merguez with egg and Cheddar on a croissant is the second-best.
3. Superiority Burger's Yuba Philadelphia
Strips of yuba (for tofu-phobes, that's the "skin" that forms when soy milk is heated), griddled red onions and green peppers, and a Cheez Whiz–­like substance made from cashews on a Martin's potato roll. Philadelphians may look askance at it. But leave it to that superb meat-free genius Brooks Headley to make it craveable.
4. Mekelburg's Porchetta
Thinly sliced housemade porchetta, pleasingly bitter broccoli rabe, and Parmesan on a seeded semolina roll. This is actually a take on Philadelphia's no. 2 sandwich, the roast-pork-and-provolone, and thus another good example of the everything-is-better-with-porchetta theory, a.k.a, the porchetta-is-the-new-bacon hypothesis (see also the Porchetta Cubano).
5. Delaney Chicken at UrbanSpace Vanderbilt's Fried Chicken
The chicken looks too heavily battered, too lumpy and unwieldy. And the presumably rookie, practically vaudevillian sandwich assemblers look baffled by the idea of fitting it into a bun. Plus they douse it with what seems like way too much hot sauce. Yet out of this chaos comes what might be the most finely tuned fried-chicken sandwich in town: hot, salty, fatty, crunchy, with plenty of grease-cutting pickles, and a squishy roll that molds itself around the whole like Silly Putty.
6. Santina's Fish
The key is the slaw — a deceptively simple mingling of onion, jalapeño, and Anaheim peppers seasoned with salt and Tabasco and sluiced with lemon and lime. Not that the rice-floured deep-fried sea-bass fillet, the olive-caper tartar sauce, and the toasted Amy's bun don't pitch in and do their part. But that slaw! Even an old shoe dappled with this stuff would taste sublime.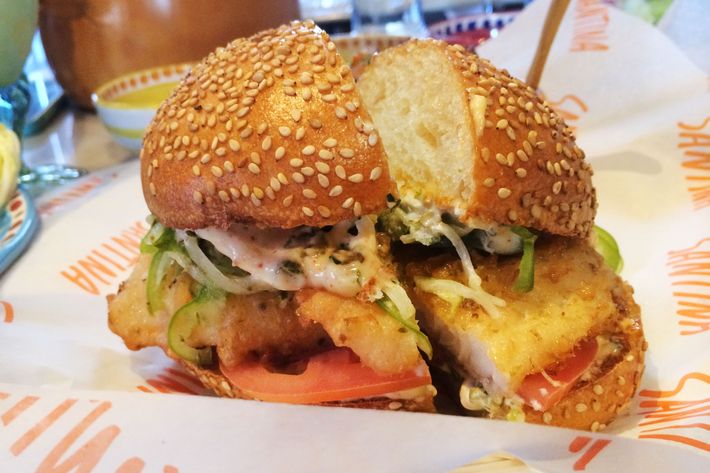 7. Bunk's Pork Belly Cubano
It looks like a regular Cubano with Swiss, mustard, hot sauce, and pickles on an old-school French roll. But there's some food-geeky Frankenpork business going on here involving the melding of two cuts of roast pig: belly and butt. Plus the ham comes from contented hogs up in New Hampshire. In other words, it's classic and innovative and tasty as hell.
8. Southside Coffee's Southside
Scrambled eggs, Heritage Meats ham, Cheddar, pickled onion, and a compulsively edible redeye-gravy-like mayo on a brioche roll. A gourmet-upgrade breakfast sandwich that puts the anti-gourmet-upgrade crowd in its place.
9. High Street on Hudson's Hickory Town
Yes, we know, the place just opened. But one bite of this mouth-waterer (fried egg, Cheddar, gherkin mayo, hot sauce, and sweet Lancaster bologna on what might be the finest poppy-seed roll on the planet) convinced us that it would have been a crime to exclude it from a list like this.
10. Souk & Sandwich's Betenjan Mashwi
The pita-wrapped fried cauliflower has its fans, but the vegetarian sandwich to get at this Lebanese hole-in-the-wall by the Holland Tunnel is the chargrilled, marinated eggplant, which possesses a depth of flavor so profound you wonder whether Yotam Ottolenghi is moonlighting in the kitchen.
11. Upland's Roasted Porchetta + Egg
The year's two biggest sandwich trends collide with predictably excellent results. The porchetta has an ideal ratio of crisp to tender meat, the egg is expertly fried, and there's a smattering of guindilla peppers, arugula, and scallions for health.
12. Emmett's Chicago-Style Italian Beef
The culinary ambassadors at Emmett's have already convinced us — with their deep-dish pizza, their thin-crust party-cut pies, and their neon-relished Vienna Beef hot dogs — that the foodways of their native Chicago do not suck. The latest evidence, paper-thin slices of house roast beef and giardiniera piled on soft Gonnella rolls that the owner's mother smuggles across state lines, and that mysteriously absorb copious amounts of beef jus without falling apart, is just as persuasive.
13. Parm Battery Park City's the Ozersky
The late food writer and controversialist Josh Ozersky used to sermonize Team Torrisi on the glories of the Italian-American roast-beef-mozzarella-and-gravy hero, exemplified by the soggy specimens produced at Fiore's House of Quality in Hoboken. This is their tribute to him, and it's a good (if interpretive) one: extra-rare roast beef, super-fresh mozzarella, zingy pepperoncini, flattened toasted sesame-seed roll … but not a drop of gravy. Would Mr. Cutlets have quibbled with this deviation from the norm? Sure. Would he have licked his lips, rolled up his sleeves, and gobbled down every last morsel? Absolutely.
14. Hard Times Sundaes' Breakfast
This is old-school. New York's Ur-morning meal. Bacon, American cheese, poppy-seed Kaiser roll, and two eggs pan-fried to the point where the yolks still run but not too much, like hot fudge. Sure, you can get a sandwich like this anywhere, but everyone knows that food tastes better in the great outdoors, even when said outdoors is the parking lot of Williamsburg's Pfizer Building — the new home to master patty-flipper Andrew Zurica's burger truck.
15. Harry & Ida's Smoked Eel
The pastrami is killer, but where else can you get a good eel sandwich these days, let alone one whose main attraction is tanked, skinned, and smoked on premises before it's served with "kalechee" (kale kimchee), horseradish cream, smoked butter, and maple sauce on stellar bread?