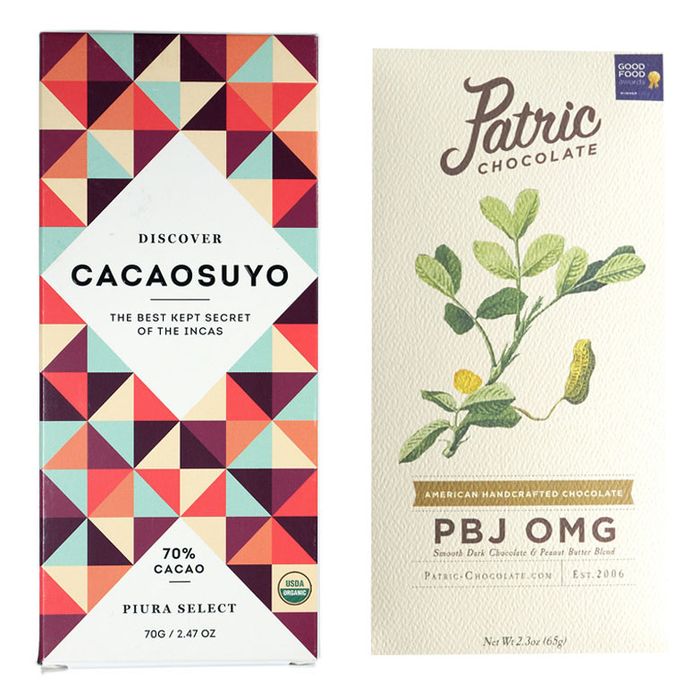 They've got good labels, too.
There is trouble in artisanal Brooklyn, what with the recent revelations that the Mast Brothers — the borough's Ur-craftsmen — are caught up in a big cocoa controversy. Maybe you're a fan who feels cheated, or one of the many people who just never liked the brothers' chocolate all that much to begin with. You are in luck: There's plenty of great craft chocolate out there, stuff that's truly delicious and covers a whole spectrum of flavors. Along with a few in-house recommendations, Grub spoke with some experts — including Mark Christian, of the exhaustive and authoritative chocolate site C-Spot — to find out which fine chocolates truly justify their prices.
Fruition Chocolate
What to Get: Brown-Butter Milk Chocolate ($9 per bar)
Why: Milk chocolate doesn't get as much love as dark chocolate among cocoa snobs, but that's nonsense. Christian considers this upstate New York chocolatier to be among the very best producers out there. Get the brown-butter milk chocolate, which is made with excellent-quality Ronny Brook butter browned until it achieves a nutty, caramel flavor.
 
Charm School Chocolate
What to Get: Coconut Milk Bar ($7)
Why: Because even vegans crave the creaminess of milk chocolate: All of this producer's chocolate is made with beans from around the world and without using any milk, cream, or butter. Try their coconut milk-chocolate bar, which won gold at this year's Good Food Awards.
 
Marou
What to Get: Tien Giang 70 Percent ($11 per bar)
Why: Marou is a Vietnamese chocolate-maker using Vietnamese beans — beans that many Americans probably aren't familiar with. Perhaps more impressive is Christian's fanatical endorsement of the Tien Giang, a 70 percent bar that he says is unlike anything else around: "As close as chocolate gets to heroin" and redolent of flowers and spices like hibiscus, myrrh, and frankincense. The packaging, also, is pretty stellar.
Cacaosuyo
What to Get: Piura Select (around $13 per bar)
Why: The mission of this Peruvian chocolate-maker — whose sunny and colorful wrappers are inspired by the country's traditional textiles — is to use nothing but the finest Peruvian beans. Among their offerings, the Piura Select, described as both fruity and woodsy, is particularly praised.
Rogue Chocolatier
What to Get: Preorder the Tranquilidad ($18 per bar)
Why: Perhaps the most celebrated of America's craft chocolate-makers, the Three Rivers, Massachusetts, company took home a slew of awards at this year's International Chocolate Awards. Both Christian and Scott Craig, the blogger behind the Mast Brothers exposé, count Rogue among their favorite producers. Unfortunately, that popularity has led to high-demand, so your best bet is to preorder some before it sells out.
Soma
What to Get: Stratus Bar ($11 per bar)
Why: Both Christian and Craig are big fans of this boundary-pushing Canadian company's creations. Christian is particularly fond of the Stratus bar, made by aging nibs of Ecuadorian beans with red-wine lees from Stratus winery in oak barrels for three months. The result is a wine-infused chocolate that has notes of bolder, darker fruits. (N.B. They'll ship anywhere in the world, but orders must be placed via a contact form.)
 
Pump Street Bakery
What to Get: Award Winners Gift Box ($26)
Why: This London shop, another one that has hit it big at the International Chocolate Awards, is both a bakery and chocolatier. Helpfully, they have gift boxes of both their top-four best-sellers and award winners packed together; the latter includes their 58 percent Madagascar milk, 60 percent milk-and-sea-salt, the 70 percent Grenada, 80 percent Honduras, and, combining the two sides of the business, the rye crumb, milk, and sea salt.
 
Domori
What to Get: Chocolate-Covered Dates ($27)
Why: There are a small handful of chocolate-makers in Northern Italy, but in Christian's eyes the one that's currently killing it is Domori. They own plantations in Venezuela, from which they harvest most of their beans, and along with more traditional bars, they make dipping fruit, like these dates covered in chocolate.
 
Patric
What to Get: PBJ OMG ($14)
Why: The American company is one of those frustrating small food-makers that runs according to a "catch me if you can" policy. Still, it's worth it if you can get your hands on some of their products. Craig recommends them, and the company has won ten Good Food Awards over the last five years. The company's straight-up chocolate has been praised, but they're also masters of award-winning, flavored creations like the red-coconut-curry bar and the jelly-free PBJ OMG.
A. Morin
What to Get: Vietnam Milk 48 Percent ($10)
Why: In today's conversation about chocolate, the French often get pushed to the side — at least in this country. But you can't sleep on them if you want better flavor, Christian says, and one of his favorites is the award-winning, family-run A. Morin, which has been making chocolate since 1884. One of the bars Christian is particularly fond of is the Vietnam Milk, made with beans from the namesake country, which he describes as stellar.
  
Dandelion Chocolate
What to Get: San Francisco de Macoris, Dominican Republic 70 Percent ($8)
Why: A three-time Good Food Awards winner and three-time International Chocolate Awards' Americas Competition silver medalist, this producer out of San Francisco's Mission District works with just one farm or cooperative at any given time. Each bar is unique, but the one you'll want right now is their 70 percent cocoa San Francisco de Macoris, Dominican Republic. Made with beans purchased from the Dominican Republic's Öko-Caribe, the bar won Dandelion its third silver medal in a row.