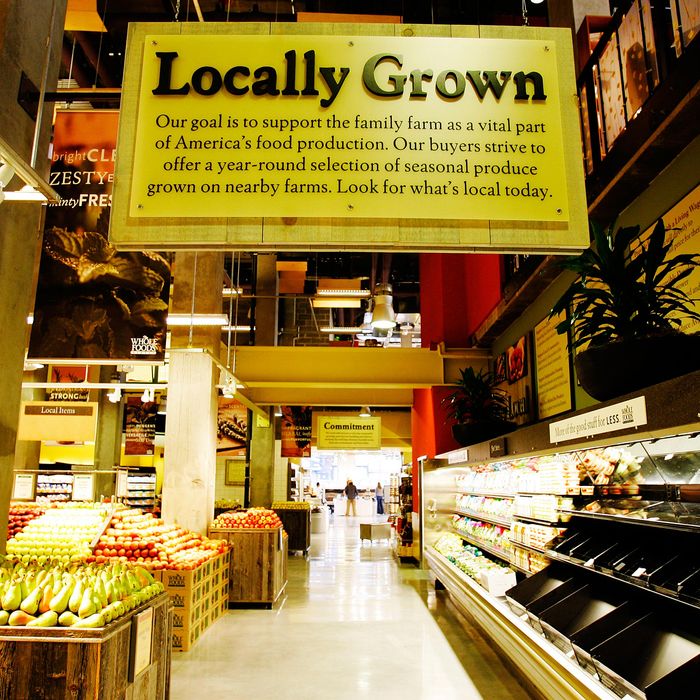 Everyone's at Costco.
Photo: David Howells/Corbis
Whole Foods isn't feeling the love on Wall Street anymore: Despite the sales of organic food being through the roof, shares in the company are down almost 50 percent from their value nine months ago. The Times explains that investors are "almost uniformly negative on the company" because they don't see a bright future for Whole Paycheck in a world full of upscale Targets and where Costco sells more organic food at much lower prices.
As Mark Retzloff, one of the industry's pioneers, puts it pretty plainly: "If one of those stores is just down the street from a Whole Foods, there's a big segment of their customer base that isn't going to shop at Whole Foods anymore."
Whole Foods used to fight the "price image" problem by hyping quality and selection, but some shoppers and activists have soured on those claims, to say nothing of the recent "routinely" overcharging customers debacle. After that mess, Whole Foods' sales fell immediately: Growth tumbled to just 0.4 percent, after being at 2.5 percent for weeks, and Whole Foods says it "actually hurt us worse outside New York City," even though that's where the price disparities occurred.
An obvious fix to a problem like having the nickname "Whole Paycheck" would be … to cut prices. But don't hold your breath, say co-CEOs John Mackey and Walter Robb:
"The Whole Foods Market brand may never shake that label," Mr. Mackey said in a wide-ranging interview during a recent trip to New York.

Walter Robb, the other co-chief executive, argues that Wall Street's relentless pressure on the chain to reduce prices is "a race to the bottom."

"Sure, we could sell cheaper farmed salmon — but it's terrible for the environment," Mr. Robb said. "Our products are not the same" as what other grocers are selling.
[NYT]