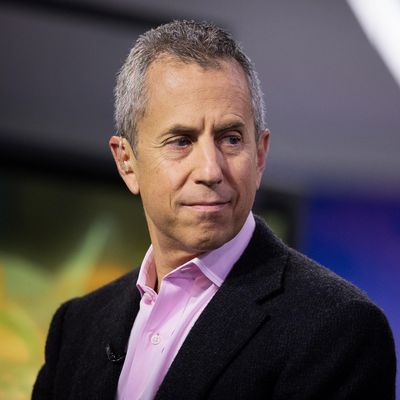 According to one former employee, Meyer has built an empire staffed with do-gooders.
Photo: Scott Eells/Bloomberg via Getty Images
Union Square Cafe is "the house of yes." At least that's what we called it before the curtain came up. During my own 16-month tenure as a waiter at Danny Meyer's flagship Manhattan restaurant, I saw that customers almost always got what they wanted. That means, for example, if a regular wants to substitute a fancy salad of his choosing for the regular green salad that comes with his chicken Milanese, he gets that. Even in the middle of a busy lunch, with chef and the whole kitchen sweating, and 20 tickets staring them down, that customer gets his ricotta-salata-and-Cara Cara-orange salad. And when the bill comes, they won't be charged extra.
Some people have expressed concern that Meyer's move to a no-tipping policy at his restaurants will result in a decreased level of service. At a town-hall-style meeting to discuss the new policy Monday night, Meyer said the main motivation is to correct the wage inequality between tipped employees who work in the dining room and kitchen staffers who now make far less.
Ending tipping will be difficult for many restaurants. Yet the switch, which has not necessarily worked everywhere else it's been tried, has a better chance to succeed at Union Square Cafe, and each of the Union Square Hospitality's 12 other restaurants, because these businesses already have a unique culture that is ready for a change like this. The staff of do-gooders sees its main purpose as making guests feel welcome, regardless of any small bonus that may come at the bottom of check. It's an environment where everyone expects everyone else to succeed. Managers want servers to be their best, of course, and each waiter on the floor has a partner. While working there, I not only had to take care of my section, but I had to watch my partner's as well, keeping the water glasses full and checking in to see how else I could help.
The single most important job at USHG's restaurants is taking care of regulars. It's right in Meyer's book, Setting the Table: "My goal is to earn regular, repeat business from a large percentage of people," he writes. Meyer's idea is to give up on short-term loss (on fancy salad ingredients — which isn't much) for a long-term gain. You want to make sure any guest, especially a regular, leaves wanting to come back. Meyer writes that they should depart feeling "hugged."
At Union Square Cafe, we "yes'd" people all day, every day. If a guest made a difficult or absurd request, you didn't say "no" — that doesn't make them feel good. (When I worked there, I had the pleasure of flat-out saying "no" to a guest only about three times, and I relished that rare moment on every occasion.) Mostly, though, something like this will happen: Say a guest selects a $120 bottle of wine, but asks to try it before buying, and it's clear the person is not sure what he really wants. We don't necessarily want to open that bottle and absorb the cost if the customer doesn't end up wanting it, so a staffer's response will be something like: "I have something great that you will love, which we also have by the glass." When I did that, I was telling the truth. I didn't lie. But I didn't exactly level with the guest, either.
Tips were pooled and split between waiters, back servers, polishers, baristas, and bartenders (who make more than anyone else in the restaurant). Almost every tip at the restaurant came in between 15 to 20 percent, excluding some foreign customers who tipped less. High rollers were not uncommon, but they did not result in a personal windfall. I once had a $1,500 tip at a table that had ordered a $9,000 bottle of red Burgundy, of which I saw only about $100 more than what I would have made anyway — $300 instead of $200, before taxes. As a newer server — meaning I did not get the most lucrative shifts — I made under $50,000 before taxes last year. A veteran server told me he made about $55,000 in a recent year. The most seasoned server, a lifer, may make up to $70,000. In New York City, none of these are necessarily easy salaries to live on, and it goes without saying that cooks face a much worse financial burden.
Meyer has said that, once the no-tipping policy is in place, FOH workers will make "at least the same" (cooks will see the real increase in pay after the switch). In reality, even with tipping in place, you can make more elsewhere, at restaurants with higher prices or volume, but employees stay at USC for several reasons: The restaurant is consistently busy, so you know what you'll earn, and because your co-workers are nice people, you tend to actually stay sane, too — not an easy thing in the hospitality industry.
I can imagine what my former managers at USC will say to the staff at lineups once the restaurant reopens at a new location next year: "Do you want to be part this project, of doing something special, of really making hospitality a team sport?" They'll add, "You were chosen because you are special — a lot of people want to be where you are. If you are not 100 percent onboard, the door is right there," a variation on a pep talk that was said to me and other front-of-housers at lineups many times over the last couple of years. Those talks didn't seem to bother my co-workers. For me, they were actually demotivating because they seemed intended to make us feel immense gratitude for being allowed the pleasure of working there. Looking back, I believe that their real purpose is to weed out staff members who were not fully onboard. (I left the restaurant earlier this year because working at restaurants was a between-careers stop for me.) But the big question facing Meyer's company is: Will the promise of being a good person, doing what's right, and being happy, rather than rich, be enough to keep the waitstaff at the company?
Meyer has said he's not trying to start an industry-wide revolution and only wants to do what is best for his company. But if he is successful, it seems likely that other restaurateurs will want to follow suit. If other owners want to duplicate Meyer's policy, it won't be enough to simply tack a service charge on the bill instead of leaving a tip line. They'll have to create the kind of employee culture that USHG has, which means putting a premium on hiring genuine do-gooders and taking care of them with benefits like health insurance and 401(k)s. To make the numbers work, it also means bringing in more revenue while reducing costs, as Meyer plans to do. He has 13 restaurants in which to experiment, and a big enough empire that there's some room for error.
In other words, USHG is better positioned to accomplish this than almost all other restaurant companies. Other owners may find it very difficult to abolish tipping while maintaining the exact same level of service: The end of tipping won't be the start of a service revolution at Union Square Hospitality Group, though it won't necessarily be the start of one elsewhere, either.