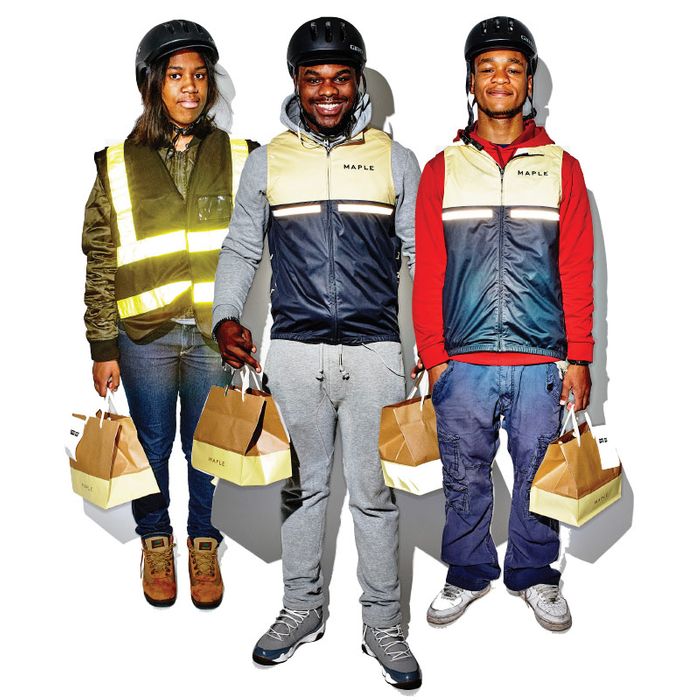 A trio of Maple deliverypeople.
Photo: Bobby Doherty
The problem with Maple, the new delivery start-up that claims David Chang as chief culinary officer, investor, and presumable spiritual adviser, is that it threatens to turn the normally peripatetic Underground Gourmet into a shut-in. It's too easy, too convenient. The website is too well designed. The deliverymen and -women, in their logoed bike helmets and streamlined wind vests, too speedy, too smiley. The spiffy yellow-and-khaki delivery bags too sturdy and eye-catching. The company slogan—"Stay In, Eat Up"—too persuasive. And then there's the food: too healthy-ish. Too sustainably sourced. Too perfectly portioned in its certified-compostable containers. Too affordable (every meal is $12 at lunch, $15 at dinner—tax and tip included). Too good, in short, for delivery food and too addictive—a fact you might have noticed if you live or work below 14th Street in Manhattan (at press time, the only area served so far by the gradually expanding enterprise).
Unlike most of its competition, Maple is neither a restaurant delivering on the side nor a middleman connecting restaurant and customer, but a dedicated delivery business. A commissary kitchen in Brooklyn supplies ingredients to satellite delivery hubs, each situated within a short walk or bike ride of every destination in its designated delivery zone. As it turns out, the U.G.'s home and office are both located within Maple's fledgling downtown zones, which gave us the opportunity to go on a Maple binge recently, delving deep into the service and responding to the daily 11 a.m. and 5 p.m. email alerts trumpeting the five-item lunch and dinner menus in an increasingly drooly manner that would have greatly interested Dr. Ivan Petrovich Pavlov.
We weren't alone, judging by the speed with which dishes typically sold out (sometimes 15 minutes after being announced) or required replenishing (the app keeps you apprised of all this activity to curb disappointment). And those delivery bags immediately became a regular attention-grabbing presence at the reception desk, the helmeted couriers an ever-present army brigade in the elevators and lobby—a scene that must be playing out in offices all over downtown.
Is this merely the consequence of a snazzy app, or the Chang effect? We'd have to say no. Maple is not Momofuku to Go—in fact, the kitchen is run by Soa Davies, a veteran of Le Bernardin, and the food is ecumenical in flavor (a little Mexican here, some Indian there, plenty of Asian accents generously sprinkled throughout) and subtle in seasoning. A dozen or so meals later, all but two clocking in under the estimated delivery time (typically 30 minutes but up to 50 during the lunch rush), we can report that, if the company hasn't completely solved delivery (yet), it does several things extremely well.
Seafood is a particular strength, and not something usually trusted to the vagaries of delivery. Atlantic hake (steamed and seasoned with white soy sauce and ginger) and wild Gulf shrimp (blackened and served over pecan-strewn rice one night) both arrive tender and perfectly cooked, and the dish details online reassure ethical eaters of their sustainable provenance. Sandwiches are another forte, although they're offered at lunch only and not every day, sometimes appearing once and then seemingly being forced into an early retirement, as if the kitchen wanted to send them off on a high note. Every one we've had has been deftly constructed and nicely accessorized: A Cubano spiked with aji amarillo peppers was soulful and satisfying. A lemongrass-chicken bánh mì had all the right stuff, including a light and airy, perfectly textured baguette-like roll. And smoked trout with a creamy horseradish spread on toasted rye was as delicious as we could have hoped for.
As for the salads, which hold their own against Sweetgreen—today's leafy-green yardstick—they're enhanced with chewy grains, crunchy nuts, ripe fruit, or roasted vegetables, and flavorful, often spicy dressings. If you never thought David Chang would lend his name to a superior-salad delivery system, you'd be shocked by the brazen meatlessness of vegetarian-bait dishes like an excellent broccoli-Parmesan cake swabbed with hazelnut romesco, and roasted slabs of tofu touched with citrus labneh. And speaking of vegetables: Maple makes each non-salad item a square meal by including a side of roasted or raw plant matter. These range from the quite good (garlic broccolini, butternut squash) to the unfortunate (sad, brown-edged crudités unredeemed by a Green Goddess dipping sauce).
Heftier dishes are expertly handled, too, though meats can occasionally be chewy, as in the chunks of carne asada that topped an otherwise delicious Cheddar-cheese sope. In general, chicken and pork fare better than beef or lamb. A toothsome, perfectly crumbed chicken schnitzel, accompanied by roasted potatoes and grilled red cabbage, was about as good as anything you'd find in one of the city's better Austrian cafés. Pastas are the weak link. Orecchiette with sausage and spicy tomato sauce was cooked soft and clumpy and appeared generally disheveled.
There is no dessert to speak of at Maple. Instead, you get a free mini Milk Bar cookie with every dish. But this stripped-down approach might be the start-up's smartest strategy: Limiting choice while still adding variety to every menu makes ordering a breeze. And making the cost all-inclusive (and uniform) conveys a sense of perceived value you don't find elsewhere. Maple's 21st-century update of the menu under the door is subliminal, seamless, and habit-forming.

Maple
maple.com
Prices: Lunch, $12; dinner, $15.
Open: Lunch and dinner, Monday to Friday.
Ideal Meal: Lunch: spicy Cuban sandwich or broccoli-Parmesan cake. Dinner: chicken schnitzel or soy-ginger steamed hake.
Note: Salads and grain/vegetable bowls are enough for two to share (or to last two meals).
Scratchpad: One star for improving a food-service sector resigned to mediocrity; another for the refreshingly simple, frequently changing five-choice menu; a third for the friendly, on-time service; and a fourth for the expectations-exceeding food. Minus a star for the occasional overcooked meat, inconsistent vegetable sides, and lackluster pasta.