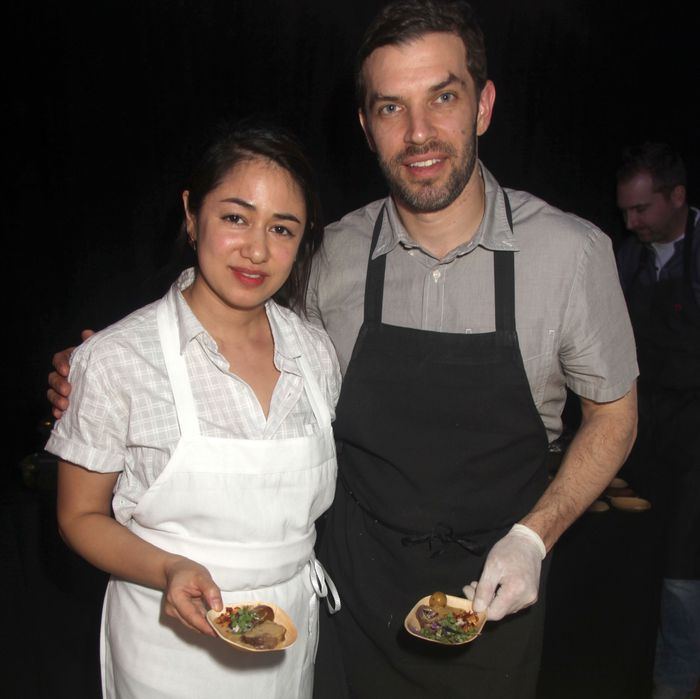 Chefs Ann Redding and Matt Danzer.
Photo: Steve Sands/Getty Images
Uncle Boons received its first Michelin star this year, and now the chefs behind the popular Nolita restaurant, Matt Danzer and Ann Redding, will open a second spot, Mr. Donahue's, on Mott Street. Just don't expect more curry and larb. Like Max and Eli Sussman, who recently opened a stall at Crown Heights beer hall Berg'n inspired by Michigan's Coney diners, their next venture, which they are hoping to launch in early December, will be all-American and diner-esque. Modeled after a casual style of Southern restaurant called "meat and three," the most famous of which is probably Arnold's Country Kitchen in Nashville, they'll serve simple comfort food like prime rib and Swedish meatballs, along with constantly changing sides for mixing and matching including, Danzer teased, homemade Vienna sausage. To go with the food, there will be just one brand of beer, along with three or four wines. However casual the space might be, this one may end up being even harder to get into than their first restaurant, as there won't be any more than 20 seats, but there will be an emphasis on delivery.
[NYT]