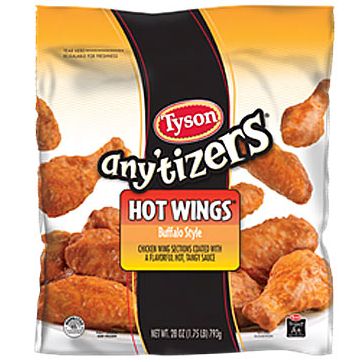 This batch has been redubbed NotNow'tizers.
Photo: Tyson
Not the news Americans want right in the middle of Chicken-Wing Season: Tyson is voluntarily recalling 52,000 pounds of Any'tizers Hot Wings sold in 28-ounce bags — which may have an "off odor" and could cause "mild illness" if eaten. The bags (they're marked with the case codes 2975PBF0508-23/2985PBF0500-01) were shipped nationwide, and Tyson says the offensive scent affects this variety only, meaning bags of its Any'tizer Boneless Chicken Wyngz aren't technically adulterated, unless the spelling of the name counts. Tyson says to throw tainted bags out or return them for a refund.
As it so happens, the USDA actually has a lengthy recall list going right now. More than 350,000 cans of SpaghettiOs may contain pieces of red plastic, and Trader Joe's says you shouldn't eat its Trader Giotto's Butternut Squash Triangoli because it could have some "undeclared tree nuts." Moral of this story: Whip up a nice homemade meal tonight.
[USDA]