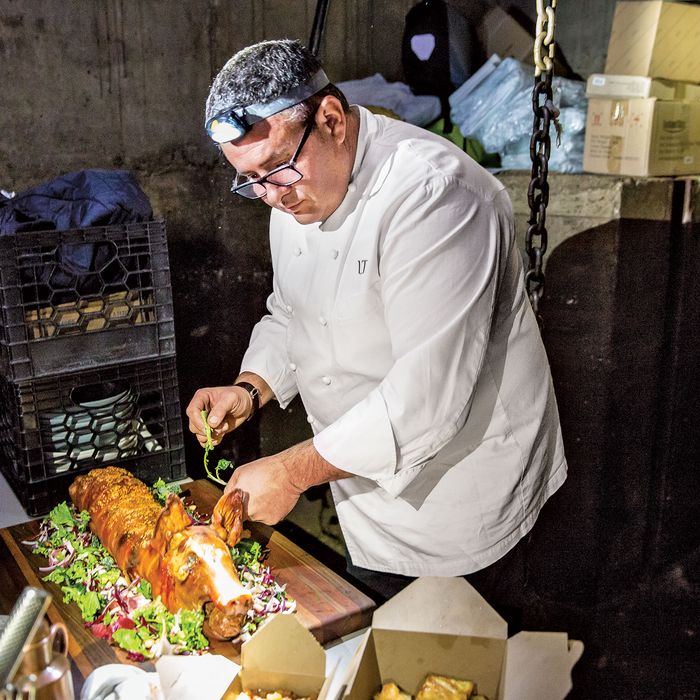 Tourondel preparing the pig in a makeshift mobile kitchen.
Photo: Tod Seelie
"This is cool as hell," said Luka Sabbat—which means a lot coming from the 17-year-old model-slash-­stylist-slash-filmmaker who was recently named "the Internet's Coolest Teenager" by Complex magazine.
Sabbat was standing in the middle of a candlelit sewer tunnel, having just returned from Paris Fashion Week, where he'd been attending shows and schmoozing with designers, and on this warm October night, in between preproduction for a film he's working on ("a true love story") and modeling gigs, he'd gathered six of his friends for a subterranean dinner party.
For the evening's festivities, Sabbat decided to mix two of his crews: as he put it, "a bunch of freaks who are my best friends," among them a group of downtown social-media-savvy fashion designers, including Kerwin Frost and Austin Butts (a.k.a. Asspizza), and his Kardashian-orbit friends, model Hailey Baldwin and singer Justine Skye. They were not told what they were doing or where they were going, only that they should wear clothes they didn't mind getting dirty.
The guests arrived by van and were handed Hunter boots for the trip's final leg. "But I'm wearing velvet!" Skye yelled. With everyone booted up, N. D. Austin, professional daredevil and the evening's producer, led the group down a steep ravine to the abandoned sewer. "I have a personal delight in being inside tube-shaped things," Austin said of why he picked the site (the location will remain undisclosed). "The curves are elegant and comforting." Once at sea level, the group carefully traipsed through the tea-­candle-lit tunnel toward a wooden table glowing beneath a rickety chandelier. The teenagers were all handed a set of virgin Negronis. "This is the craziest dinner I've ever been to," Baldwin said. "Ken­dall would love this!"
Meanwhile, up in a mobile kitchen, chef Laurent Tourondel, formerly of BLT and now helming the recently opened L'Amico, was putting the finishing touches on dinner, a menu of soppressata and mushroom-truffle pizzas followed by seafood agnolotti and a whole roast pig. "I have cooked in the White House, Buckingham Palace, Élysée Palace, but I have never cooked in a New York sewer before," he said. Armed with flashlights and guided by a rope Austin had strung down the ravine, Tourondel and his team lowered the trays of food to the table as Sabbat and his friends sipped their mocktails; jammed to "Reflection," from the Disney film Mulan, and "Can't Feel My Face," by the Weeknd; and actually talked to one another, after a no-phone rule was set in place. "I love Hailey and Justine," Sabbat later said, "but they are so about that Snapchat life."
Once dinner was over and dessert was served (amaretto-chocolate tartufo), Austin and his band, the Sunnyside Social Club, marched into the tunnel and serenaded the guests with a cover of "St. James Infirmary Blues" and sparklers. "The night," Sabbat said, "was literally lit."
The Menu
Virgin Negronis
Soppressata Picante Pizza
Mushroom and Truffle Pizza
Seafood Agnolotti
Roasted-Suckling-Pig Porchetta
Escarole, Radicchio, and White-Bean Salad
Pear-and-Cherry-Mostarda Bruschetta
Amaretto-Chocolate Tartufo
*This article appears in the November 9, 2015 issue of New York Magazine.