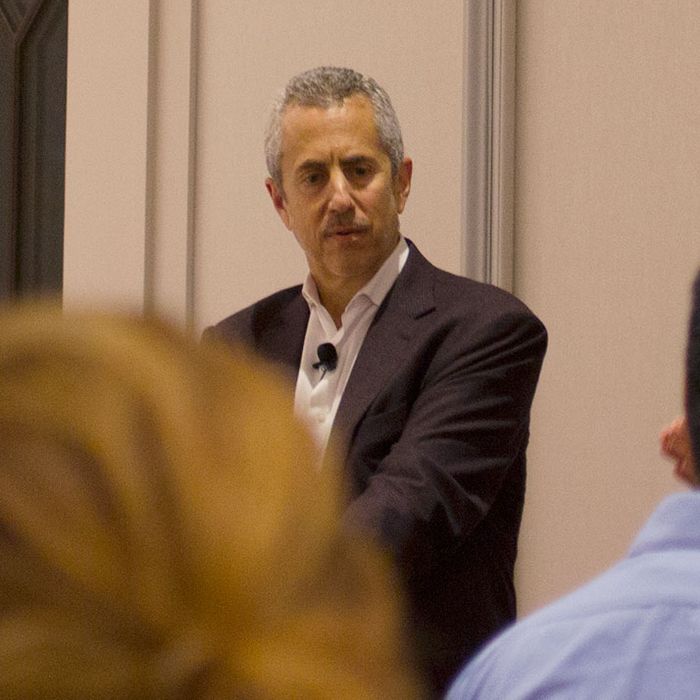 Danny Meyer, Erin Moran, Sabato Sagaria, and Abram Bissell.
Photo: Chris Crowley
Last night at the Martha Washington Hotel, Danny Meyer's Union Square Hospitality Group hosted its first "Hospitality Included" town hall, a meeting intended to explain the company's decision to eliminate tipping ("Hospitality Included" is the company's name for the new policy), answer questions, and address concerns from the public. The event featured a panel of four USHG members: Meyer, the Modern executive chef Abram Bissell (whose restaurant will be the first to adopt the new policy), chief cultural officer Erin Moran, and chief restaurant officer Sabato Sagaria. It's been less than three weeks since the world learned of the shift, and given the scope and influence of Meyer's restaurant group, it's one of the bigger dining stories of the year. Here are five takeaways from last night's question-and-answer session:
1. The policy's effects are already being felt at the Modern. The policy change won't take place until later this month, and even then, it will be on a two-month trial period. But cooks are responding. According to Bissell, the kitchen was "in a crisis" about three months ago because it was short 12 cooks. They were getting just two to three applications per month, but since the announcement, he says, that number has jumped to two or three applications a day.
2. Meyer says wage inequality between cook and front-of-house staffers is worse than ever. Things have gotten so bad, Meyer says, that, "for the first time in my entire career, we have a restaurant, North End Grill, that has more Culinary Institute of America graduates working in the dining room than in the kitchen." The reason why is simple: If you love restaurants, Meyer says, "but the only way you can afford to live in this city is to serve food rather than cook, you don't have the luxury of making a choice."
3. Customers' overall check averages will have to rise to offset added expenses.
As one audience member pointed out, customers' final bills are expected to be 5 to 8 percent higher than they are now. One audience member pointed out that inflation is flat, so customers will just be paying more money for the same meal. As Sagaria explained, this is because the amount left for a tip isn't taxed, but the additional revenue from the Hospitality Included model will be, so the added cost will cover that expense.
4. Without tips, how will customers be able to indicate how happy they are with the service? "The same way you give feedback if we overcook your salmon," Meyer says, who outright dismissed the idea, and the effectiveness, of tipping as "punishment" for poor service. When prices include service and hospitality, he says, "our job is to make it right" — or take that item off the bill. In addition to that, Meyer, who bills Hospitality Included as a merit-based system, has talked about implementing a user-feedback rating system that, he argues, will allow USHG to "get much better data from you than we ever got or get with respect to your tips."
5. Raising cooks' wages is the only way to ensure great restaurants will survive. With Shake Shack, Meyer may have created the fast-casual chain that chefs around the world want to emulate, but, he says, "I don't want that to be the only way I can go out to dine in New York City, as a consumer or restaurateur." In his eyes, this move is necessary to maintain a strong workforce in the kitchen. Otherwise, wage inequity "is going to completely dry up the influx of the kind of culinary talent we need to run great restaurants."