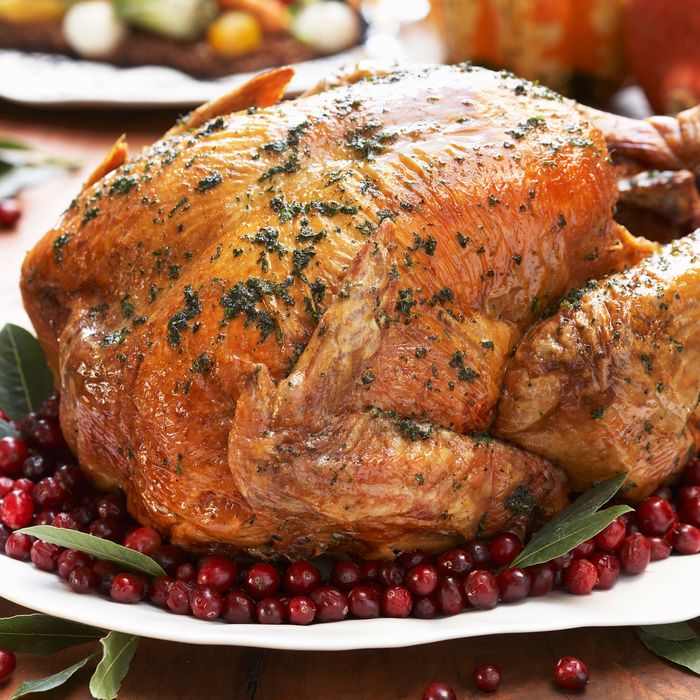 As Oprah would say, everybody gets a turkey.
Photo: Corbis
An estimated 7.5 million turkeys met an untimely demise this year thanks to a record-bad bird flu. Rumor was a dire shortage would be at hand, prices would soar for what few turkeys remained, and Americans would basically spend Thanksgiving sitting at the table crying into their Tofurkys. Well, so much, it seems, for that dismal forecast. From today's New York Times:
According to the United States Department of Agriculture, for the week ending last Friday, the average retail price for frozen whole hen turkeys was 90 cents a pound. That's down sharply from the $1.08 a pound the week before and is a penny less than the 91 cents a pound turkey was selling for a year ago.
Also:
Supplies of turkeys, both fresh and frozen, have also been plentiful. Overall turkey production through the first nine months of the year dropped less than 2 percent, despite the avian flu outbreak.
In fact, Walmart's 16-pound Butterball turkeys are going for an average of 64 cents a pound, or 16 cents less than last year, and the Times also notes Fairway and Trader Joe's have birds in Manhattan that cost no more than last year's. This doesn't seem to jibe with this summer's USDA data reporting a "significant decline" in baby turkeys post–avian flu, but the error appears to be in doubting the resilience of American farmers, who were able to step up production and who'd already flash-frozen a lot of this year's supplies. Something else to be thankful for next week when tearing the leg off that big bird.
[NYT]